Interview done by Sidra Nazir from Gyawun.com
Tell us about yourself
I am Ruhan Madni Naqash, hailing from Barzulla Srinagar. I'm 22 years old and I did my schooling (including high school) from Burn Hall and passed out in 2012. I wanted to be a writer, but because of the various parental, peer and societal pressures I couldn't pursue my passion and ended up going to SRM University, Chennai for my B.Tech in Electronics and Communication. From the onset of it I didn't like it and so just to keep myself busy and interested I started braced many activities in theatre, debate, and writing clubs. It was during this time when I met Zeeshan , one of the Co-Founders and CEO of "The Climber"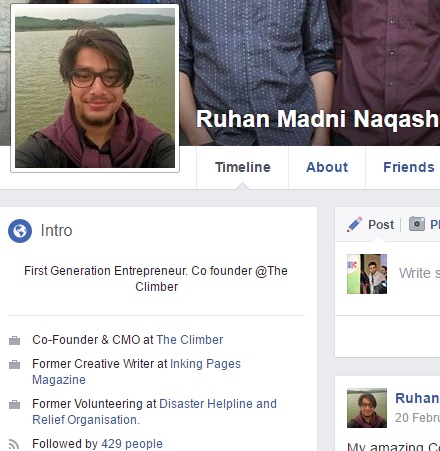 Tell us about "The Climber"
The Climber is an IIM Bangalore incubated EdTech Startup that helps students discover and pursue their passions
.
We are also recognized by the United Nations as one of the top 50 youth led solutions / initiatives in the world; we are the only one from India and one of the two from the subcontinent
.
Our main product is My Captain, which is an online youth mentoring platform that helps students to get aware about various career choices through mentorship from young achievers in respective fields of their interest and passion
.
We do events aswell, which are held in various cities. Under the umbrella of Indian Youth Conclave (IYC), the Climber gets YouTubers, artists, TEDx speakers, entrepreneurs, technologists, and musicians from across India to interact with teenagers in a particular city. We also organised events like 'Lit Up' in the domain of literature and an annual entrepreneurship summit called Kickstart.
Currently we are also running a project in a village called Kaatpadi in Tamil Nadu where we are monetarily parenting an NGO called Eride, which requires a certain amount of money to educate the entire village every month. We provide them with the monetary requirements and overlook their doings in the Village and it has been going on quite well. Recently, we invested quite some in making sure that the village gets the best in terms of using technology to learn. We believe that there should be no monetary walls between education and people and wherever we find such walls , we will try to break them . We also plan to run a crowd funding campaign for this project, to be able to fund more and more villages across India and make education more and more accessible to those below poverty line or lacking resources.
What was the inspiration behind the climber ?
The idea for The Climber came from an engineering college hostel room discussion before an exam where all of us wanted to do something other than engineering. One wanted to be a journalist, other an astronomer and so on. But unfortunately all of us were stuck doing things we didn't want to. This was something that we found a lot of students all across India doing. This kindled our entrepreneurial knack, so we decided to do something to solve this problem. That's how The Climber came into being. Throughout these years we have pivoted according to market conditions and learnt a lot on our way, and now we are at a far more stable position than we were at when we were still in college. But the problem that we were trying to solve back then has stayed the same even today.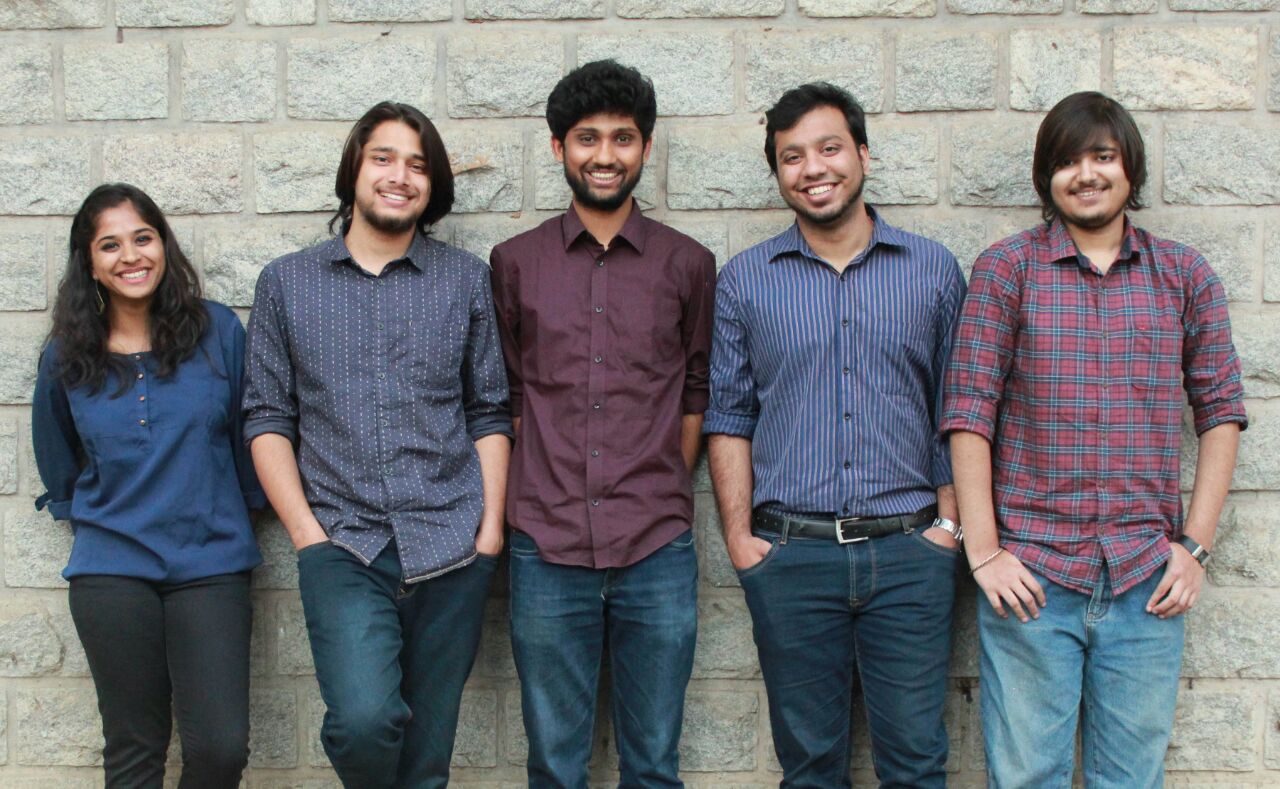 How did you guys start your venture ?
Initially when we had started off more than 3 years ago, we had a magazine for school children called Inking Pages. We also started off a project by the name of Aseem which would include recording Inking Pages for the visually impaired, hence making it a very accessible magazine. At that time we were experimenting with Social Entrepreneurship. We had to shut Project Aseem down some months ago, as we decided to move into other ways to help people out with education
Tell us about MyCaptain
MyCaptain is our main product. It is an online youth mentoring youth platform that helps students in their career choices by getting them mentored by young achievers in their respective fields of interest/passion. All the mentors for MyCaptain are young achievers below the age of 25 because we want the youth to learn from the youth as they connect better and the young achieving mentors also understand the various problems, pros and cons , weak points of students in the subcontinent. This has proven to be a very beneficial model as we have seen quite some success stories emerging out of MyCaptain. Presently MyCaptain offers mentorship in 16 different passions including Novel Writing, Psychology, Graphic Design, Photography, Journalism, Web Development, Machine Learning etc.
One of our Novel Writing mentees from last year (15 years old) will be getting his first novel published this year. Another Graphic Design and Entrepreneurship mentee established his own Graphic Design firm at the age of 16 in Delhi. Such stories pop out of our mentorship programs only because of the bond and motivation these students (college going and school going) share with their mentors and this in turn inspires them. MyCaptain was recently recognised by the United Nations SDSN as one of the top 50 youth led initiatives/solutions in the World and MyCaptain is the only product from India to be featured in this list, and is one of the two featured from South Asia. The Android App for MyCaptain will be out this march.
Sign up for MyCaptain here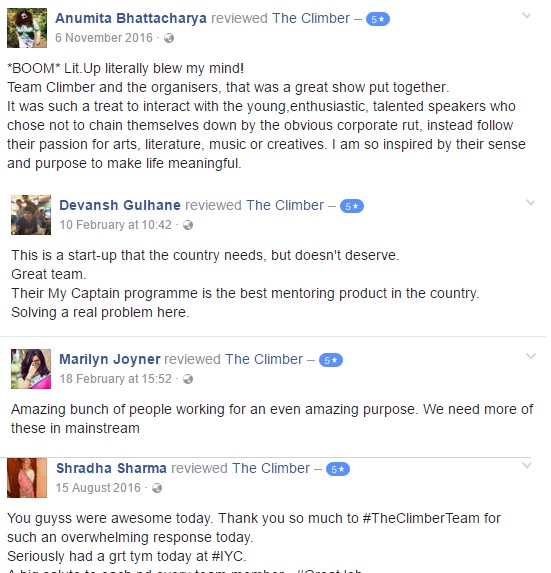 What is your expenditure and profit?
We are a bootstrapped start-up. That means we haven't accepted any investments from investors in spite of being offered some. Our expenditures change on a monthly basis as our team size increases and as we acquire more and more market for MyCaptain and our upcoming product called "Choosewisely" (releasing this march). Our Business Model ensures that we stay high on the margins of profitability. This fiscal year our projected revenues will be touching a Million Dollars. The Climber's current valuation is around 1.3 Million Dollars.
Tell us about challenges you faced in this journey?
We are entrepreneurs. As a rule, the job of an entrepreneur is to solve problems. There is not a single day we don't face problems, but the only reason we are able to stand so firm is because of our problem solving capabilities. As for bottlenecks, scaling the operations up had been one, but tweaking organisation structures and refining channels has helped us a lot in tackling a problem like that.
When we started out as a magazine, we assumed that students would be interested in a printed magazine. However we soon realised our naiveté and the initial personal loans we had taken started to burn out. By January 2015 we had gone into a debt of 2 Lac and while we were still students, it was quite a big deal for us. But the mentorship at IIM Bangalore helped us overcome that situation and that's when MyCaptain was born. Within a month of operations with MyCaptain we broke even. That was a very hard time but the team got through it.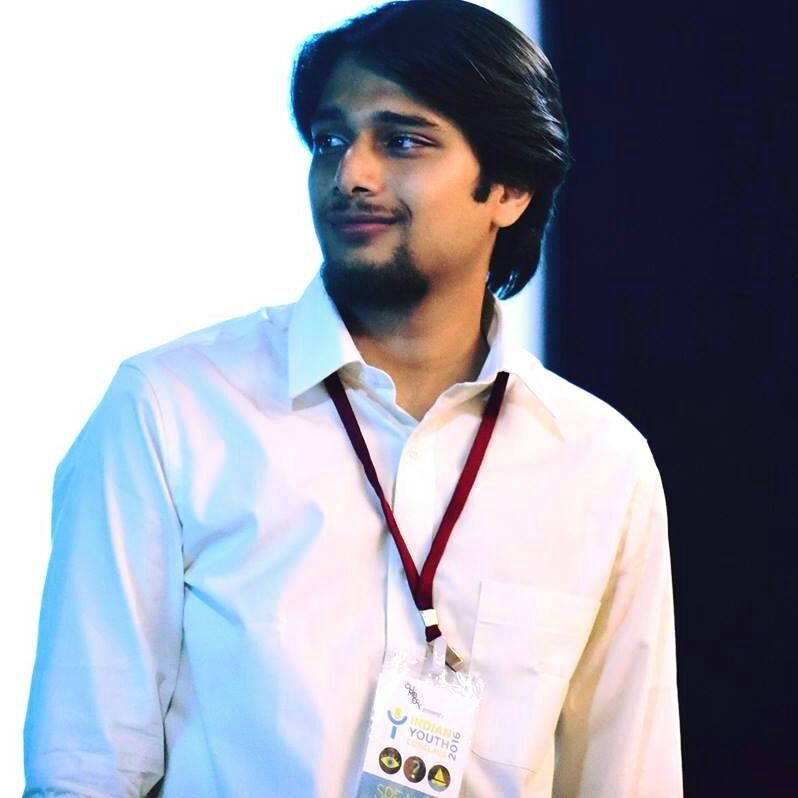 What are your future projects ?
Our upcoming product is called Choosewisely. While MyCaptain helps school going and college going students both, Choosewisely is going to be a one stop solution for parents and students when it comes to making career choices based on what the student wants, aspires, and is capable of doing. Currently we are in the market validation phase of Choosewisely and we have been testing it out against several metrics and results are positive. Choosewisely will be out in the month of March, God Willing.
Any message for the people reading this ?
We aren't here to change the education system. We rather believe in patching it. If the youth is empowered enough to make informed decisions with ample amount of knowledge and resources available, we could head towards a society which is more mentally and economically satisfied.
Sign up for MyCaptain here