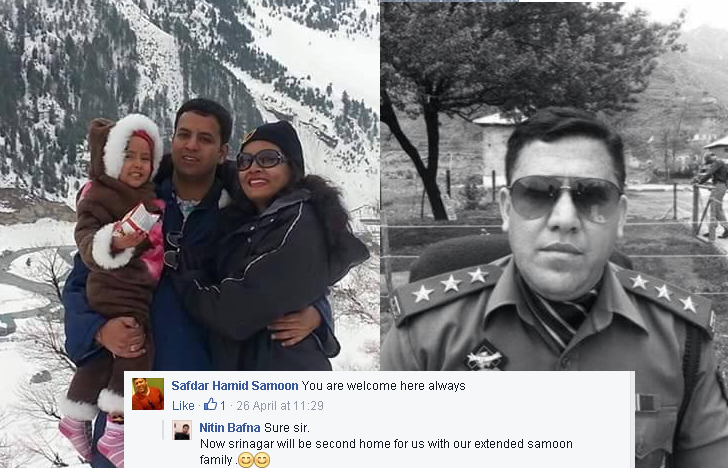 My name is Nitin Bafna I am from Mumbai, India. I was on a vacation with my wife and 3 year old daughter in Kashmir in 2015. After spending a good time in Kashmir, we left for Jammu from Pahalgam, Kashmir. But unfortunately on the way as we reached Qazigund our daughter got really sick, the only option left with us was to reach Udhampur as early as possible for medical assistance. As we reached Qazigund we came to know that the highway was only open for vehicular traffic from Jammu to Srinagar that day, as due to bad weather only one way of traffic was possible on the highway.
I went to the check post in Qazigund they informed me that it wont be possible to travel to Jammu that day and we will have to wait for 20 more hours to continue our journey as no vehicle was allowed from Qazigund to Jammu. Feeling helpless I went to Qazigund police station for help, they said it's not under their jurisdiction to allow anyone to travel on the highway and they suggested I travel back to Srinagar for medical assistance. At the police station one of the officers after hearing my story told I should visit the DSP TRAFFIC MR.SAFDAR SAMOON, he will be the only person who can help us. We went to DSP traffics office which was just nearby. After telling my side to a junior officer he quickly arranged in 20 minutes our meeting with Mr Samoon. All this while being worried due to my daughters condition, now I got nervous as well as I had to meet a senior police official and that too in Kashmir. When we met Mr Samoon, we explained our situation to him, and he listened patiently and then asked where are you from. I said we are from Mumbai. He then asked hows amchi Mumbai? I was quite relived with his gesture and he said he also liked Mumbai.
Mr Safdar Hamid Samoon told us you are not only our guest in Kashmir, but you are like our brother. Then he gave us a special medical emergency letter. He not only gave special permission to our vehicle but also made arrangements for our safe journey to Udhampur.
I just wanted to share this story so that people in India should come to know how people in Kashmir treated us. Mr Samoon is an example of that. There are many unheard stories of hospitality and kindness shown by Kashmiri people which are never shown in Indian media, while always only a wrong message about Kashmir is sent out. I request If you want to know the truth please visit Kashmir once.
Regard
Nitin Bafna