Want to visit Kashmiri but confused about the right time to visit, let's help you navigate through this dilemma. Kashmir has four seasons basically which includes winter, spring, summer, and autumn. Each season has its own charm and charisma that transcends, leaving traces everywhere and can make you fall in love with this place instantly. So, those of you who want to know about the best time to visit Kashmir and witness its beauty are sure to welcome to check the details given below.
Winter
Winter season begins from October and lasts till the first week of March. But in here winter usually transforms into a Winterland all-together. The views of snow-covered meadows, mesmerizing peaks, thrilling adventure sports, and astonishing frozen lakes can make a person fall in love with this paradise on earth. Thus, when you plan a trip in winter, put Kashmir on the top of your list as this place becomes a land from a fairytale, thus ideal for honeymoon, family vacation as well as solo traveling. Not only this, Kashmir also evolves as a bustling hub for winter sports and activities in the season that indeed adds to the reason why you should plan a holiday here.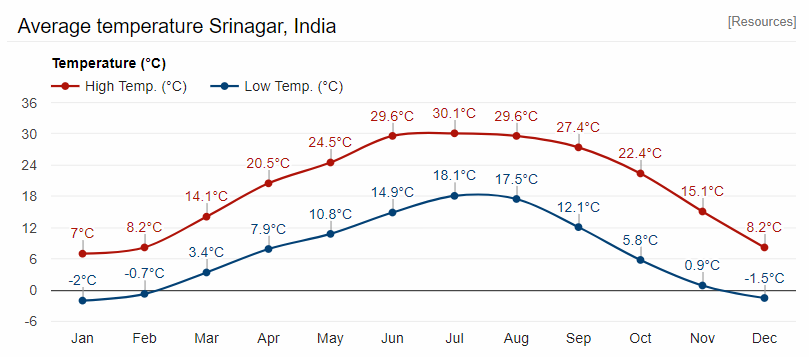 Spring
This season makes you witness the true colour of nature in many ways so be it tulips blossom, chinar trees with new green leaves or the cherry blossoms at Badamwari garden, spring in Kashmir, is the time when nature is in her finest moods. The entire valley is soaked in freshness and tempting fragrances of flowers and fruits mesmerizing everybody to their deepest of thoughts. Kashmir shows different shades of spring as you cherish the scenic beauty of the Dal Lake, Passes, Mountain peaks, Rivers and the historic monuments and gardens. If you are one of the folks trying to figure out the right holiday spot in budget, think no more, Kashmir is for everyone. Tourist can plan a tour at minimal cost to valley of flowers, there are various options available for stay in a houseboat or in a budget hotel room with a view of snow-capped mountains. The flora and fauna, climate, food, culture, heritage and everything are very precious and it brings back millions of tourists every year. The best time to visit Kashmir in the spring season is from April till May.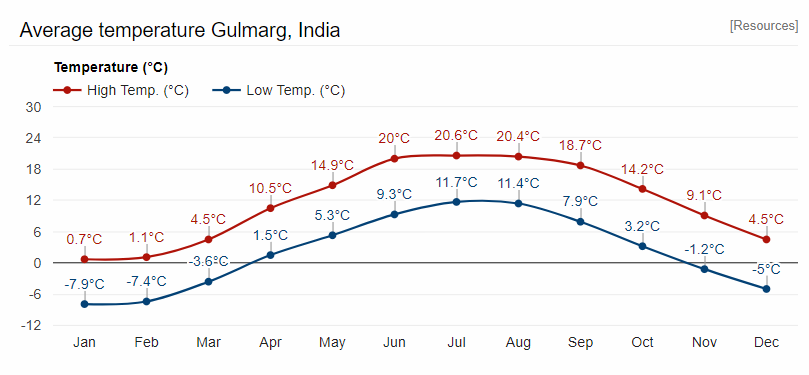 Summer
In summers, Kashmir drapes in an entirely new character as the slow melting snow of mountains slides down forming rivulets, and ultimately fills brooks and rivers with fresh and oxygenated water. The gorgeous reminiscences of winter still glisten on white mountain peaks. With pleasant and moderate temperature, there are number of options for one to truly enjoy this season which includes Boating on Dal Lake, Himalayan Trekking, Trout Fishing etc. From crystal clear water in fresh lakes, babbling brooks, chinar trees cooling shades and crisp green lawns sprawling gardens and not to forget roses, sunflowers and daisies welcoming everyone here is an invitation one cannot say no to. This season has most rush as the tourist season is on peak. Summer season usually starts in June and continues till August. As there is just a slight change in the temperature so it is a summer which everyone can enjoy to the fullest without sweating or feeling tired.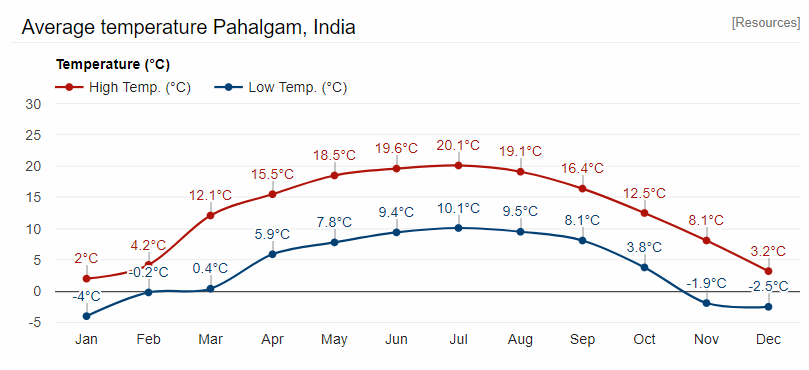 Autumn
Favourite season and the most magical time to visit Kashmir is the Autumn season, which sets in from mid-September to mid-November. Autumn is Kashmir's golden season — everything turns golden and all imaginable hues of yellow, gold and orange. Misty mornings, pleasant nights, red-carpeted gardens and rustle of fallen leaves turn Kashmir into an enchanting place. The chinar leaves change the color from green to golden brown. It is indeed romantic, and the season of mists and mellow fruitfulness. The sight of the landscape has an attractive appeal to it. Temperatures rise to a maximum of 23 degrees in the morning but the nights are relatively colder. The weather is very conducive for the tourists to take delight in the sights, sounds and smell of this idyllic heaven on earth. The vibrant valleys, the rustle of the fallen leaves, the fragrance of flowers are there to enchant you. The onset of autumn, perhaps Kashmir's loveliest season, is towards September, when green turns to gold and then to russet and red.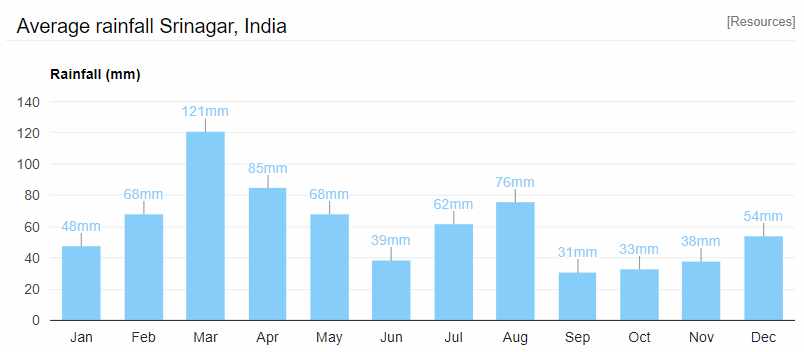 Best time to visit Kashmir for Honeymoon
For years newly married couples come to celebrate their love and bond among the valley of serene beauty. A pleasant honeymoon can be enjoyed between April and June. There are too many tourists during this period. However, the services are too expensive during this time as the demand is too high. Hence, a pleasant honeymoon can go awry if you haven't made all arrangements beforehand. If snow and cold weather is what the couple is looking for then December to January is the best time to do so as snowfall and extreme cold temperature prevails. For a snow-clad honeymoon, plan your trip in February end or in March. The temperature would be moderate to handle and you can enjoy visiting Sonamarg and Gulmarg where there is enough snow to enjoy.
Best time to visit Kashmir for Snowfall
October to February: While winters begin to creep in the month of October with the air becoming cooler, the temperature reaches to zero degree starting November which also marks the onset of winter season. Skiing, snowboarding options are excellent during this time and many honeymoon couples come to visit Gulmarg especially during this time. From December-end to mid-February, there is enough snowfall for you to create your own snowman! Make sure you pack heavy woollens as the temperature can drop down till -4 degree Celsius.
From December to early March is the winter season for Kashmir, when the entire valley is covered with a white blanket of snow. Breeze is chilling and sunshine tender. But if you are a winter sport lover, travel to Gulmarg in these months for some of the best skiing and snowboarding.
Best time to visit Kashmir Tulips
The flowers bloom only for about 15 -30 days every year which is why is it a must visit destination spot all over the world. Depending on the temperature, the blooms may be delayed or arrive early, between end of March and early April. The tulip garden in Kashmir is a very well maintained garden with numerous varieties of Tulips daffodils. A treat to eyes and soul, the best time to visit is between end of march till mid -April. Called as the Indira Gandhi Memorial Tulip Garden, it is the largest Tulip Garden in Asia. The garden was opened in 2007 and this tulip garden is undoubtedly the first major landscaping project undertaken since the Mughals built many garden under their reign in 16th century. This garden cradles in the gentle slopes of the mighty Zabarwan hills. It is flanked by a manicured lush green golf course in the north and the pristine Dal Lake almost washes its entrance to the west. Apart from them there are numerous multi-coloured hybrid flowers too. Nature has liberally run riot with the colour combinations of these hybrid flowers. The flowers too have their own distinctly varied shapes. Some are hemispherical like turbans, others are elongated, many have scattered petals or simply loose and upward flowing petals and sepals that look like erupting flames. All these tulips gives a picturesque view which one likes to capture in their lifetime.
Best time to visit Kashmir and Leh Ladakh Together
Kashmir has a pleasant weather from the beginning of March and lasts upto October. In Ladakh, from April marks the beginning of tourist season when the place begins to warm up with tourist activity. Both the places have different weather, altitude and topography which is why it is crucial to know about the seasons which suits one travel's requirement. In Spring starting from April in Kashmir and Ladakh both, the actual tourist season begins. Restaurants open, hotels and guest houses start to welcome guest and various camps at sites commence to set up. Usually by the second week of May, the crucial Srinagar-Leh highway opens up leading to a flurry of tourism energy into Ladakh. From Mid-January to Mid-March is also the time when many adventure tourists arrive in Ladakh for the famous Chadar Trek, involving walk over the frozen Zanskar River. The conditions at this time are that of extreme cold and there is frequent snowfall which makes survival and acclimatization difficult. One of the major highlight is the changing colors of Pangong Tso Lake and Tso Moriri which happens from November to December/mid-January. After this, the Lakes get completely frozen with solid ice and one can even easily walk on them. In Kashmir, the winter season starts with starting of October and goes on till March. Snowfall is expected from January till first week of March in which the highways closes down. To enjoy and visit different places at Kashmir and Ladakh both the best suitable time is therefore, July to September.
Best time to visit Kashmir for Golf
Golfing is the most sought after sport and that's why attracts a lot of people to Kashmir. This is the place where golf lovers can enjoy the game throughout the summer from the months of April to November. The valley offers an outstanding opportunity to play golf for long hours in the refreshing golf courses of Srinagar, Gulmarg, Pahalgam and Sanasar. Playing golf here is a relaxing and enjoyable experience as compared to the golfing in plains because of the pleasant and moderate low temperature. With every shot, the player watching the ball's trajectory gets a totally different view unmatched yet. The views encourage all players to excel and impress others. During winter months, the golf courses are closed remain closed as the entire valley covered gets covered with snow. Some of the best golf courses here are Gulmarg golf course, Royal spring golf course and Kashmir golf course. The golf course is at par with international standards with all the amenities intact. The Royal spring golf course is rated no. 1 in India and one of the most stunning golf courses you would play with Zabarwan hills in the background and spread over 300 acres of rolling hills. Kashmir Golf Club Srinagar is the oldest golf course in Srinagar with a lot of history. It was the venue for many golf tournaments. Gulmarg Golf Course, at 2,650 meters is ranked highest in the world. These amazing golf courses are definitely a golfer's dream.
Best time to visit Kashmir for Skiing
Kashmir has been recently declared to have untapped potential to beat the best ski sloped in the world. It has been favourite among many pro skiers who make sure to shred the fresh and deep snow every winter season. The best time to visit Kashmir ski and snowboarding is from December till February. Gulmarg had been a popular skiing resort for years. It also hosts winter sports carnival where many participate every year. The best time for skiing in Gulmarg is from mid- December to mid-April. Quality equipment for skiing activity are available on rent on the J&K Tourism owned ski shop. There are trained instructors available for guiding the tourists. Skiing in Gulmarg is ideally suited for both learner and expert skiers alike. Even Sonmarg has now opened it avenue into skiing and other winter sports which has some exciting activities like ice trekking and ice skating. These place offers some really interesting options in winter and can be enjoyed with friends and family.
Best time to visit Kashmir by road
The national highway which connects Kashmir with rest of the country is maintained by Border roads and organisation. The NH1-A highway is open from March till October and can be accessed through good and even surfaced highway roads. There are various options to travel through roadway such as J&K SRTC, private taxi and mini-bus. Even from Jammu, one can get a taxi, bus or avail a seat in the mini-bus. From famous Banihal tunnel and also Chanani-nasheri tunnel to seeing Jhelum river and some other fascinating views is something which is one in for by road travel. Many dhabas and local eateries are present along the highway. Even decent hotels and lodges are available at reasonable prices. The highway roads are quite wide and do have a good quality pavement ensuring smooth and hassle-free ride. Overall, it's an excellent experience to travel through roads for sure.
Article by Mehreen Khan