Which state is Dal Lake located in?
It is located in Jammu and Kashmir (J&K)
Where in J&K is Dal Lake located?
It is located in District Srinagar.
Aerial 360° of Zabarwan mountains & Dal lake.
Move the picture to change view
[wpvr id="18436″]
Aerial 360° view of Boulevard
[wpvr id="18485″]
About Dal Lake or Dal Jheel?
Spread over 15 kilometres wide, Dal Lake is Srinagar's most prized jewel, a mammoth of water spread, reflecting sculpted wooden portico of houseboats with "Naqash Qari" (engraved work) and the stupendous peaks of Zabarwan mountains. It's a labyrinth of convoluted waterways, with buoyant islands of vegetation and houseboats that look mightily docked, as if they'd simply hover away. There are three islands in the lake, of which, mighty "Char Chinari" (four chinar trees) is the famous causeway for viewing dal through the middle. It's also skirted around by the Shankaracharya Hills, where the famous Shankaracharya temple is located. You can spend a night in a glorious Houseboat and paddle earning morning in the Shikara (wooden boat) to see the floating vegetable and flower market. Rowing your boat across the lake, you can make a stop at the famous Gulshan bookshop, where you can enjoy the balance of life by having a book in one hand and a cup of Kahwa in other!
How far is Dal lake from Srinagar Airport?
It is around 13.5 kms away from airport.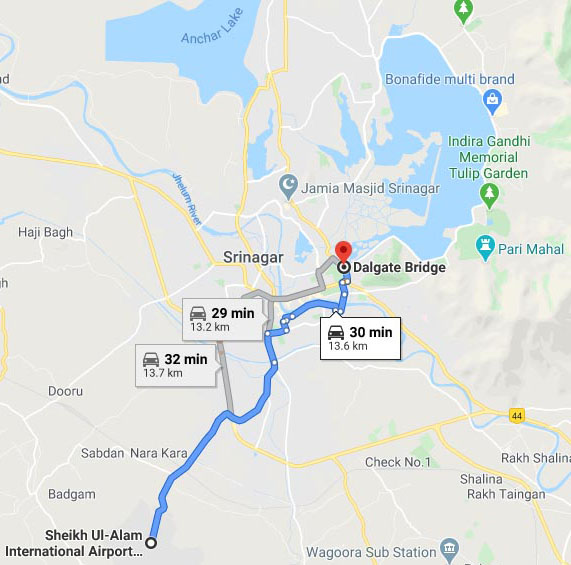 Best hotels near Dal lake?
Taj Vivanta and The Lalit Grand Palace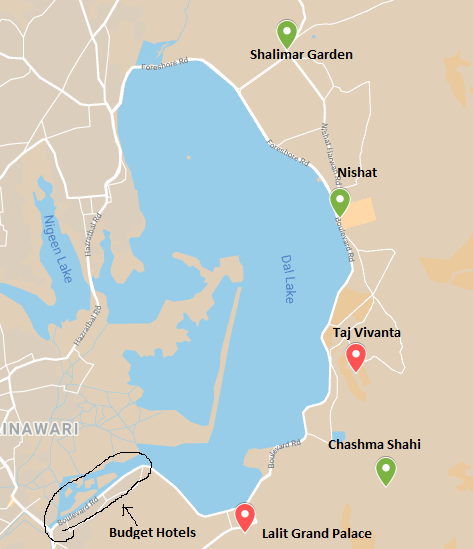 Things to do at Dal Lake
Take a Shikara (boat) ride
Visit floating market in morning
Have barbeque at makai point
Have coffee at Gulshan book store
Do shopping at Dalgate
Have tea at Nun Kun restaurant
Go on top of shankaracharya hill
Spend a night in houseboat
Visit Nishat, Shalimar, Chashmashai & Tulip Gardens on banks Dal
Visit Hazratbal Shrine on banks of dal
Do fishing
Which houseboats are popular in Dal Lake?
Sukoon Houseboat
Houseboat New Colombo
Fair Heaven
Happy Dawn
Houseboat Kismet
United Continents
Houseboat Lalita
Housboat Noor Palace
Houseboat Neelam
Houseboat Kingsvan
Houseboat Imberzal
Dastan Luxury Group of HB
Mahjong Houseboat
Light House Group of HB
Houseboat New Swan
Houseboat Mother India
Lucky Dawn
Savouy Group of Houseboat
Houseboat New Manila
Mughal Palace Houseboat
Kotroo Palace
Swan Group of Houseboat
Beauty Star Houseboat
Morning Star
Queens Lap
De Laila Houseboat
New Bul Bul Group of Houseboats
Mascots Houseboats
Trambak group of houseboats
Houseboat Newzealand
Badyari Palace
New Lucky Star
Houseboat Piano
Houseboat Prince
New Shagoo Palace
Lake Victoria Group
Houseboat Young Bombay
RIE Heritage Group of HB
Houseboat Aristotle
Merry Dawn
Dalgoma Houseboat
Kohimaran Houseboats
This Game of Thrones Themed Cafe on Banks Of Dal Lake is a Must Visit
These Incredible Pictures of Dal Lake will Amaze You