Snower Sania Vasudev is a Kashmiri Pandit who is an International celebrity stylist, independent designer and a motivational speaker. She has been styling for celebrities like Shahid Afridi, Varun Dhawan, Alia Bhat, Manisha Koirala, Kunal Khemu, Rajiv Khandewal, Shreyas Talpade and many more. She is an alumnus of the Milan Marrangoni School of Fashion.
She was recently invited by Insha Qazi- Director SSMD (School Of Fashion & Design) to do workshops at the campus. Below you can read Snower Sania's experience in Kashmir in her own words.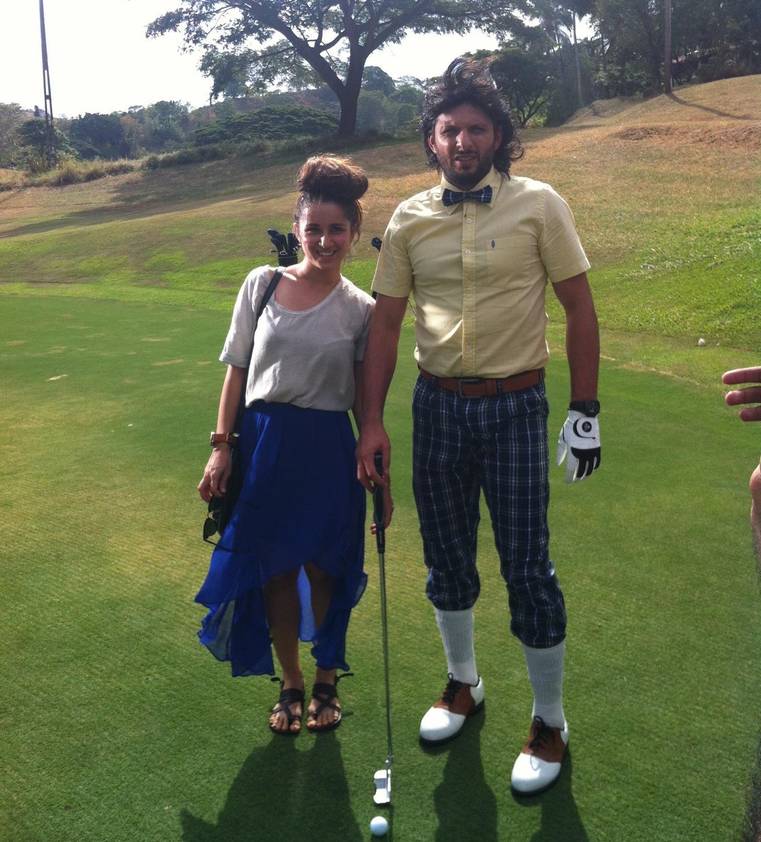 I am a Kashmiri Pandit, from Srinagar whose family migrated during the militancy in the 90's. I was one year old then. Though my father had decided to stay back, all by himself throughout the militancy.
I grew up in a boarding and went back to live with my mother – a Kashmiri Pandit who worked as a teacher to earn a living and support her kids. Her struggle, wisdom, purity and humility was inspiring . My mother raised us with Kashmiri values, hospitality, culture, rituals and kept us grounded and connected to our heritage. I grew up in a strict atmosphere, which also is part of our inherited trait. We were taught our language as a compulsion to keep 'Kashmiriyat' alive in our hearts. Considering my other relatives could not even understand their mother tongue it was exceptional for us. We lived a very simple and extremely challenging life. It was not easy to leave your land and start a new life, a new journey in a strange city. But we never complained, I learned this from my parents, "the ability to solve problems is not something reserved for special people, it's a path that opens before any of us when we face reality head on, and I saw them winning every battle of life".
As my father had decided to stay back in Kashmir I would visit him every 2 years during my summer vacations. That's when I realized my soul belongs to these mountains, my Dal lake. I would always feel at ease walking, trekking, eating as a local, speaking my own language with everyone around. I would feel emotionally rich and the language automatically created a bond, you don't even have to ask for it. I was also determined to look beyond the religious differences hence very easily I mingled with everyone. I spoke and questioned the bitterness existing between hearts and against army, the politics and the disharmony created due to cultural and religious disputes. Those visits to home gave me opportunity to strengthen my bond with my land and people around. I became very aware of the sensitivities at a very tender age in life hence it pained me to see the most beautiful people in the most beautiful place on earth, called heaven, were sad and suffering.
I lost my father when I was 16. When I visited Kashmir after my father's death I felt it could be the last time I will ever see the mountains, my neighbours and friends. I pained everytime I had to leave my Kashmir but that time I felt a lump which was stuck for hours. As I was boarding my flight I remembered praying for peace and happiness of this place and its people. They say if your heart is pure and intentions are good your prayers will always get answered and it happened to me too.
After many years I returned to the valley, my land. And this time I was aware of my profound mission. I am a social worker, motivational speaker and an arhatic pranic healer. I have consciously devoted my life to serve humanity and seek and learn more skills to be able to serve nature and the world to the best of my ability. By the grace of God, I am consistently walking the path he has drawn for me. Kashmir is divinely blessed and it heals your senses the moment you step out of your plane, you feel you have landed in heaven. People here still have warmth inspite of witnessing terror and sufferings on a daily basis. I am amazed with the strength they hold deep in their hearts to love and give so freely. In Kashmir you will always be welcomed with warmth and affection.
I am a fashion designer and stylist by profession and a freelance visiting faculty with all the fashion schools in Mumbai, Pune and Delhi. One day, I received an email from Insha Qazi, Director of SSMD. She introduced herself with so much humility and love by admiring and appreciating my work. She shared her vision of making a difference and creating awareness in Kashmir. She said that me being a Kashmir Pandit will make a bigger impact on youth of the valley and invited me to interact with the students and to encourage youth.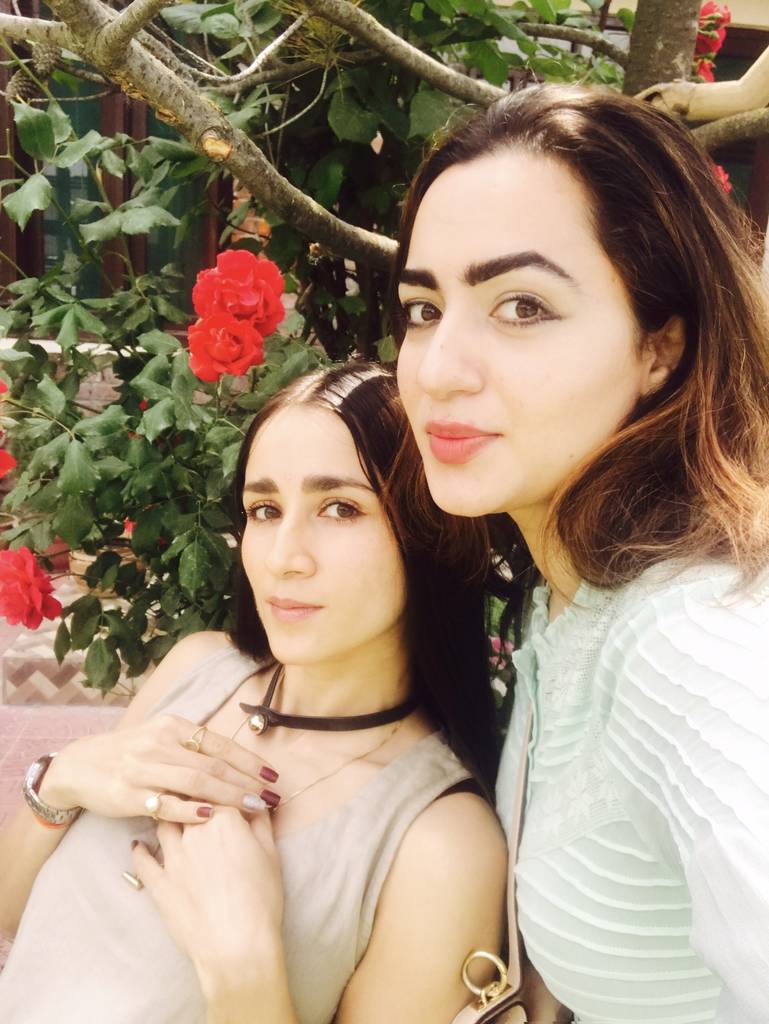 Youth today has potential and energy in particular, it can catalyse chain reaction of positive changes as they forge bonds and trust amongst people so without wasting anytime I grabbed this opportunity. I was more than glad to hear her excited voice. I immediately said 'yes' and got on board to share my vision to create maximum value through my workshops. I wanted to talk about art, fashion and culture but I was also keen on raising awareness to lead a happier life. Collective consciousness shift can only happen when there is awareness. We need to strengthen our spiritual oness, I wanted to speak about science and spirituality and add value to there lives .
The introduction of fashion school in Kashmir is a big step taken by Insha Qazi. I believe education and spiritual awareness should be a compulsion in every society in this world, this spiritually energy gives rise to correct actions and activities that shape the direction of society over time, I assured her my intention was to make a positive difference. I believe, someone has to go and give them love, someone has to tell them there is hope to have a better future and environment.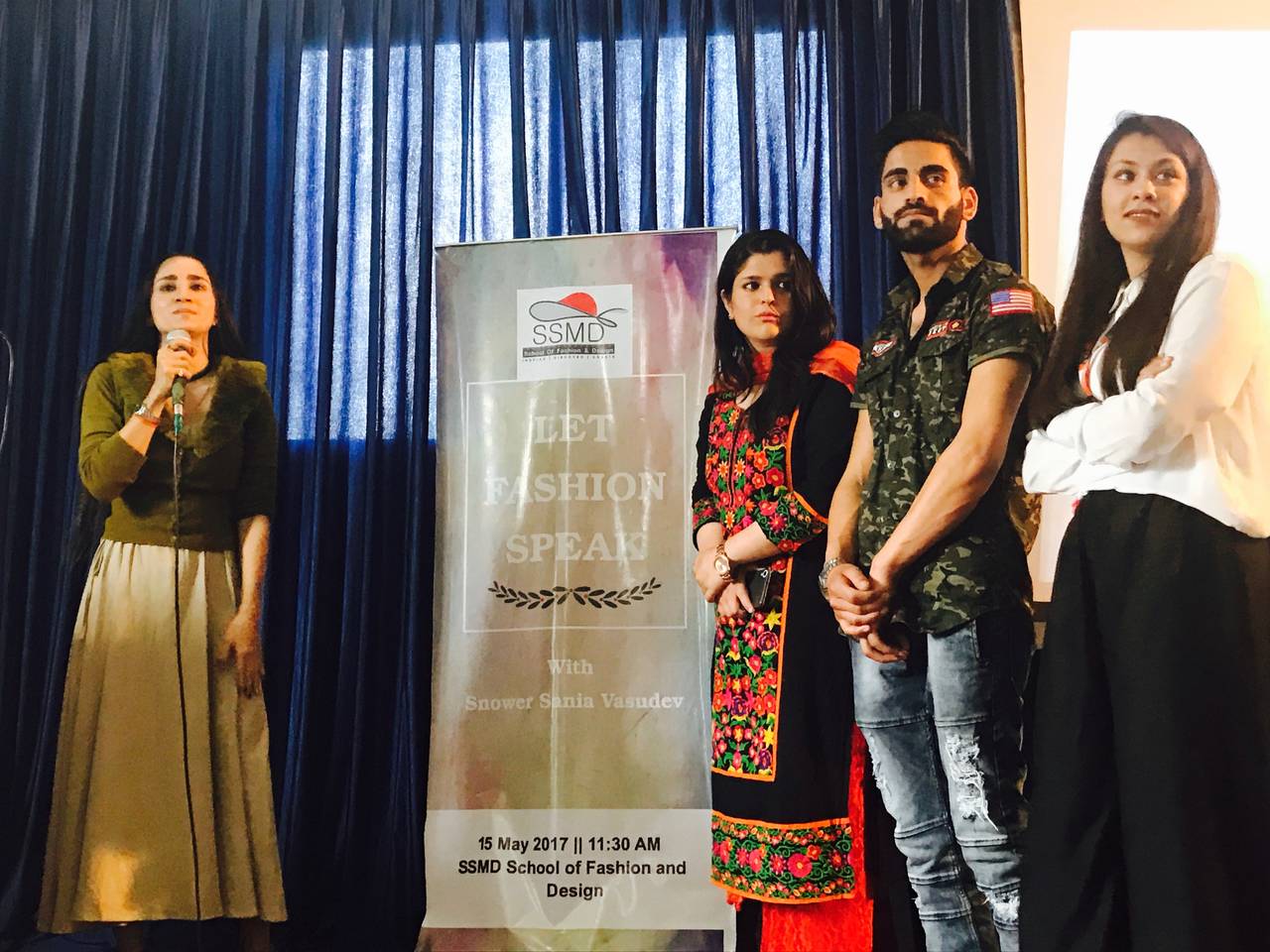 We conducted successful workshops to speak about fashion, culture, art and modern and ancient healing mediations and some breathing techniques for peace and bliss. My greater mission was to sow seeds of peace, love and harmony. It was not easy. Being a Kashmiri Pandit it was more than challenging. My family was worried about my safety and security but my faith in my own vision of this world and Kashmir was and is stronger than my fears of attacks, blasts, stone pelting and curfews. The school provided me with all the necessities and beautiful environment to teach and practice twin hearts mediation. This meditation raises your awareness and consciousness and is a tool for achieving illumination and a great noble deed of blessing Mother Earth by becoming divine instrument of peace, abundance and prosperity. The students were skeptical of the chant and sound. I took a session to first deepen there understanding of spirituality and mediation and explained to them that I respected their religious belief and that the meditation and breathing techniques were only to strengthen there bond with the divine and there higher soul. I also asked them to fight the negativity of their outer world. My attempt to interact with youth here proved to be productive as everyone was open to grow and evolve for the betterment. Me being a Kashmiri built the trust as I spoke my language, which was always appreciated by all my students. It was overwhelming to see them enjoy all the knowledge, experience bliss and to see their faces glow and energies uplifted. I was fortunate to have got this opportunity.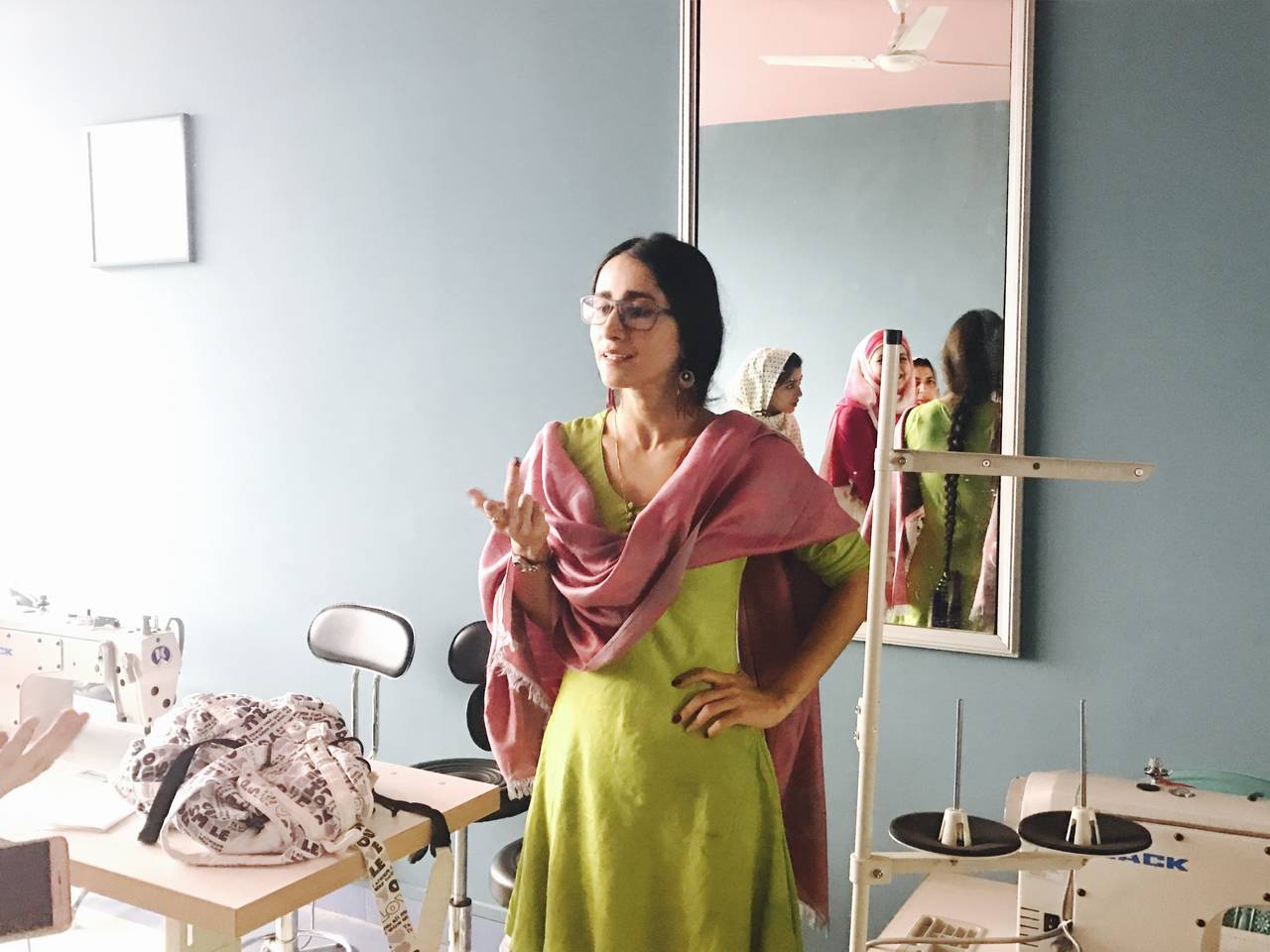 I decided to stay back 3 more days after I finished my workshops as I wanted to live with locals and visit villages. Insha invited me to her home. This is very common in Kashmir. Kashmiris keep there hearts and homes always open. I mingled with all her family members with ease and comfort. I was fortunate to have met one of most powerful souls, Insha's mother, Mrs. Dillafroz, who is a social activist a very noble respected public figure here. It was enlightening to know how affectionate she still feels towards all the Kashmiri Pandits she grew up with. There was only love in her eyes and her voice was filled with peace. I was pampered and spoilt with Kashmir food and Noon chai, which was and still is my favourite routine. I felt at home and enjoyed talking about greater future.
Creativity is inherent part of Kashmiris. I saw a new Kashmir which was ready to evolve and take a leap of faith towards growth as I saw art cafes, exhibitions, boutiques. My favourite find of this trip was Gulshan Book Store, a cafe in the middle of Dal Lake. I was drawn to this cafe full of books and stories on Kashmiri Pandits and history. Seeing The Quran and Bhagwat Geeta on one shelf brought shine to my eyes and soul.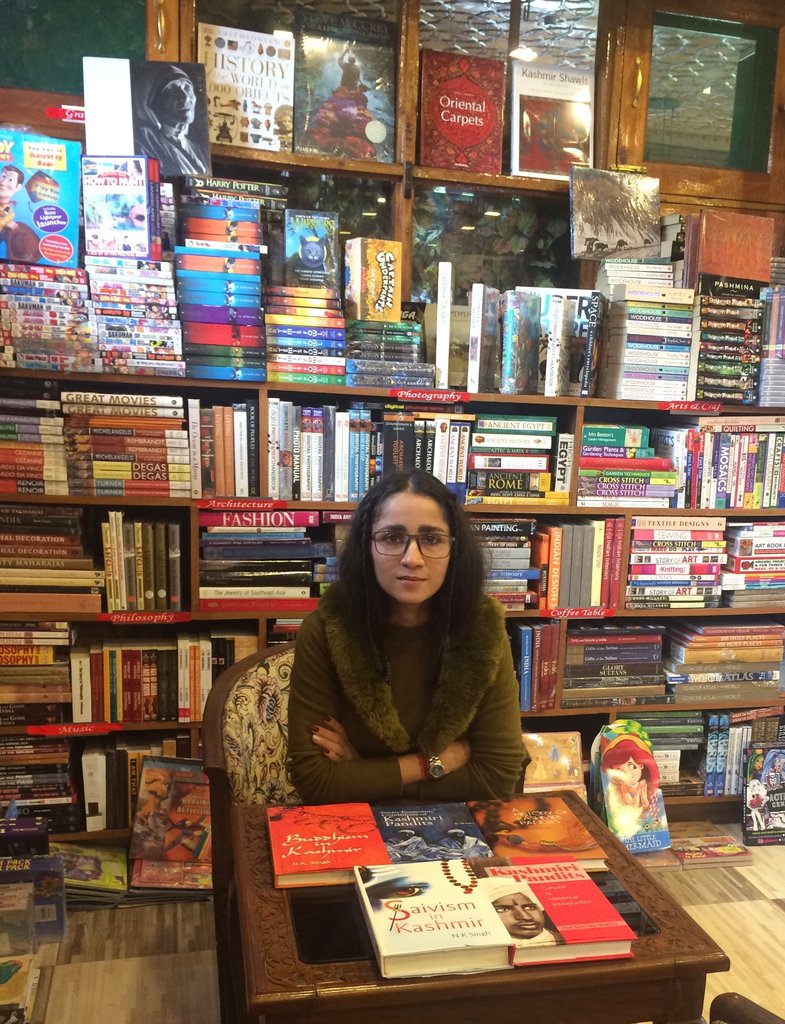 I would walk alone in the afternoon, take a Shikara and cross Dal to study along with my Kehwa. Just being and absorbing this energy of history and wisdom in this library. I wished to meet the local villagers, so I left my identity at home and explored rawness of the place. When I asked the Shikarawalas and local villagers what they wanted and thought of the current situation, I heard only one thing 'We want peace'. They welcomed me with traditional hukka and noon chai. I have never felt so touched in my heart.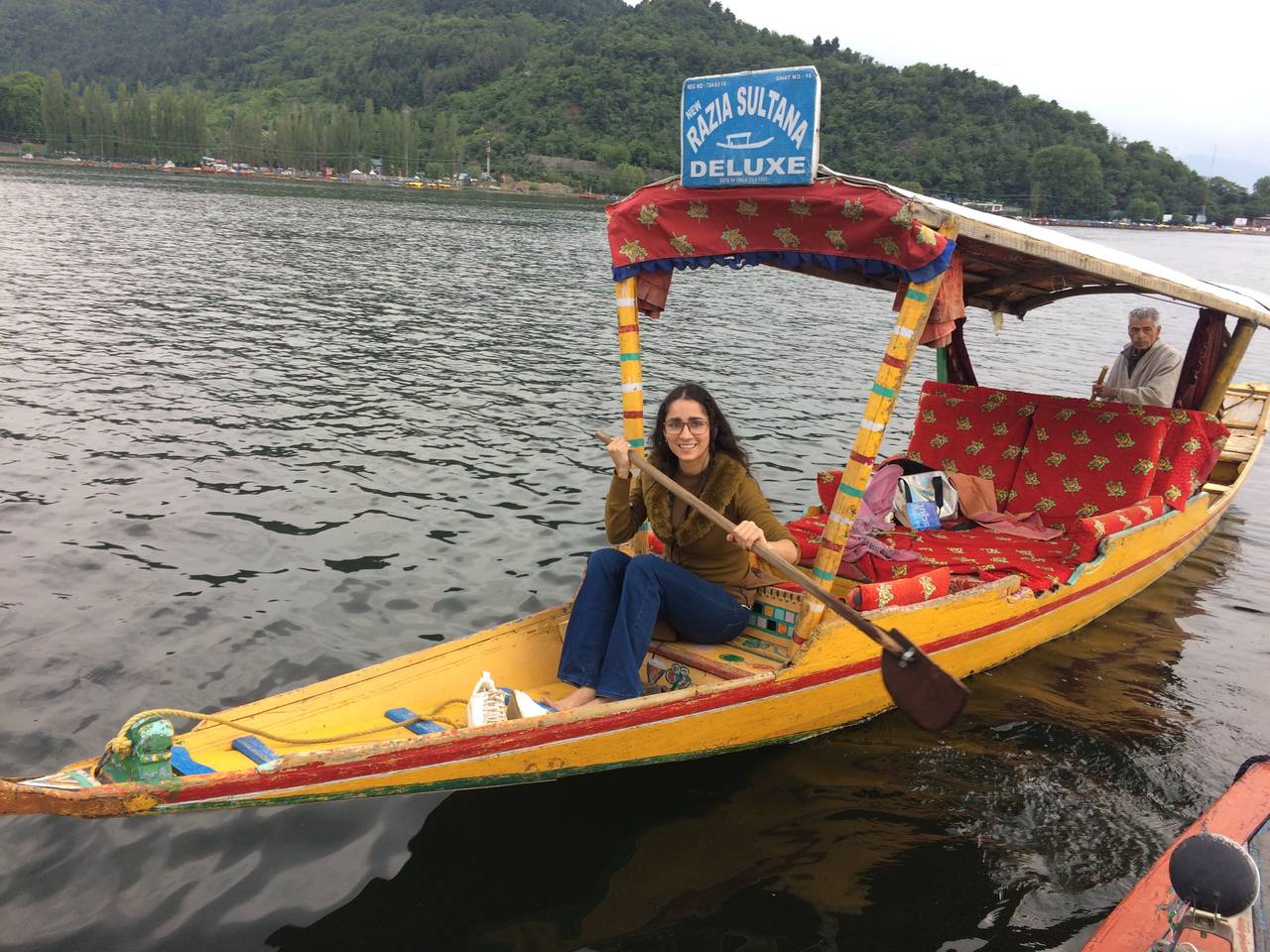 This hospitality is rare to find in the cities. Kashmir is not what we see in news headlines which are imposed on us, it is still full of love, warmth, strength and hope. I got abundance of love from everyone. I call it my holistic home calling holiday. Kashmir needs more of love, peace and protection then any other city and I hope my this step forward will draw right attention and more organisations working towards harmony and peace will take such noble initiatives. This time around I packed my suitcase with bright smile on my face, knowing I will come back soon with more love and joy to share. "Love is the most powerful and still most unknown energy in the world". See you … my Kashmir, happier, stronger and brighter.
Thank you for your love. Thank you Gyawun for this space.