Tell us about yourself
I am Huma Bhat. I was born and brought up in Srinagar, currently pursuing my Masters in tourism management (MTM) and I am an alumni of Presentation Convent School, Srinagar.
My forte is writing poetry specially in our mother language, Kashmiri language. I started writing poetry that was two years back and I still remember my first poem "The lost child"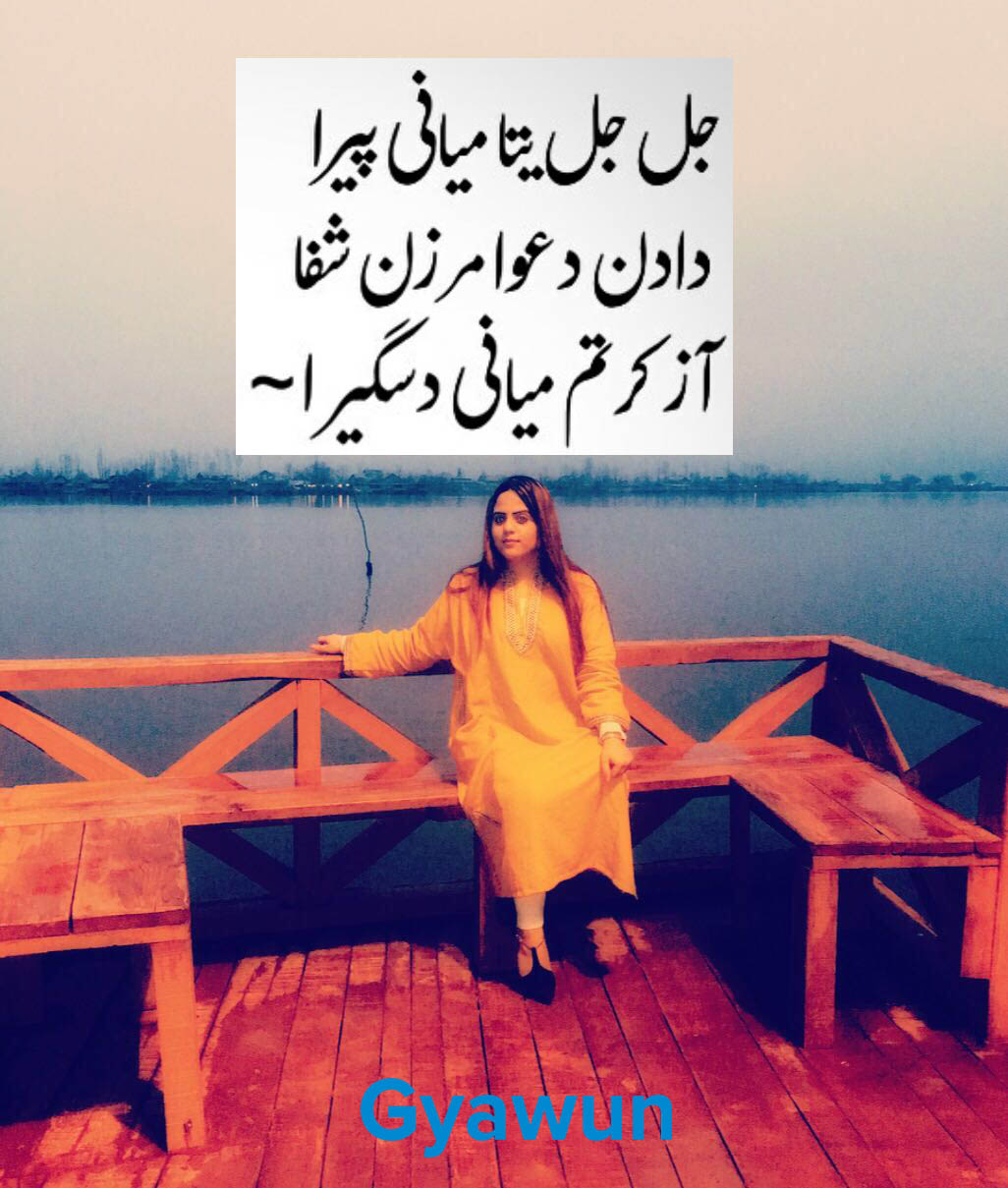 Tell us about you Kashmiri poetry, not many people write Kashmiri poetry now, what inspired you to write in Kashmir
What influenced me to write in Kashmiri is my love for my motherland. I love my culture, everything that is related to Kashmir influences me to write about it.
Su czhong kyaze gov czchate
daazne bront hei.
tas golabas kyaze choruk
hout folne bront hei.
tas maje kus de dilaas
yas qayamat aye marne bront hei.
waen kate karokh dafan
yem sein shaheed.
Marguzar ai yete ber ber waqte bront hei.
golaban fuur zardaar
yele kadik treshe hatee sar bazaar.
khun mahrazo
drav kho safras
mazche neendre
mauj lej yo balai
ath mahraz panas
wala gur gur karyo
myane khun mahrazo
Translation
Why those flames lost their luminosity, and disappeared into the fumes of tyranny.
Why those flowers die before the rising of Sun.
Why our answers never soothe those mothers who lost their soul without death.
Tell me..! Where to bury these Martyrs of our Soil.
Shades of Dark rulership dressed our land into corpseyard before the revelation of dawn.
Flowers lost their blossom, when they wailed for a drop of moisture to breath freely.
O' My beloved part of soul.
Why you left for a blood soaked journey.
Still wailings for the morning to wake you up,
And wishes to embrace you in those spaceless naps.
Come to me once my beloved son,
Let me again to sing you the lullabies of love.
Where do you write?
I write on my blog, I usually tend not to write for getting popular I see this as precious gift from God to me. And I post some of my poems actually very few of them on my instagram page aswell.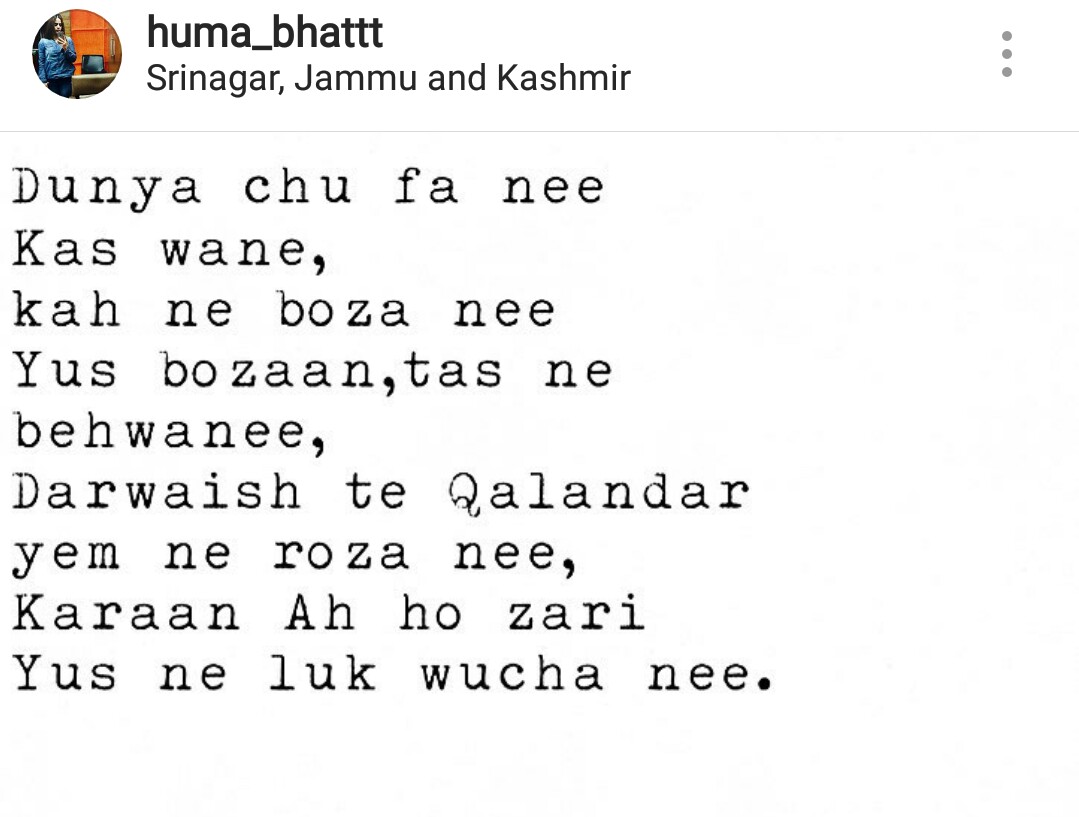 What are the best lines you think you wrote?
The best lines for me that I wrote which were also appreciated by the most renowed poet of kashmir "Zareef Sahab" are:
" Azad Gazche ha
Bete parr khol ha
Bete asmanas kun wudd ha.
Ye panjre chum aind aind
wal ne amut,
Em chenam jigras reze karmit,
Yele so moj che khoon haraan
yele so moj che paan maraan
yele tas nechu shaheed gazchaan
yele su nechu tzchene gazchaan.
Azad Gazche ha
Bete parr khol ha
Bete asmanas kun wudd ha"
Any advice to an aspiring poet?
I never call myself a poet, I have not reached up to that phase yet. Even I am an aspiring writer and my advice for every aspiring poet will be that never quit writing, pen it down on a piece of paper, respect what you write, learn from it and be dedicated to your writing.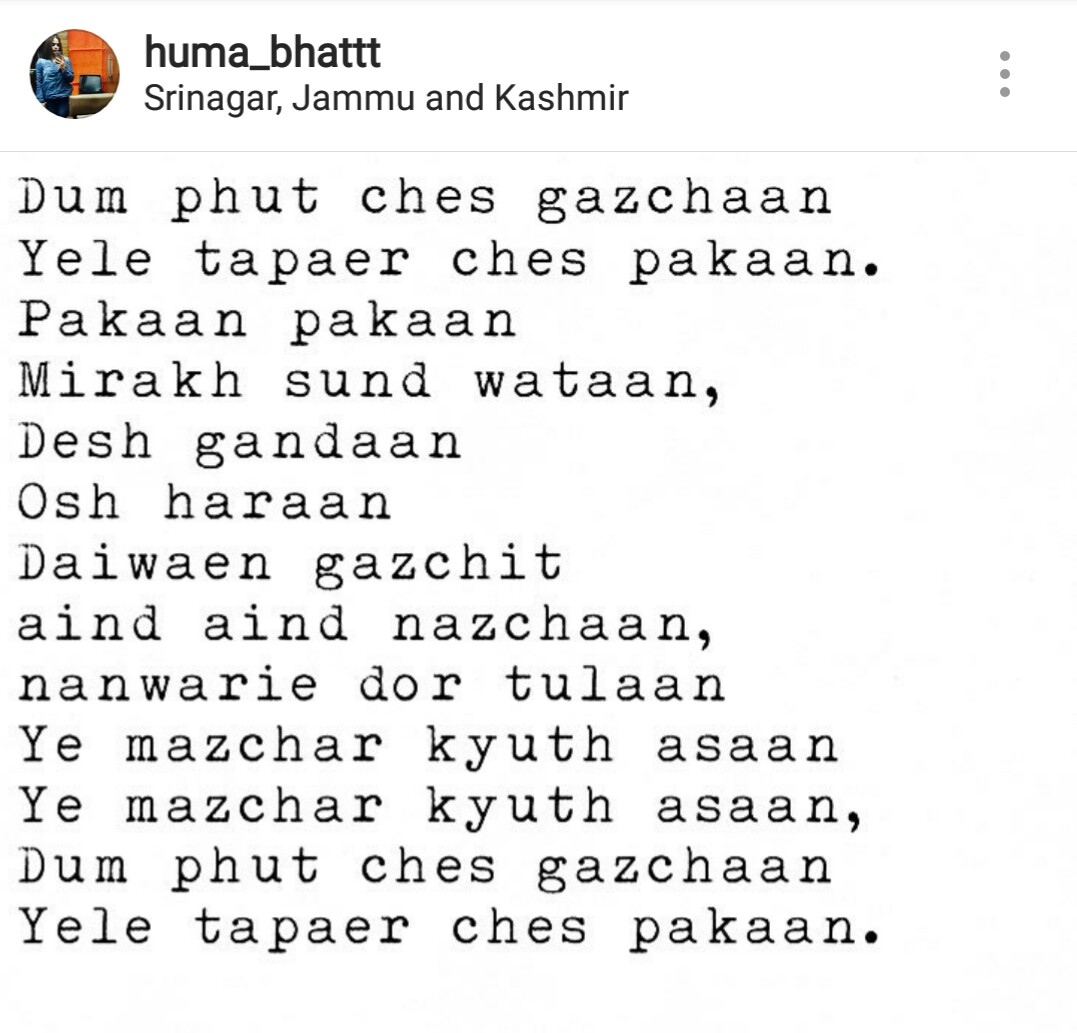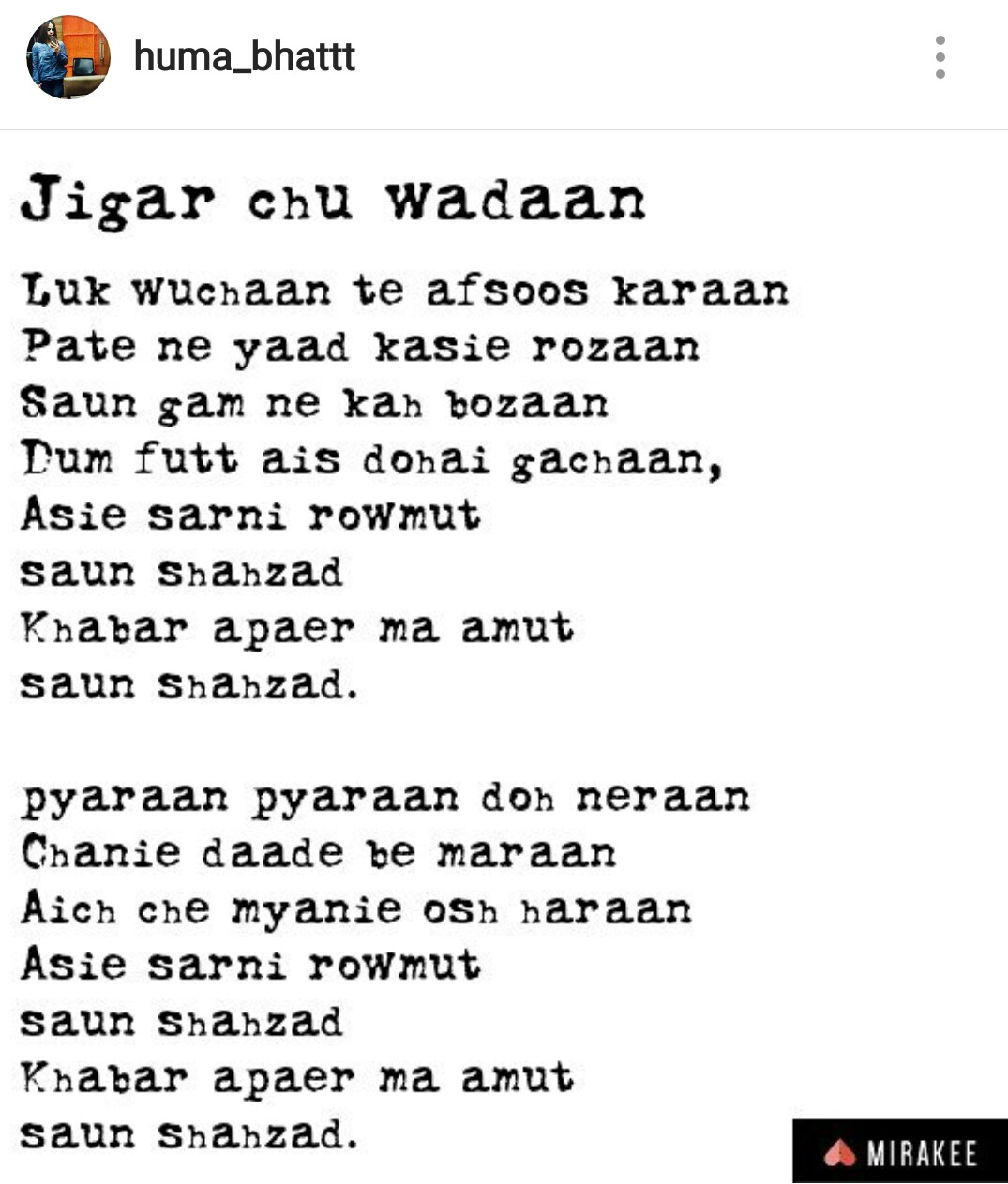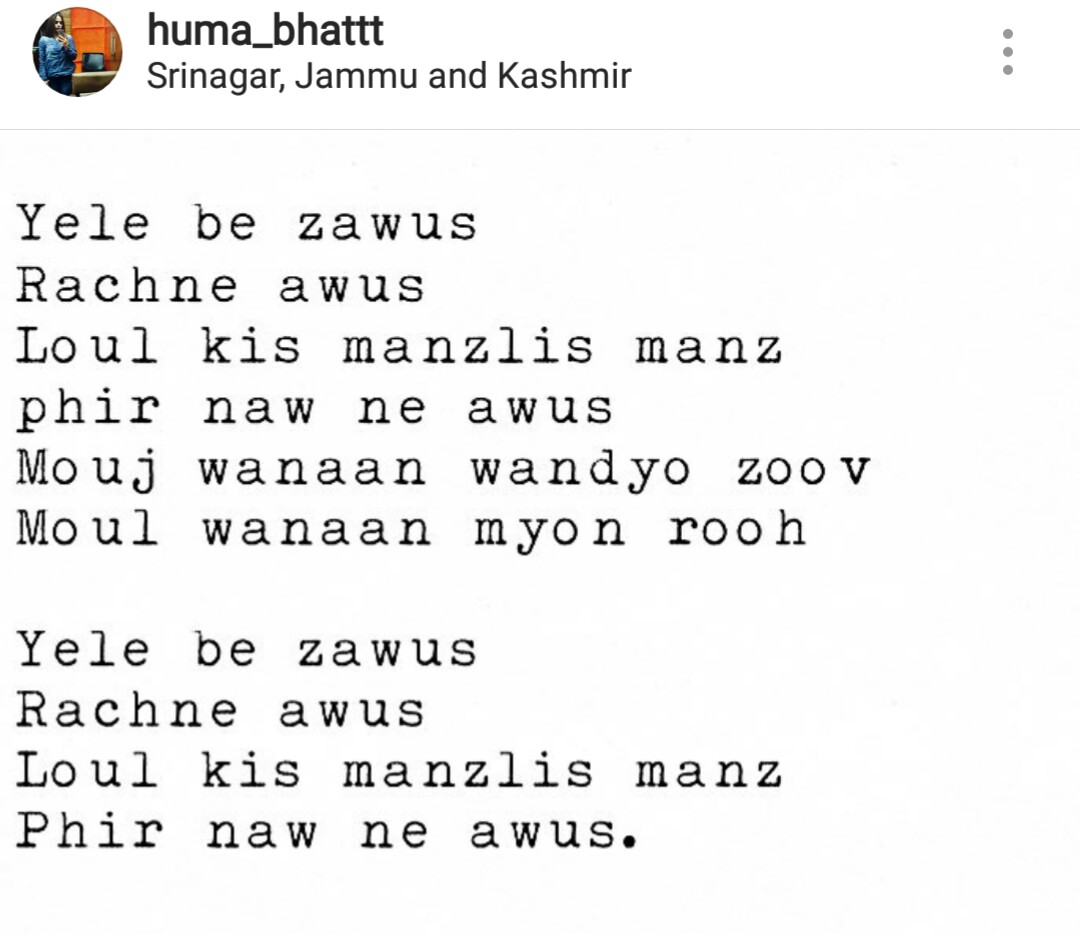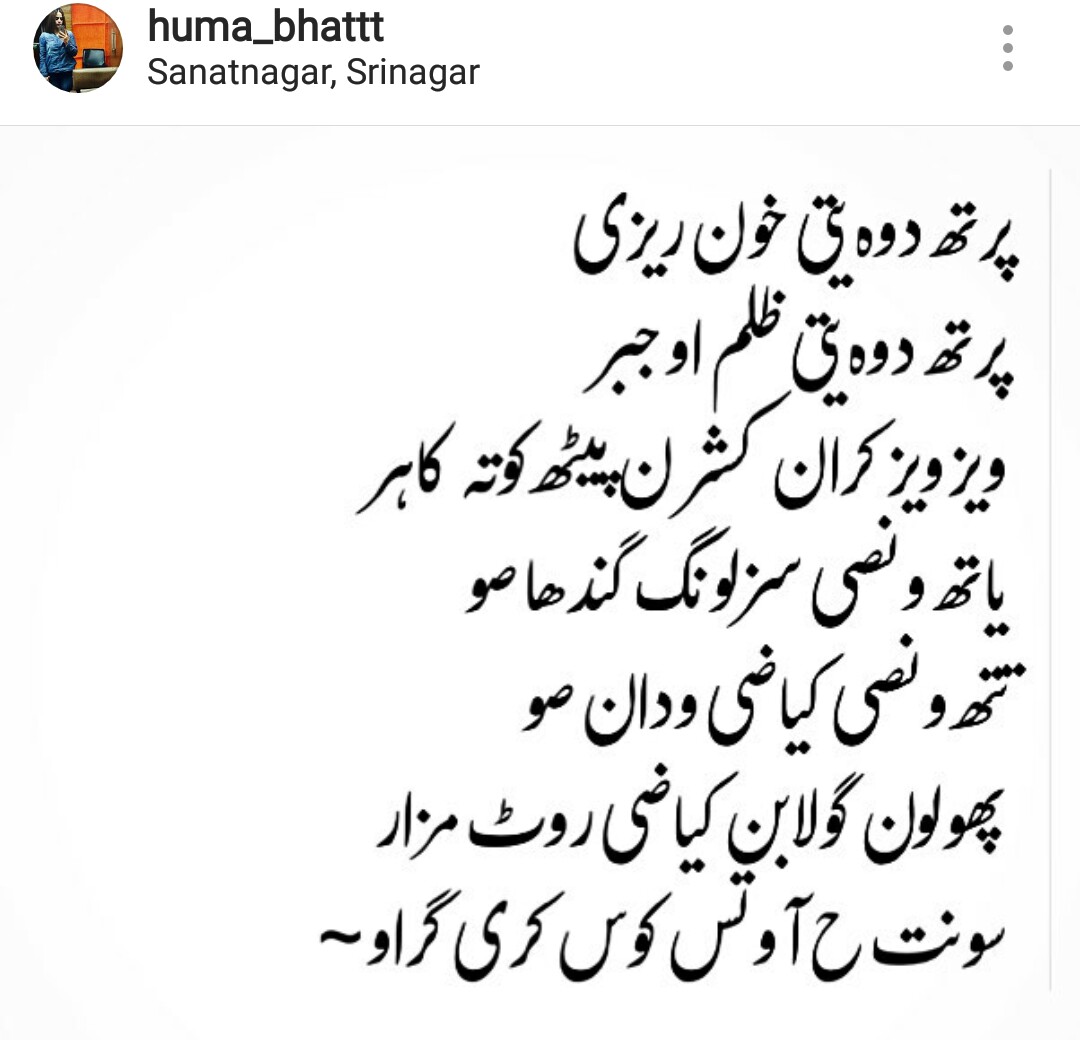 You can follow her on instagram here
Comments
comments