Tell us about yourself?
My name is Areej Syed and I hail from Downtown, Srinagar. I did my initial Schooling from Mallinson Girl's School and then I did my graduation in Humanities from Womens college MA road. Currently, I am working as a content creator and apart from that, I am also pursuing my Master's in Psychology through distance mode. I have been an active debator since school times and have been very passionate about public speaking, writing, and social issues. I have always been emotionally attached to Kashmir, its sentiments, and language. I believe these things helped me in reaching where I am now.
What does the word 'Ladishah' mean?
There are various narratives about it. One is that a man happened to be from a place known as 'Lari' and his surname was 'Shah' and over the time it was pronounced as 'Ladishah.' Also the art, the writer, the script, and the reciter, everyone is known as Ladishah, it is Ladishah in a wholesome.
Ladishah has been an important part of our folk tradition. Two things make it very important, firstly, it has humor and satire simultaneously, secondly, it always revolves around some socio-economic and political issue. It has been a torchbearer for society as it observes and tries to create an alternative opinion. Thus I believe not only me but all Kashmiris have a moral obligation towards our land, we need to preserve this art form.
When did you realise that you have this talent in you?
I had been quite active in extracurricular activities so iIknew I had something in me. I had no issue facing the camera or doing something out of the box. Specifically, about Ladishah I came to know through a news channel, they used to telecast it every Sunday and I was always eagerly waiting for it because it fascinated me a lot. And one day I finally wrote a script and uploaded the video, and that is how it all started.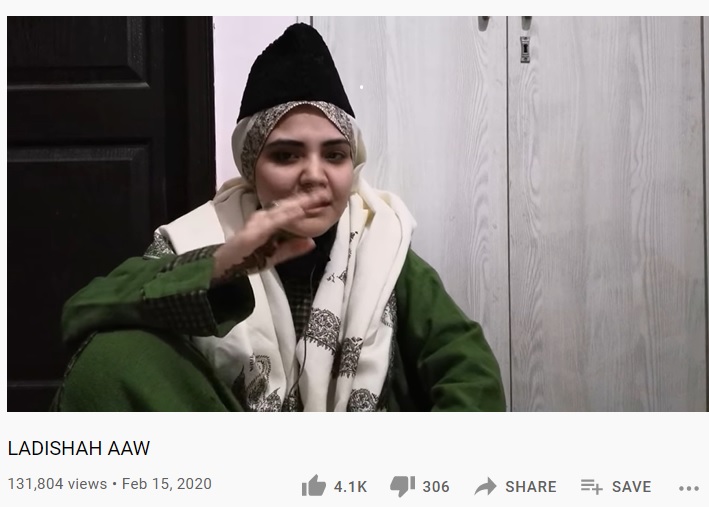 What problems did you face or do you still face keeping in mind the stereotypes that we as society have?
Well, I would start with my family and relatives. There were some of them who were not 'Okay' with me doing this. This was the biggest challenge because I was listening to my heart and for a while tried to ignore those who you know are very close to you. After that talking about society, well yes I faced struggle there too but you can't really expect everyone to be in your support. I am critiqued by certain groups on social media but these things are not a big issue for me as long as I know how to reciprocate. To my surprise, I also received a lot of support from many people.
Did you face any gender discriminations in this craft?
Well, gender discrimination is an ugly reality in our society. If I talk about the initial phase I remember some people trying to put me down by saying that ' you are a girl and should not do this job', 'had it been a boy it would have been fine', and things like that. There are people who judge me based on my gender and not my content. Even lately I have been observing that few people are coming to character assassination as they are finding nothing new to point upon. On social media however to my surprise, I found that male folks who are content creatorsc(I really appreciate and follow their work) receive applause but if I speak about the same issue I find my comment section filled with disgraceful comments. Even now people are pointing out at my 'dark circles' so you can imagine the level they have fallen to.
Kashmir in itself is eternal to Ladishah but what themes do you like to talk on majorly and why?
I have tried to keep the essence of Ladishah alive. Times do change but issues remain in every society so I am trying to incorporate themes that are significant in contemporary times. Like I wrote a Ladishah on the education system, why the quality of education is degrading. Also we live in a war zone, initially, I did try to perform on that but since we are under surveillance so it is not that easy to keep doing that.
Is Ladishah a means to keep Kashmiri language in flow, as in to strengthen it more?
Undoubtedly Ladishah is playing a part in keeping tradition and language alive. When we deliver something in Kashmiri language and people listen to that, it means that it is adding something to their vocabulary, no matter even if they are just one or two words
Where do you see the art of Ladishah in few years and what are your plans to expand it?
I am happy that my efforts are getting rewarded. I see a lot of schools taking Ladishah as an extracurricular activity. I have got many messages from parents to help their children out in Ladishah, this shows that Ladishah is getting revived. I personally feel it should be introduced in the primary level in schools because that is the best time when the vision of child starts developing and he/she gets aware about things. Due to Covid, I could not execute my formulated plans but I am waiting for schools to reopen so that I visit them and seek suggestions from the school administration about it.
Interview by Durdanah Masoodi
BA(H), Political Science, 3rd year, Miranda House, DU.