I'm Annapurna Menon, a History Hons graduate, working with @indiapictures and exploring mountains, beaches and monuments everywhere. Currently residing in Delhi, I conduct heritage walks on alternate histories at SafarNama!
Since I've been travelling, I follow a motto of hoping for the most beautiful and exquisite travel experiences filled with sceneries that stops my feet, simply to stare, conversations with people that teach me secrets of their lifestyles, exotic food and much more but prepared for the worst possible situations. While I've had both on most of my journeys, Kashmir was absolutely wonderful right from the moment I could view the Himalayas from my flight to bidding farewell.
It wasn't the first time I visited Kashmir but I had so many first time experiences, that even two weeks I'm still contemplating about the trip. My trip started from a short stay in a tiny village, Tangmarg, close to the popular dream skiing location, Gulmarg where my friends had invited me. Kashmiri hospitality is world renowned, but I was still pleasantly taken aback by their love and generosity. Living in a house under construction (Since two years, due to major disruptions happening as a consequence of climatic condition and Burhan Wani's death), my friend, Shabnam was somehow conscious and her utmost priority during my stay was "Aapko maza lag raha hai ya nahi" (Was I having fun or not?). I can still see her face light up when I got down, she and her sisters came to give me big hugs and before I could even enter her house, I was offered at least three different snacks and noon chai. A day filled with long walks around my friend's orchards, trying out each others Pheran's and gorging on Wazwan and Gulab Jamun (Which I had taken from my favourite sweet shop in Delhi), we ended with conversation that ran into the wee hours of the night and we slept with the curtains wide open, the stars glaring on our faces.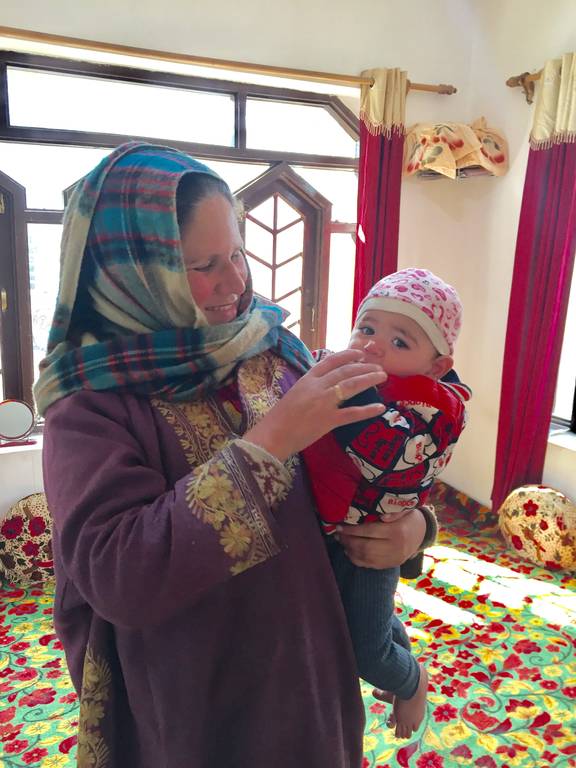 One of the most interesting incidents would occur while travelling in public transports, completely filled sumos and similar bread box shaped vehicles, where people would openly ask about my family, my job, my book and so on. I got an opportunity to engage with so many people and we often had the most delightful conversations on politics, education, industrialization, feminism over cups of noon chai and kehwa.
This time in Srinagar, I wanted to visit places I hadn't been to before. And I actually did. To places with unfamiliar names and on unknown routes. Crossing rivers and attempting to walk over mountains (mostly failing), two of my friends, Ruman and Nasir made sure I got to see a lot of Kashmir I usually wouldn't. Badamwari in spring was surreal, with white blossoms everywhere, as far as the eye could see. Kashmir, in spring is as it is breathtaking, and Badamwari adds to the wreath of flowers that are spread all across. Next, we went to Dhara, a tiny settlement with a gorgeous view of the valley. Though the skies were a bit hazy, we could spot Dal lake and Manasbal and the dim lights of the city, flickering. We made so many friends here, and I was so excited when the girls wanted to get pictures clicked with me, possibly more than them. Their houses, their way of living, welcoming us, it was so genuine and heartfelt, that its difficult for the receiver to describe their emotions. Also, the best part is when my friends recently went there by themselves, the kids still remembered me and their mother even sent a recording for me, saying 'Salaam' and wishing me all the best. If I was there, I would wish her all the good luck in the world and hope only thes best to happen for her and her family.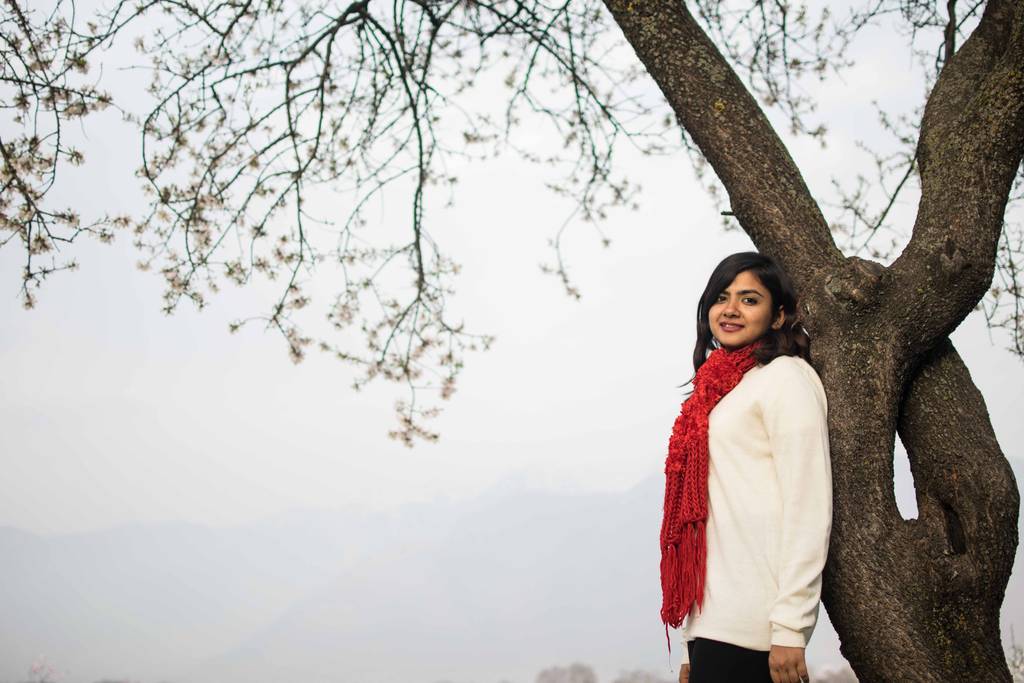 Photo by Ruman Hamdani (@theotherrumii)
I also got to do a very touristy thing, the whole staying in a houseboat experience. While the boat wasn't as rickety as I had thought (hoped), I stayed at Jhelum and Nigeen Lake. Night at Jhelum is beautiful, with the light from the mosque on the other side bouncing off the gentle waves. Even the boat ride at Nigeen lake, where we were the only ones in the entire lake, was so peaceful. Looking at the old man swing his arms while singing a Kashmiri song, fresh yellow flowers in my hand spreading a sweet fragrance, it couldn't get any better.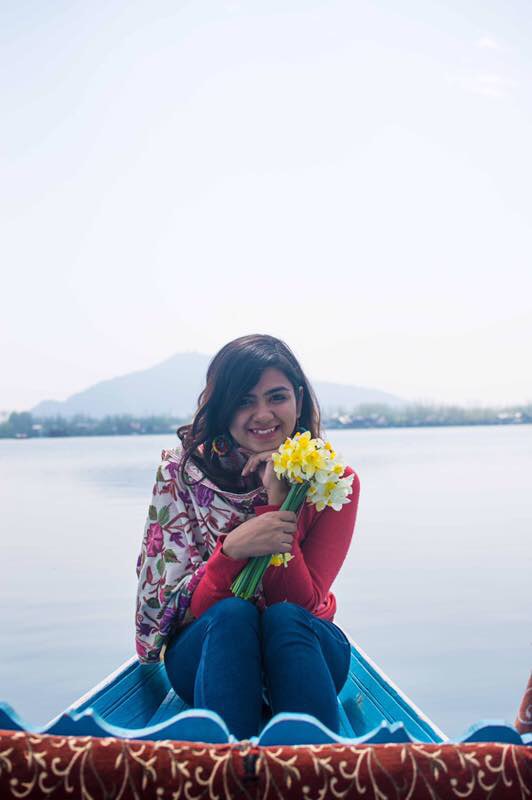 Photo by Ruman Hamdani (@theotherrumii)
Not to miss out on what a gastronomical delight Kashmir is, especially for non-vegetarians, I couldn't get enough of the kehwa, rista, gustaba, beef fry, elaborate lunches at Adhoos, a lot of coffee at Mahattas. I would advise anyone travelling to Kashmir to try everything! Even the kebabs on the road side would be succulent and so yum! I've always loved Kashmiri food, and if someone is travelling from Kashmir to Delhi, I would be forever grateful if you could bring me some coconut cookies.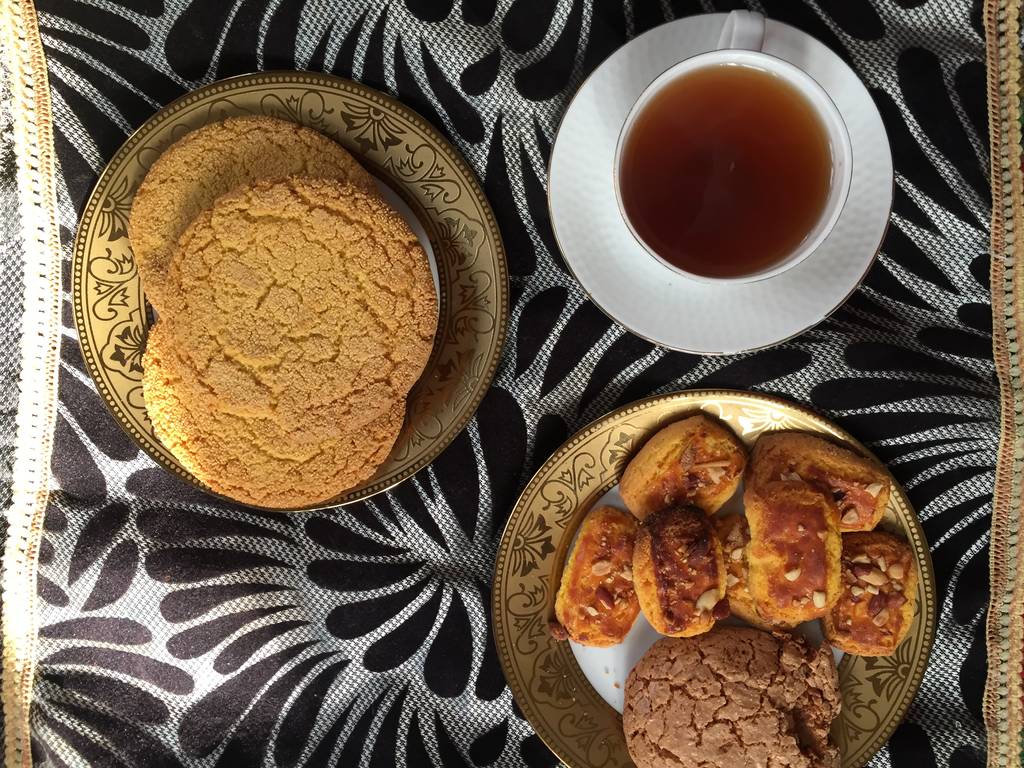 As I'm pretty used to leaving places, I never expected how much it would hurt me to say goodbye. It was raining and I took it as a sign, the skies were crying with me. Kashmir, had been beautiful every minute for me – even if I was simply taking a walk all alone with a book in narrow lanes with old houses, and I didn't want to go back. The air always feels heavy, as if something wrong is happening here, which is so obvious that one just can't ignore it even if they close their eyes and ears. It hurts to see such a wonderful place and people bleed. As I rushed through security, rechecking bags twice, and feeling very shaken by the security's methods of frisking, my eyes were filled with tears. The mountain ranges were still covered in snow, and the sunlight over them kind of reflected in the airport. All I could do was hold my tears, and hope I would be back very soon.
Somewhere,
There's a place faraway
Where the sun is just a star,
That people wish upon.
Somewhere,
There's a place faraway,
Where the sun burns for you,
Lightens all the nooks and crannies,
To hide, discover and play in.
Somewhere,
There's a place faraway,
Where the heavens cry while parting with you,
Such tragic beauty in the grey and gloom.
Tell me, how do you bid farewell to such a place,
Somewhere far away?