Clothes aren't everything there is to a person. But, the association with traditional clothes is beautiful. Kashmiris associate themselves with what they wear. They hold it as a dear part of their identity. And, pherans are something that are purely a part of Kashmiri history, culture & tradition.
Pheran, a loose part of clothing, extending to knees or more, dissolving genders & age, is the traditional part of Kashmiri culture. It has stood the test of time, flowing with it, overages.
No matter how the seasons change, culture stays, the roots etch deeper even if they are moulded in different shades & ways.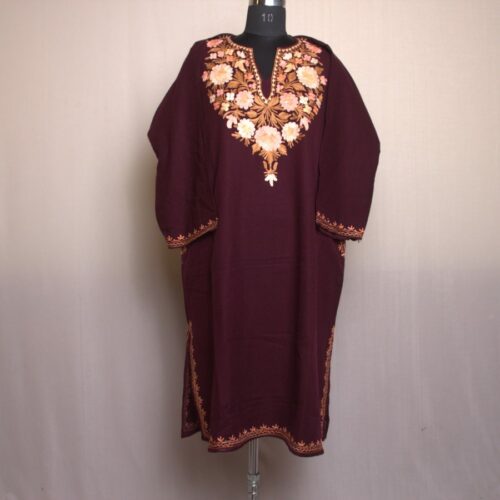 The history of pherans is the oldest to say the least. As early as 15 century, it's believed, pheran grew its roots in Kashmir. In early days, pheran was not just something one chose to wear, but also something that defined modesty & regard. In summer as well as winter, both men & women wore pheran. However, talking specifically about women, pheran became an important aspect of their lives. No matter what else they wore, pheran had to be put up irrespective of what season it was or where they needed to go.
The imprints of women wearing folded patterned sleeved pheran, with slits at elbow – Korab Daar Pheran are still there, but it was a beauty to see all the women wear pheran in the most simple way possible.
Types of pherans:
Pheran making has been an art in Kashmir since ages now. There are pherans for summer, pherans for winter, pherans for specific occasions.
In winter, the pherans are made of Tweed. Thick & warm, they work wonders against chilling cold. In turn, to protect these from the extreme heat of kangri (fire pot), which people can't do without in winters, a cotton lining called postch (khadir) is stitched to it from within. Tweed pherans are mostly simple, in fact devoid of embroideries. The way they are stitched speaks their style.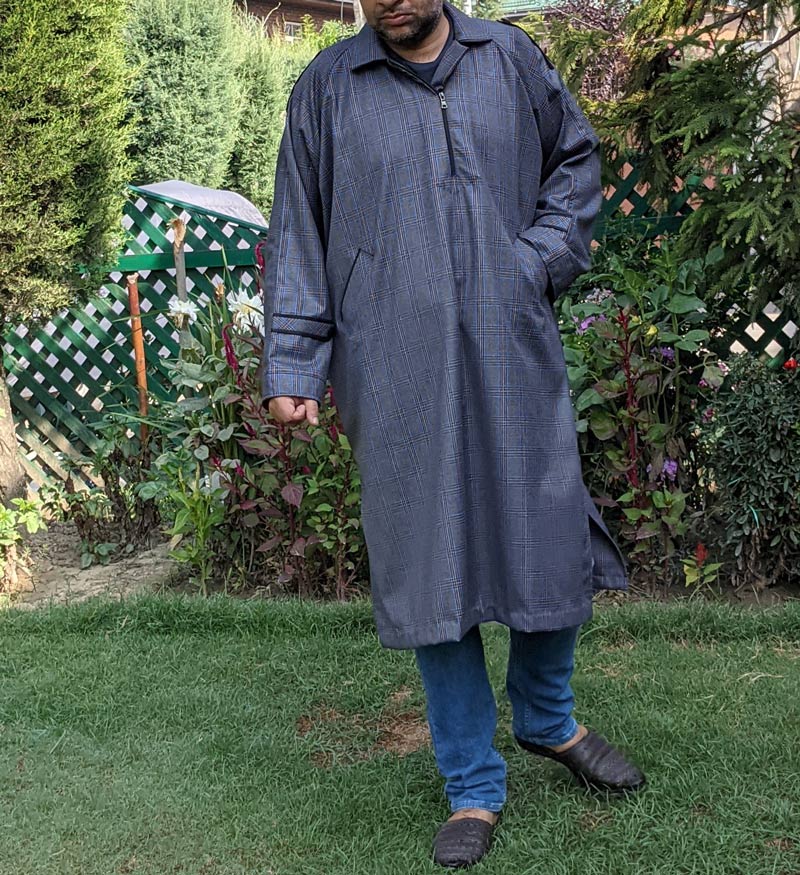 Another one is Rafl Pheran. It's gracefully light yet warm. Unlike Tweed pherans, these are embroidered mostly. Light & warm, these become a go-to for those who like it light.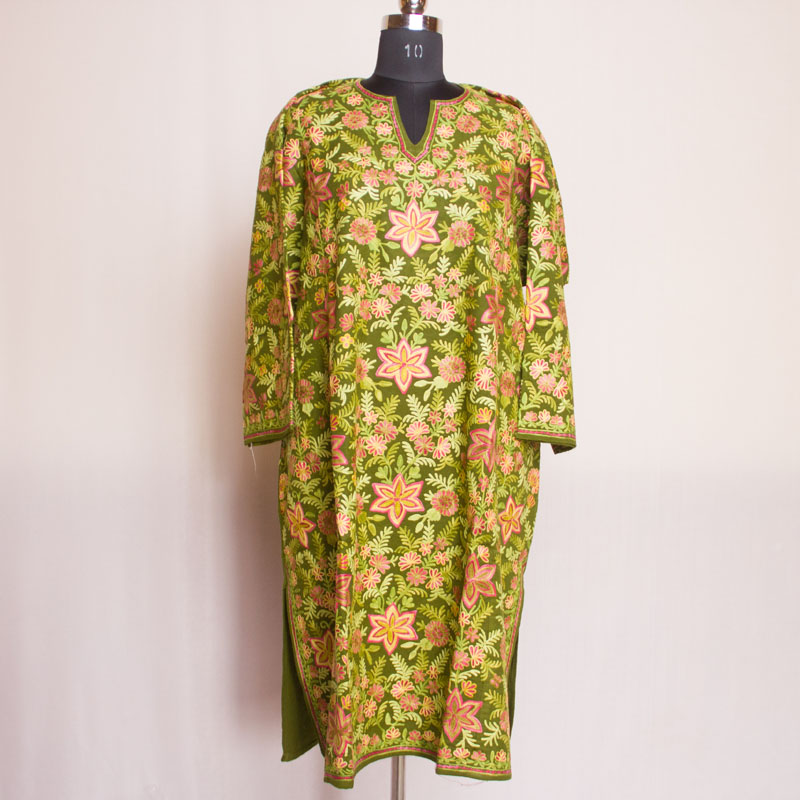 Buy raffal phiran with embroidery online
Want to wear one in summer too? There are cotton pherans – the most light variety of pherans made specifically for summers. Tradition & season are both taken care of.
There also are varieties of silk, velvet, but they are adorned with embroidery of various types to add grace to their beautiful textures.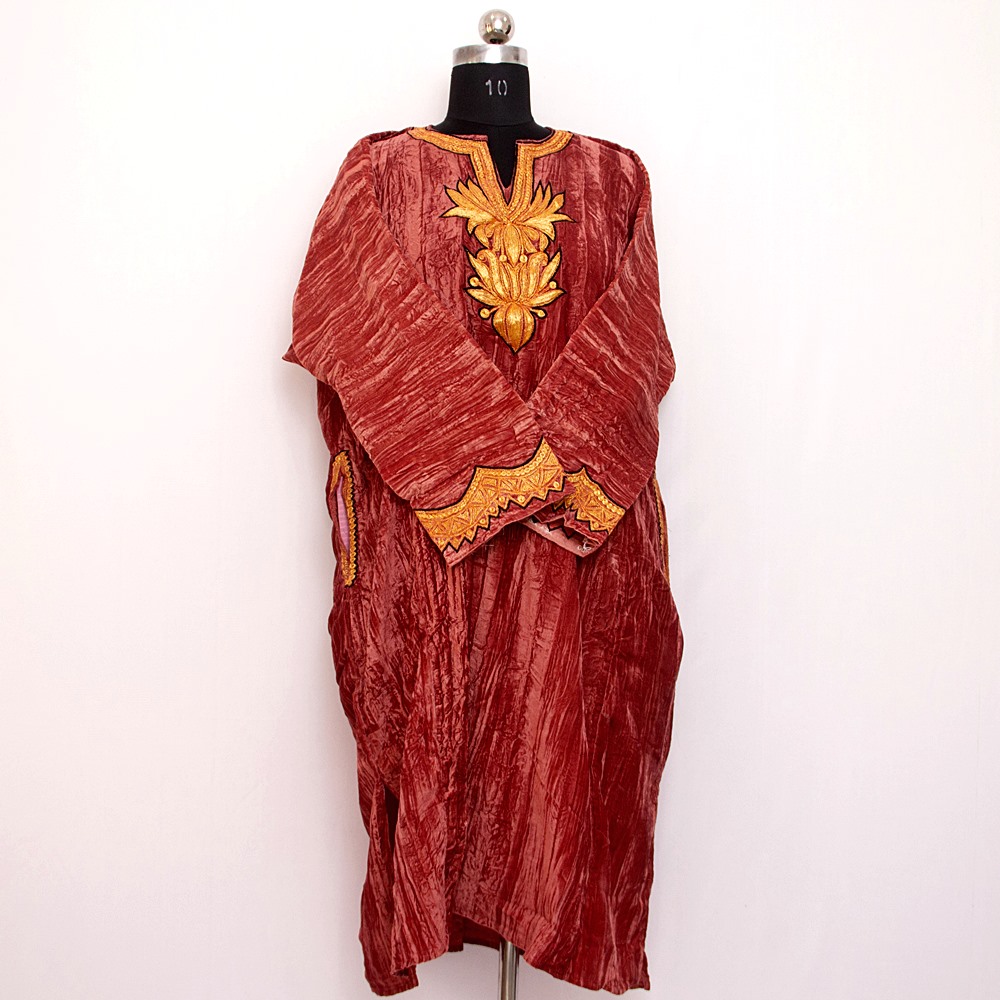 Types of embroidery on pherans :
Occasion defines the type & amount of embroidery done. For casual use, rafl pherans are embroidered. Aari embroidery, done with long needles, creating floral patterns bedecks rafl pherans – mostly the lower neck, cuffs & border of the pherans.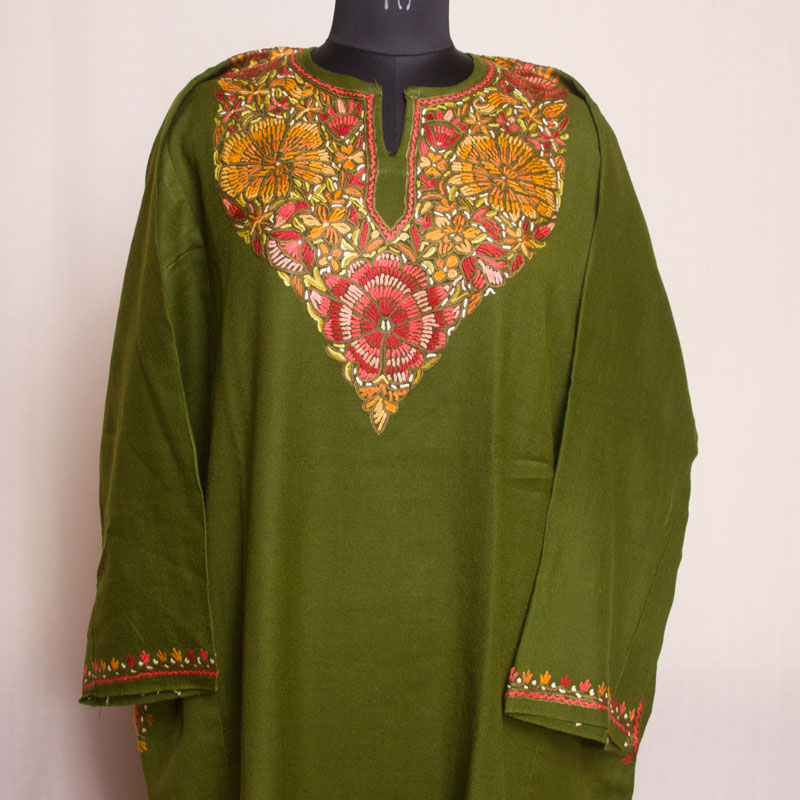 Tilla embroidery – the most known, most graceful embroidery enlightens the pherans as well as the occasion they are put on. Tilla – golden or silver threads are tied together with needles to create patterns. In olden days, only elder women preferred Tilla embroidered pherans. However, its look catches the attention of the younger ones too in current times.
Uses of pheran:
The most notable use of Kashmiri traditional pheran is immense warmth. It works as a shield against bone-chilling winter. Its extending & loose fitting allows a person to put on more clothes before putting it. A warm gown, it could be referred to. Families, each member, in their own phiran, huddle together, sometimes sharing a kangri, & conversations. Little ones often sit beside their mothers, seeking warmth & love while heat warms their insides.
Pheran is an extremely essential part of Kashmiri weddings for women. After completing the ritual of having a bath (aab-sherun) before nikkah, brides are supposed to wear a Tilla-embroidered pheran, offer two rakats of namaz (salah), recite Qur'an & wear the same pheran for nikkah. Such is the essence of pherans.
Wearing traditional solace, folded hands in front of Almighty, women pray for their new life.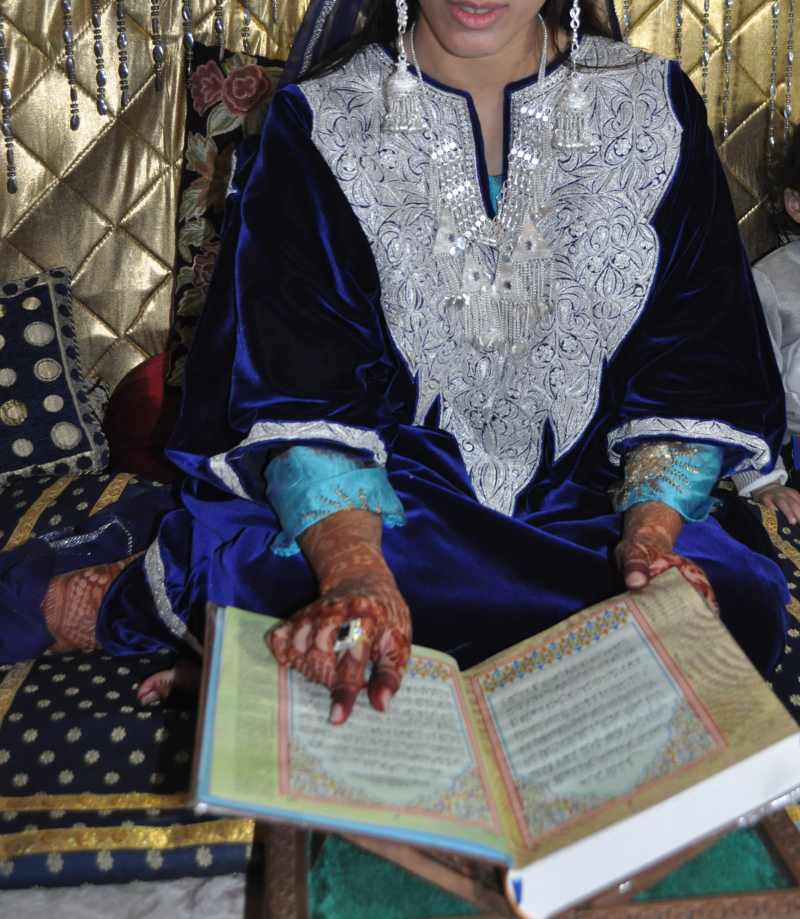 In fact, pherans have etched so deep in traditions that it's expected of brides to have at least one Till-embroidered pheran in their wardan (trousseau) as they head out to their new home. (Waeriv)
Wondering how to wear a pheran?
The "modern-day" pheran come with limitless possibilities. Whatever style & fitting works for you, you can get it made. And, today, every age group, has a pheran of their choice. It's worth noticing that from informal garment, one that stayed in households or one that was put for informal gatherings, Pheran has journeyed towards professional places.
Men as well as women, put pherans while going to offices. Girls, as well as boys, wear it to go to tuitions or for casual outings. Many teenagers also prefer a hooded pheran, & this has an additional feature of keeping their head warm against the cold waves & snow, too. Variety, such variety. The patterns, fittings & features of Pherans are evolving but the fact that Pherans are a part of Kashmiris remains guarded.
And, Kashmiris are used to keeping Khensa (candies, & different little eatables) in their pockets. Elders store it in Pheran pockets after buying it, children identifying the sound, in extreme anticipation look forward to it & after getting khensa eat it in their own sweet time. Little joys. Taste of sweet life in winters.
And, the other thing worth mentioning is that jackets, sweaters, coats, & other clothing items that promise modern style can't compete the comfort & warmth pherans are all about. Either they are limited in use or some of these are put beneath pherans. With different colors, designs, & limitless possibilities, Pherans are dominating the wardrobes, claiming different sections of it. Each reflecting an occasion, an outing, a time, a season.
Pheran is the crown (the Sardaar) of clothing.
It's worth adding that "Panun Pheran Bani Ni Kuni." (one can never find the Kashmiri pheran anywhere else)
Article by Aiman Khan
Buy Kashmir pherans online On Gyawun Here and get them delivered anywhere across the world.