Please join our group on Telegram to ask questions and see updates https://t.me/gyawungroup
We will be posting on this group regularly
---
2:46 PM
Video Source Aaqib Bashir
---
10:29 AM 10 Aug
---
10:37 Pm 9 Aug
| | | |
| --- | --- | --- |
| Anantnag | SI Touseef | 9419050051 |
| Baramulah | DSP | 9419128305 |
| Budgam | SHO | 8991121135 |
| Budshah nagar | | 9419871416 |
| FATEH Kadal | SHO | 9419042317 |
| Harwan | SHO | 9419000802 |
| HMT | SHO | 9419047316 |
| Khanyar | SHO | 9469665786 |
| Lal Bazar | SHO | 8991121211 |
| langate | Sho | 9419017986 |
| Nehru Park | SHO | 9419045333 |
| Nigeen | SHO | 9419003760 |
| Nishat | SHO | 9419255774 |
| Nowhatta | SHO Wasim | 9419007833 |
| Panthachowk | SHO | 9469329659 |
| Parimpora | Javed SHO | 9419047316 |
| Pulwama | DSP | 9419013181 |
| Pulwama | SHO | 899112116 |
| Pulwama | DSP | 9419013181 |
| Rainawari | SHO | 9419023777 |
| Rajbagh | SHO | 8991121200 |
| Ram Munshi Bagh | SHO | 9419004195 |
| Sogam Lolab | SHO (Rafiq Lone) | 9469133458 |
| Sopore | SSP Javed Iqbal | 9469076014 |
| Sopore | SHO | 9469546077 |
| Zadibal | SHO | 9419000334 |
| ZADIBAL | SHO. | 941900334 |
---
11:27 Pm
Some message from our Telegram
1.My friend was able to talk to his parents in tral via landline , strict curfew there but no reports of any major stone pelting.
2. Member says :Spoke to a relation in Pampore. Total clampdown with sporadic protests. He also happens to work at a govt medical facility in Pulwama. There are no reported casualities.
3. Asalamualikum landlines are worki g in pampore i talked with my family many times from 6pm today but only outgoing no incoming that means they are able to call but sadly i am not able to call them, situation in and around pampore is normal but as per my family when ever i tried calling them o cell phones they were able to get missed calls and likewise i also got there missed calls
4. It seems outgoing on (some) landline numbers has been restored, atleast in Pampore.
I just talked to my parents. There has been some stone pelting in some areas of Pampore like Frestabal and Namblabal. No idea about casualties.
5. Spoke to my Cousin who works in BSNL, his mobile network has been restored for communication with some senior officials.
As per him… Sonwar and Dalgate area is deserted. Strict restrictions and heavy deployment of army. No stone pelting or protests so far… during evening small shops open which provide foodstuff and grocery to locals in the area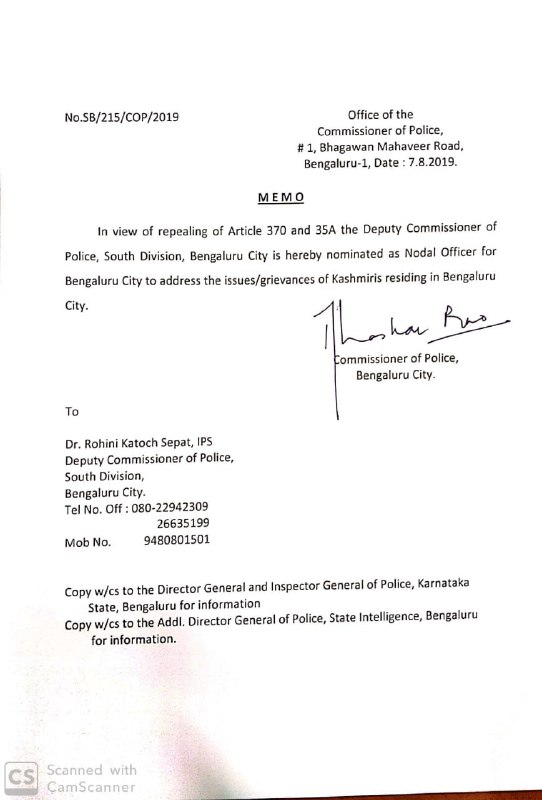 ---
1:35 Pm 7 Aug
Bemina
---
3:48 Pm
Doctors and security host a black flag at SKIMS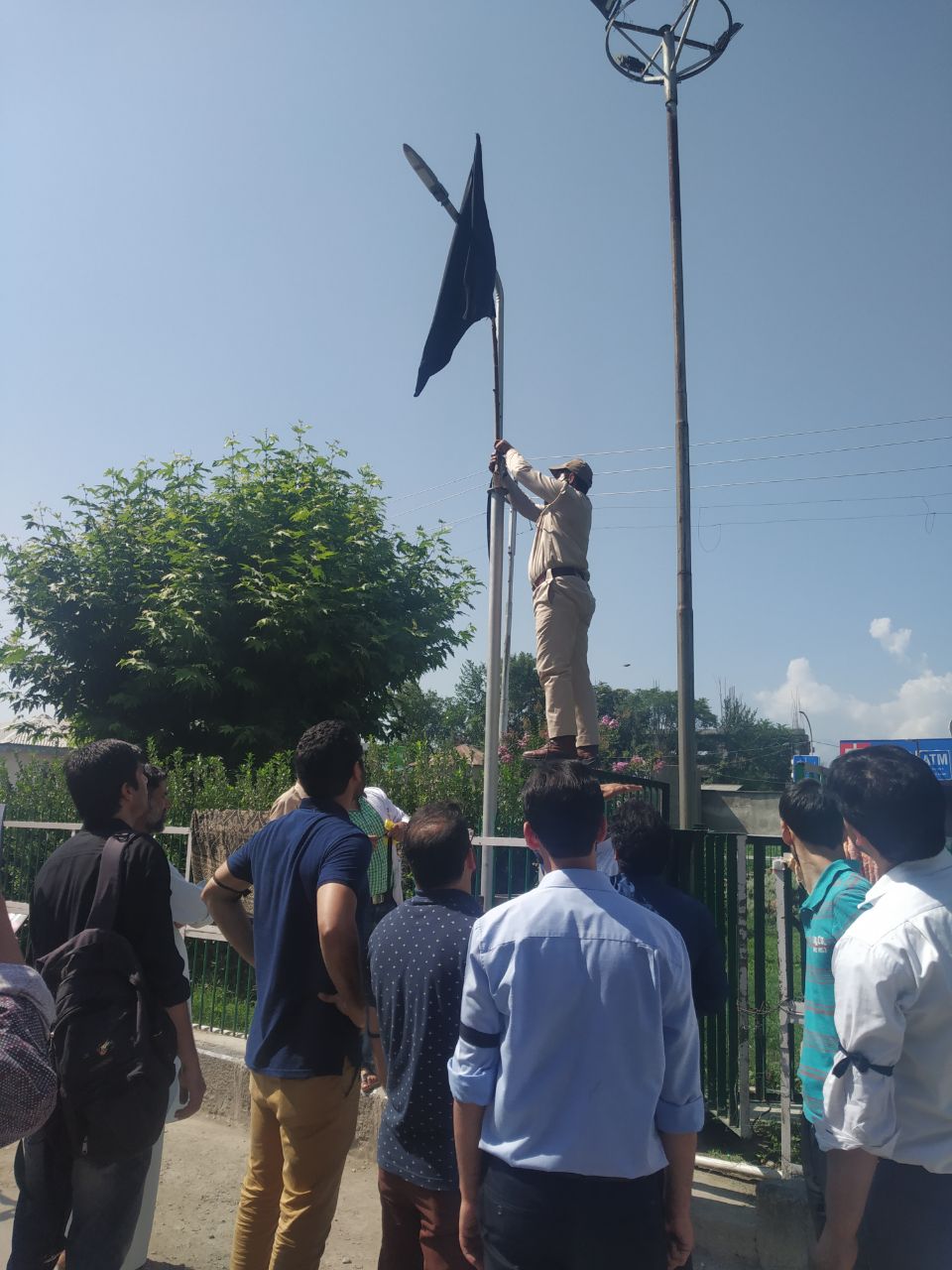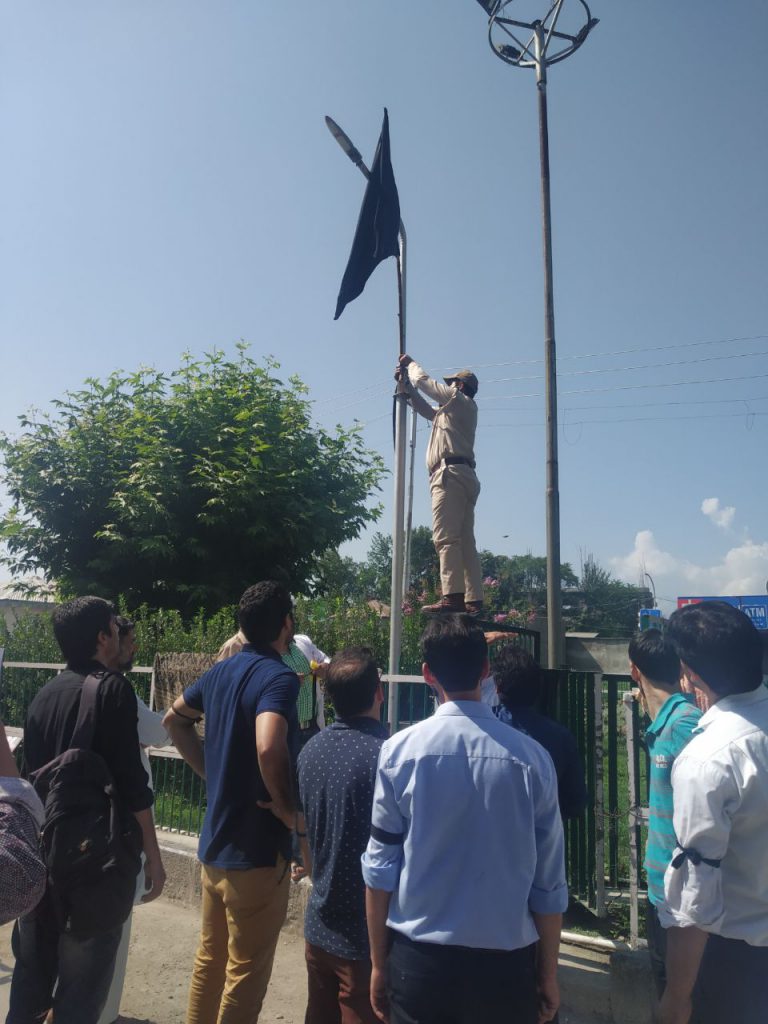 ---
3:46 PM
I'm from Lal Bazar. Currently I have access to the internet as I am in a hospital. I'm using Hospital Wi-Fi. I've seen people enquiring about Lal bazar in the group, please convey everything is fine from this side. As for Soura, continuous stone pelting. On 90 ft road and as well as in Nowshehra.
---
3:37 PM
---
2:45 PM
One death from Noorbagh and two from South Kashmir. Stone pelting in many parts of downtown
---
1:35 Pm 6 Aug
---
10:30 PM
Unconfirmed reports South Kashmir is on boil
---
10:32
No need to panic. Today was calm in Srinagar. Lets hope thing prevail better tomorrow
---
9:17 PM
Just reached delhi from Srinagar. Curfew imposed post Fajr. People have no idea about the article being scrapped. Only d2h services like Tata sky and dish TV working (The only connection with the world).
The word is spreading slowly and so is the fire.
Mueez Riyaz
---
8:18 PM
Civil lines was calm today
---
7:39 Pm
Reports that Mehbooba Mufti has been arrested
---
7:13 PM
Firing at Noorbagh. Injured shifted to SKims
---
7:10 PM
Voice note from Kashmir
---
5:04 Shehla Rashid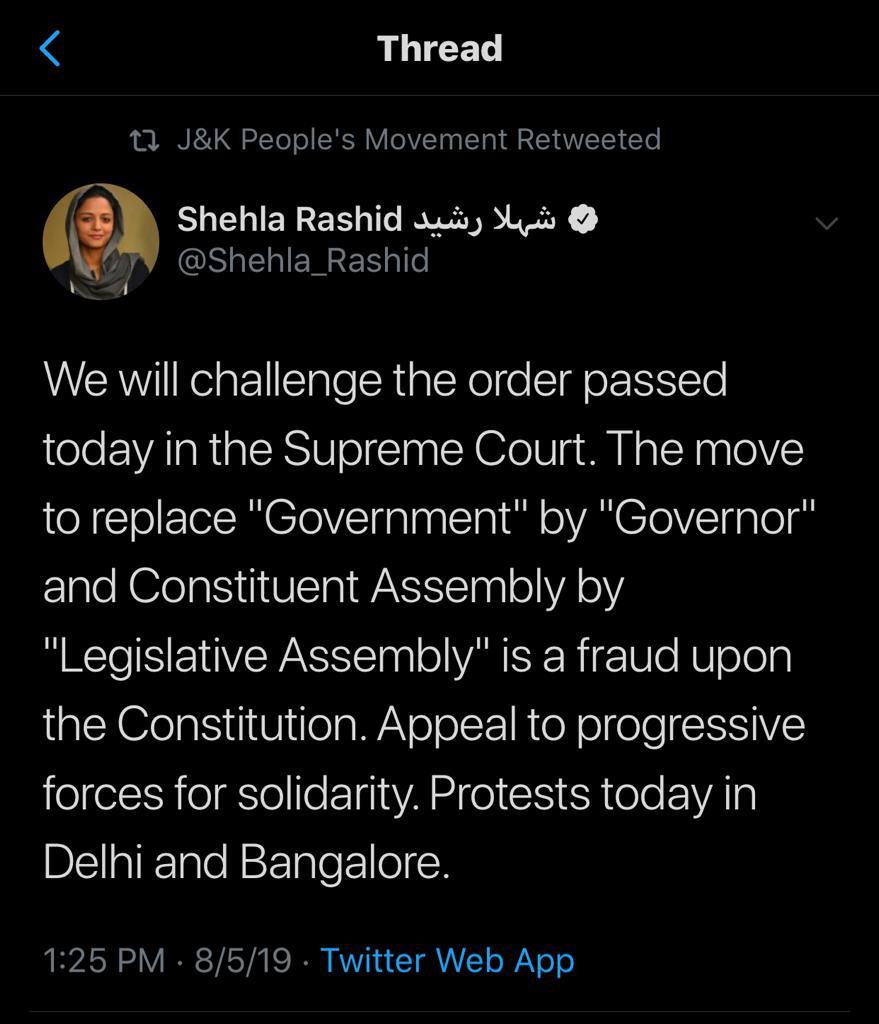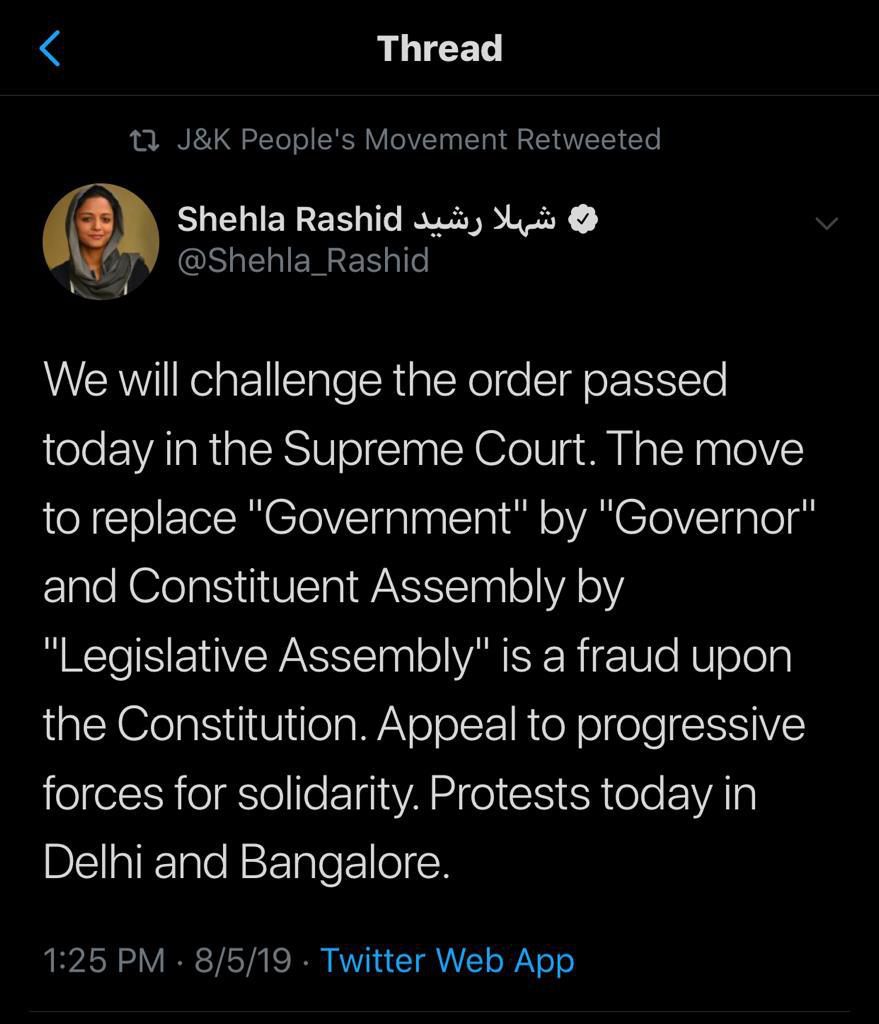 ---
4:52 PM Reaction of Shah Faisal
---
4:33 PM
Governor of the state of Jammu and Kashmir to continue as the LG of UT's of Ladakh and Jammu and Kashmir.
---
2:35 PM
15th Point on Amit Shah's document suggest JK police might revolt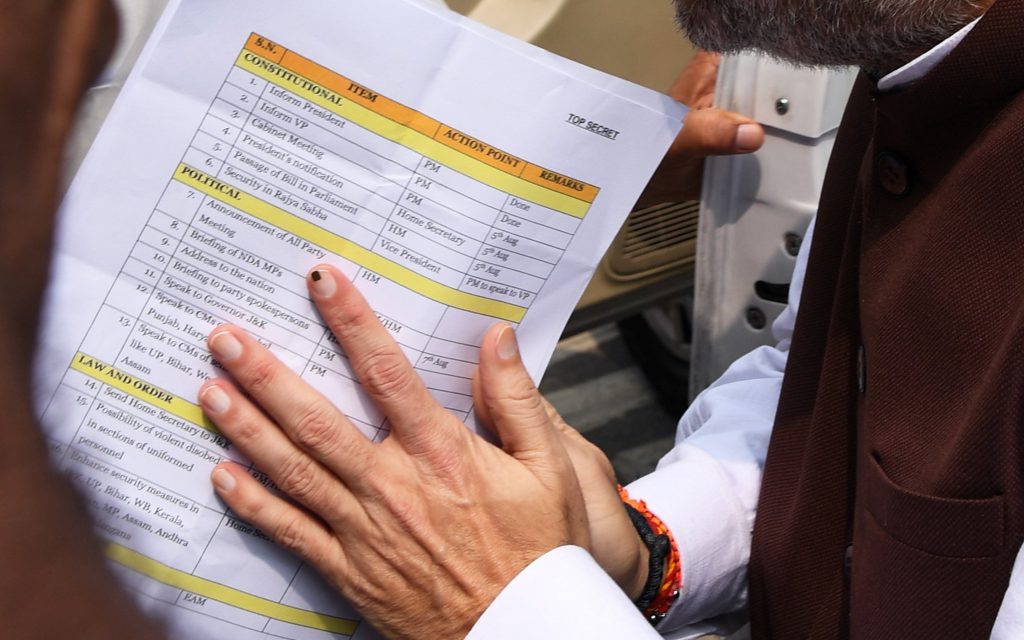 ---
12:53 PM
PDP MP in Parliament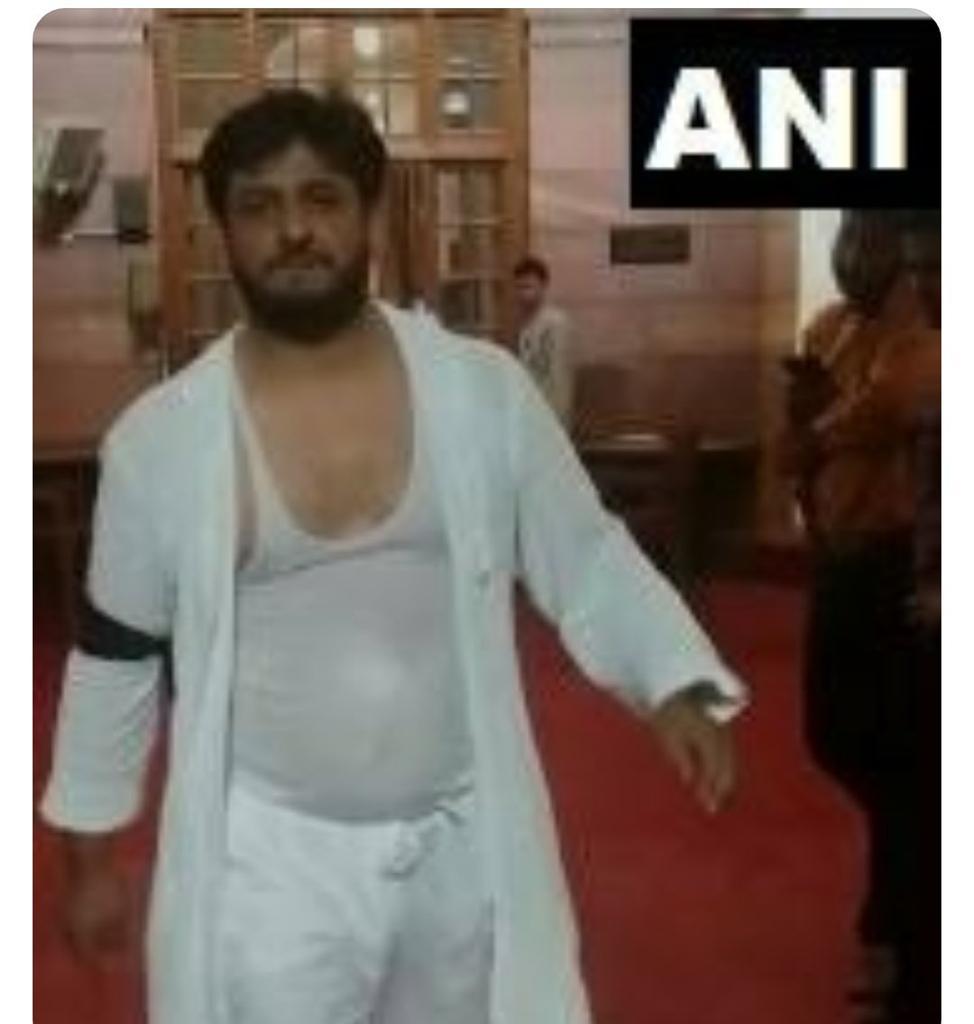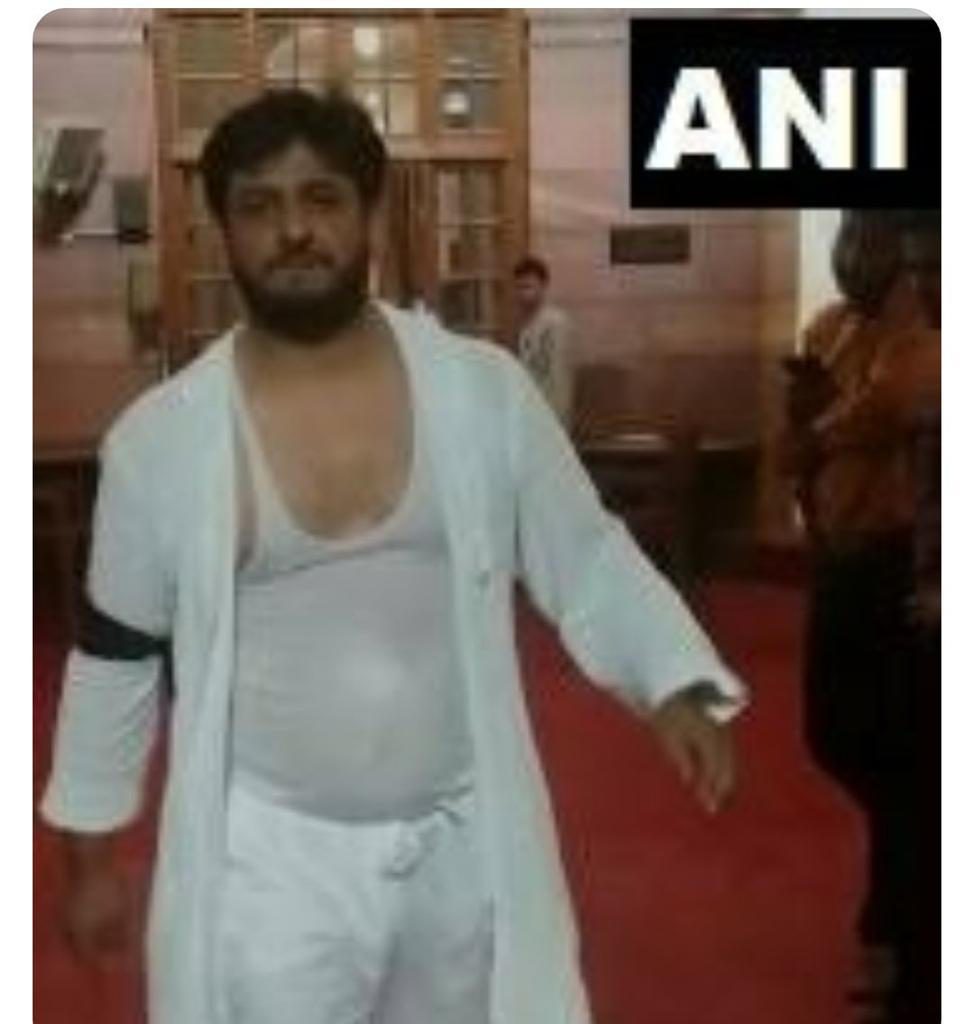 ---
12:49 PM
Omar Abdullah Statement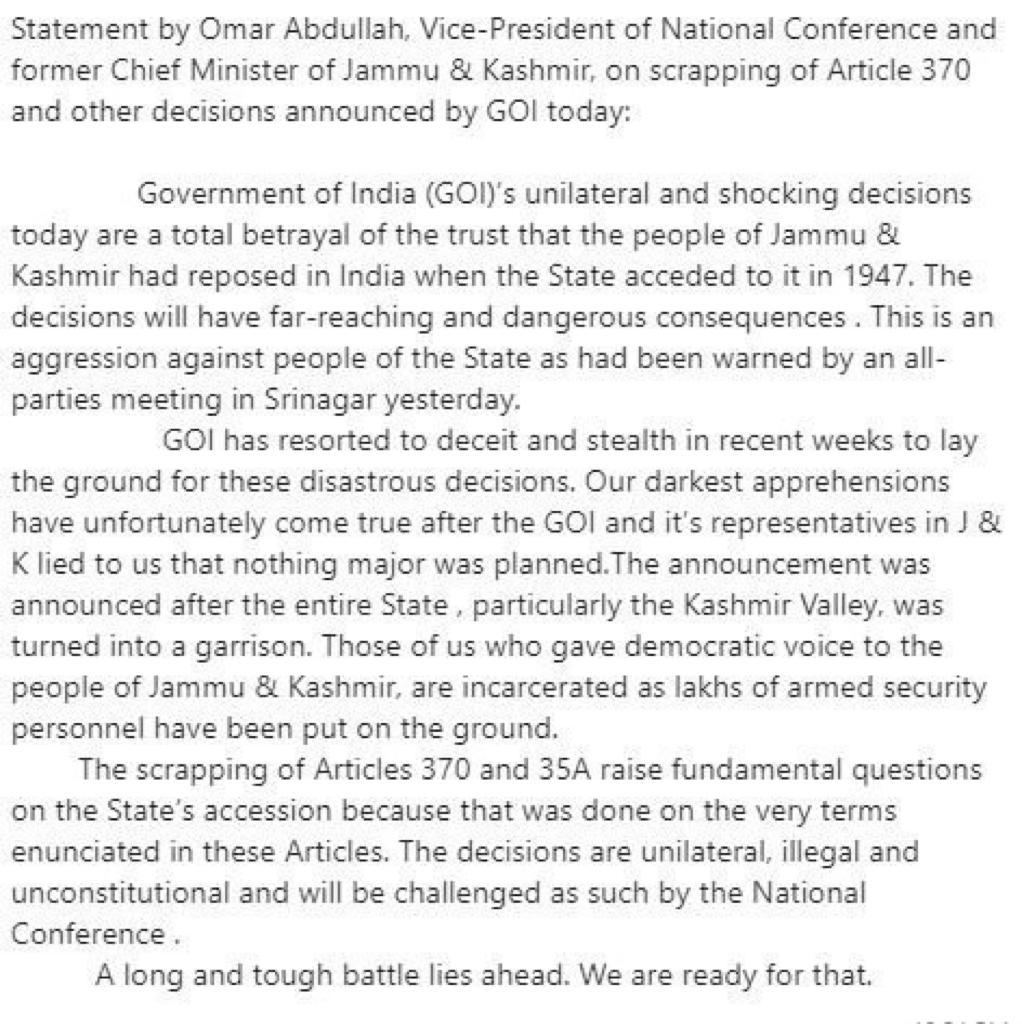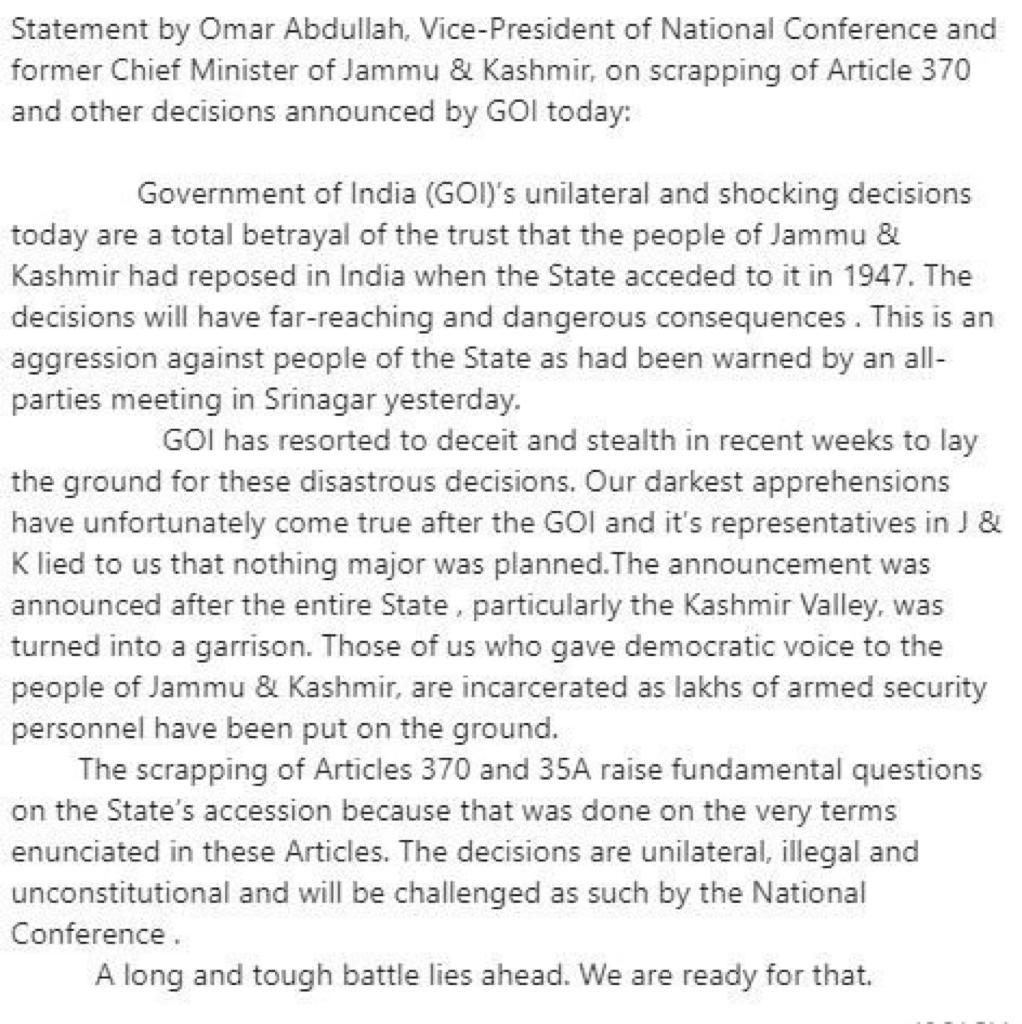 ---
12:36 PM
DTH news channels blocked
---
12:00 PM
Calm in Kashmir. News of 370 scrapping not spread yet
---
11:36 AM
It will have catastrophic consequences for the subcontinent. GOIs intentions are clear. They want the territory of J&K by terrorising it's people. India has failed Kashmir in keeping its promises say Mehbooba Mufti
---
11:18 AM 5 Aug
Article 370 Scrapped
---
10:44 AM 5 Aug
2 PDPs MPs protest outside Parliament. Say no terrorist in Kashmir, Indian government forced them to take guns
---
10:38 Am 5 Aug
VUDXL IAF moving towards Srinagar, started from somewhere in east India. May be more troops are ferried
---
10:18 AM 5 Aug
Enterprise Internet will be blocked in few minutes in Kashmir. Instructions given by cybercell. Means no internet to media houses and businesses
---
10:09 AM 5 Aug
Amit Shah to make statement in parliament at 11 am IST
---
10:08 AM 5 Aug
Again Police Vehicles announcing curfew again in valley
---
10:01 AM 5 Aug
Salman Soz travelling from Delhi to Srinagar right now. Says very disappointed. Kashmir and Kashmiris will have long term effect of this
---
9:56 AM 5 Aug
#WATCH: Security forces deployed in Srinagar in view of the imposition of section 144 CrPC from midnight 5th August. pic.twitter.com/lXiuzB9rQJ

— ANI (@ANI) August 5, 2019
---
9:51 AM 5 Aug
PDP's Rajya Sabha MPs Nazir Ahmad Laway and Mir Mohammad Fayaz wear black bands before entering the Parliament
---
9:43 AM 5 Aug
Bright sunny day in Kashmir.
Kashmiris outside valley very tensed.
---
9:17 AM 5 Aug
Indian Cabinet Meeting to begin at 9:30am today
---
8:14 AM 5 Aug
First Visuals from Kashmir today
---
7:52 AM 5 Aug
Landlines are not working too
---
2:32 Am 5 Aug
SMS still working
---
2:23 AM 5 Aug
My hotel manager, under pressure from the Police, has asked me to vacate at the earliest. But then I'm neither a tourist nor a yatri. Why are mediapersons too being sent off? Why is coverage of facts bothering the rulers? says Anando Bhakto, Special Correspondent at Frontline Source
---
2:18 AM 5 Aug
Emergency Satellite Numbers
---
2:09 Am 5 Aug
Drones sighted in sky
---
1:59 AM 5 Aug
Curfew imposed in many districts of J&K. Announcements being made on mics by Police
---
1:47 AM 5 Aug
Jio Fibre is still working
---
1:39 AM 5 Aug
Mobile calling service has been barred
---
1:33 AM 5 Aug
Unconfirmed reports that local cabel TV has been snapped in Kashmir
---
1:10 AM 5 Aug
Internet services being snapped in Jammu region as well
---
1:05 AM 5 Aug
Section 144 has been imposed in Jammu from 6am on Monday Source
---
12:55 AM 5 Aug
BSNL Broadband is barred
---
12:40 AM – 5 Aug 19
#KashmirParFinalFight starts trending on twitter by Indian jubilation of seeing suffering Kashmiris and thirst of Kashmiri Blood
---
12:30 AM – 5 Aug 2019
Congress leader Usman Majid and CPI(M) MLA M.Y. Tarigami say they have been arrested (PTI)
---
12:14 Am 5 Aug
#BREAKING: Official Statement. Restrictions imposed in Srinagar. Government has imposed restrictions under section 144 CrPC in District Srinagar with effect from Midnight 5th August 2019 which shall remain in force till further orders.