My name is Neha. I am from Bhopal. I met my husband who is a Kashmiri in Dubai, while we both were working there in 2009. We got married in 2010 and currently based in Doha.
Here is my experience when I first went to Kashmir………………….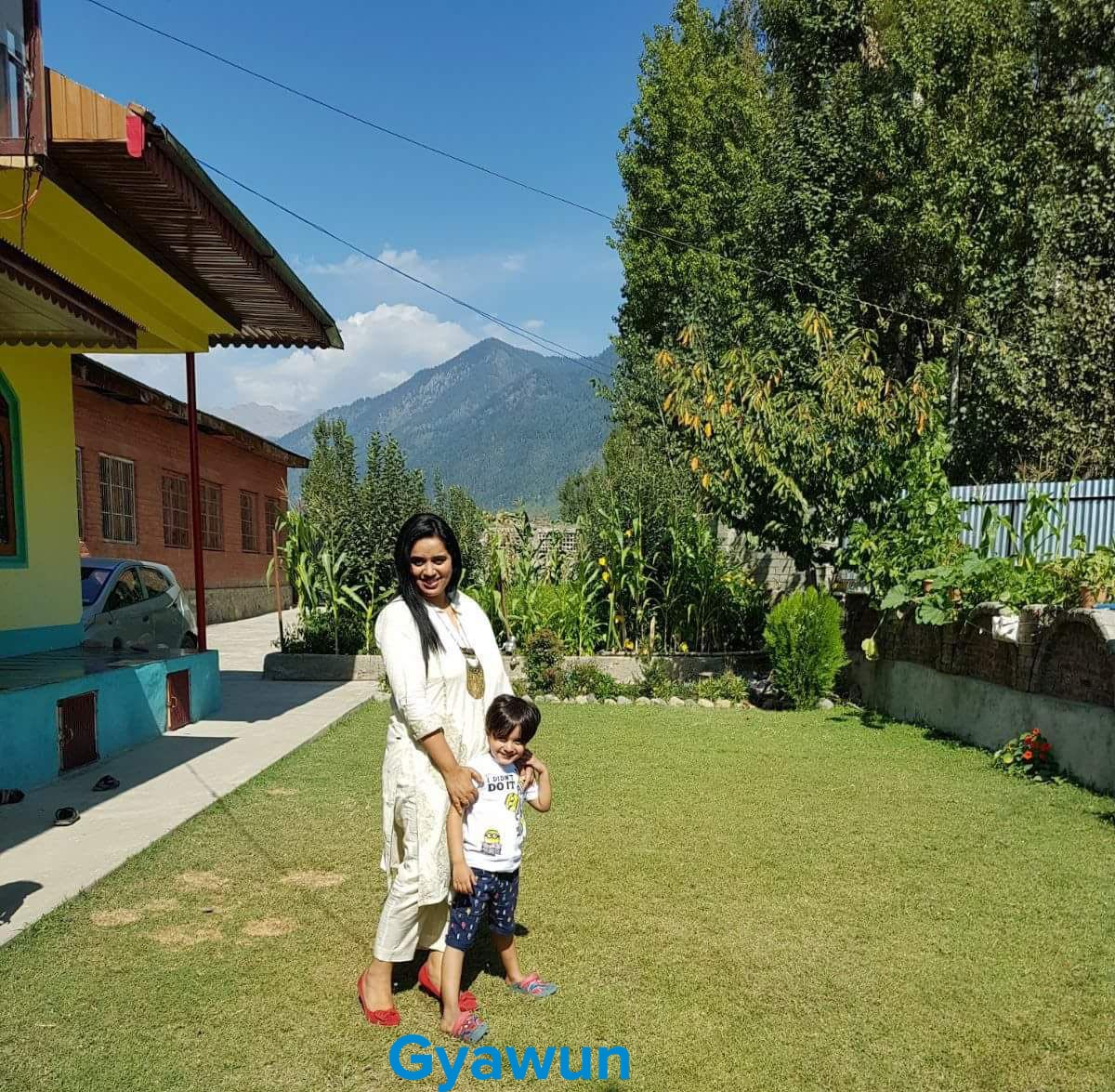 That day the sudden drop in cabin pressure made me dizzy, all I wanted was to throw up! But I was a bride all decked up in glittery bridal attire and that too going first time to my sasuraal in Kashmir. To be honest I was very nervous and tried to divert my attention by sneaking out of the window but all I could see was clouds. Curiously I turned to my husband and asked when are we going to land, he looked at his watch and said probably in next 20 to 30 minutes. I was being very impatient probably because of the tiring previous few days and traveling to Kashmir first time.
My mind was still occupied with the memories of the last few days. Everything happened so fast, I was already starting to miss my home, my parents, basically I was missing everything that I had left behind. Even my two cats.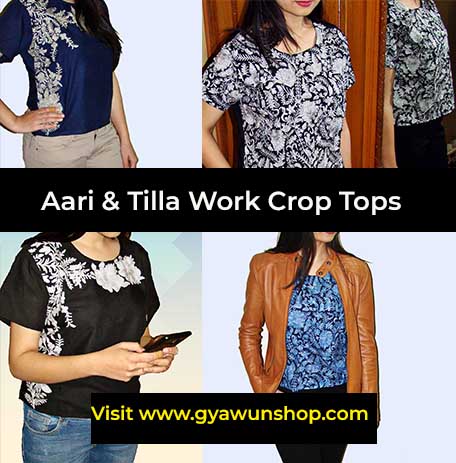 Order Crop Tops Here
Suddenly my husband asked me to look out of the window, the clouds drifted aside and a beautiful sight almost took my breath away. I could see heavily build mountains with some of the mountain tops still covered in a white blanket of snow. Far away I could see tiny houses with rusted tin roofs getting bigger as our plane inched closer to the runway. Meanwhile, the seatbelt sign turned on again and the pilot of the aircraft announced that we are going to land in next few minutes. He was kind enough to advise that the temperature outside was 16 degrees and we should keep our warmers handy.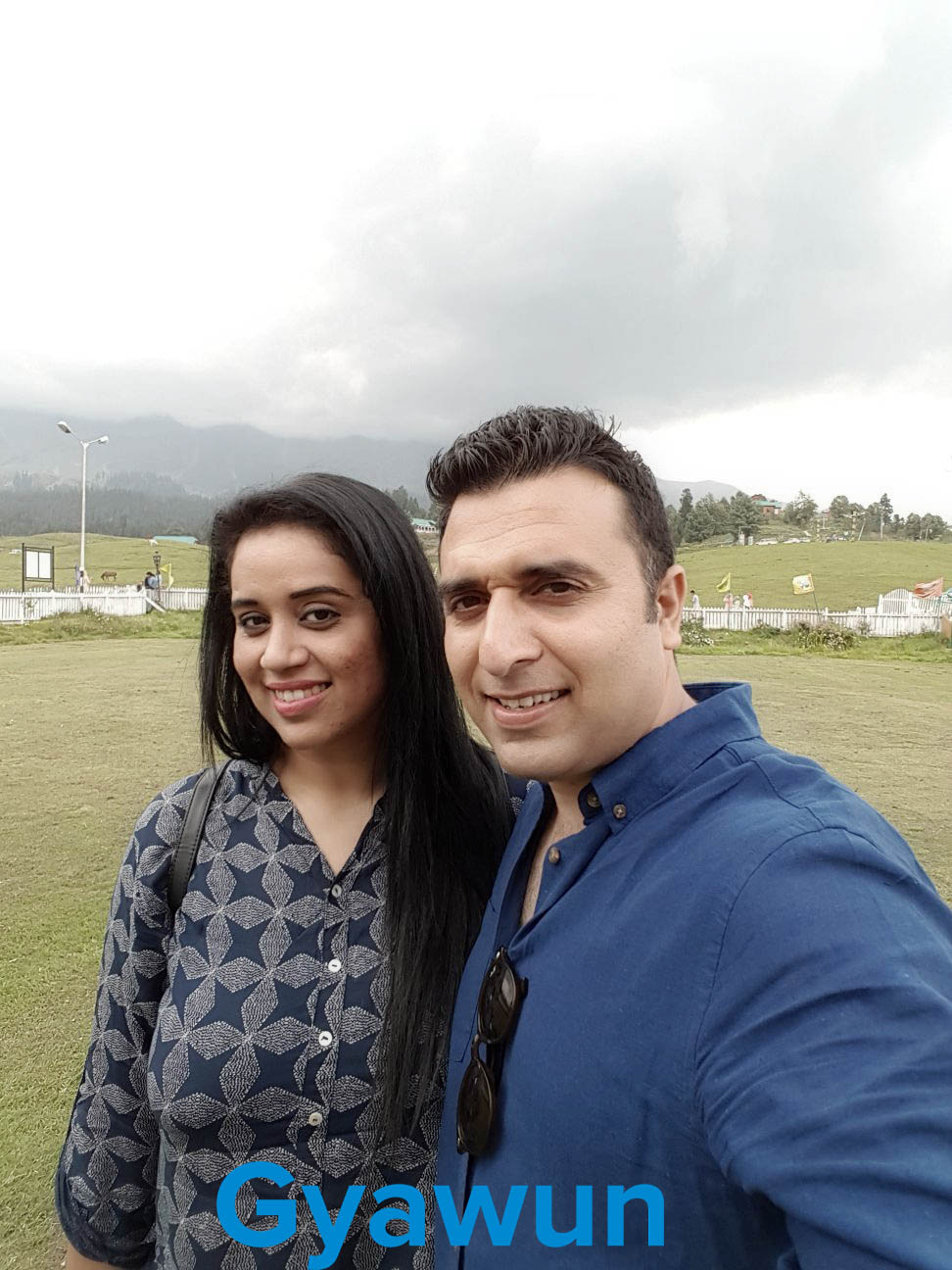 As soon as we landed in Srinagar, we were welcomed by a downpour of rain. I could sense the anxiety on everyone's face, no one expected rains to play a spoilsport. It was my first encounter with such a freezing cold rain, I wanted to enjoy it, get drenched and feel cold droplets of water touch my face but I was a bride and I had to (pretend to) behave!
My husband had created a lot of curiosity by telling me stories about a lot of beautiful things in Kashmir. I was curious to get out of the shell and get to know the people and the culture of this place.
Buy original Kashmiri saffron online here
When we reached our destination, we were received with warm hugs and kisses. As we entered into a big hall a traditional Kashmiri carpet was spread from one side of the wall to another. When we settled down a thick flower printed plastic sheet was unrolled in front of us and small bowls of dry fruits with rani juice were served first. In the meantime, an elderly women wearing a velvet Pheran with tilla embroidery entered the room carrying a big tray filled with dry fruits & candies which were gently poured over my head. She said a lot of blessings in Kashmiri while she poured the all the dry fruits and candies.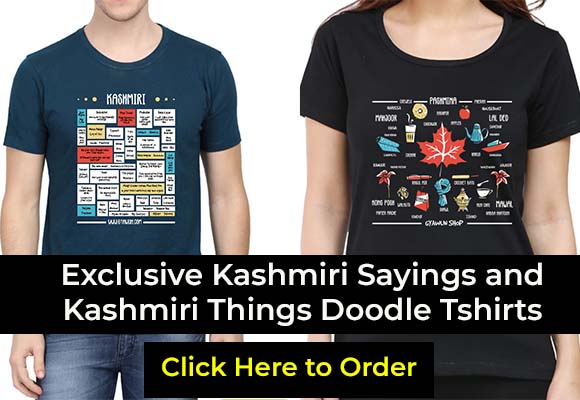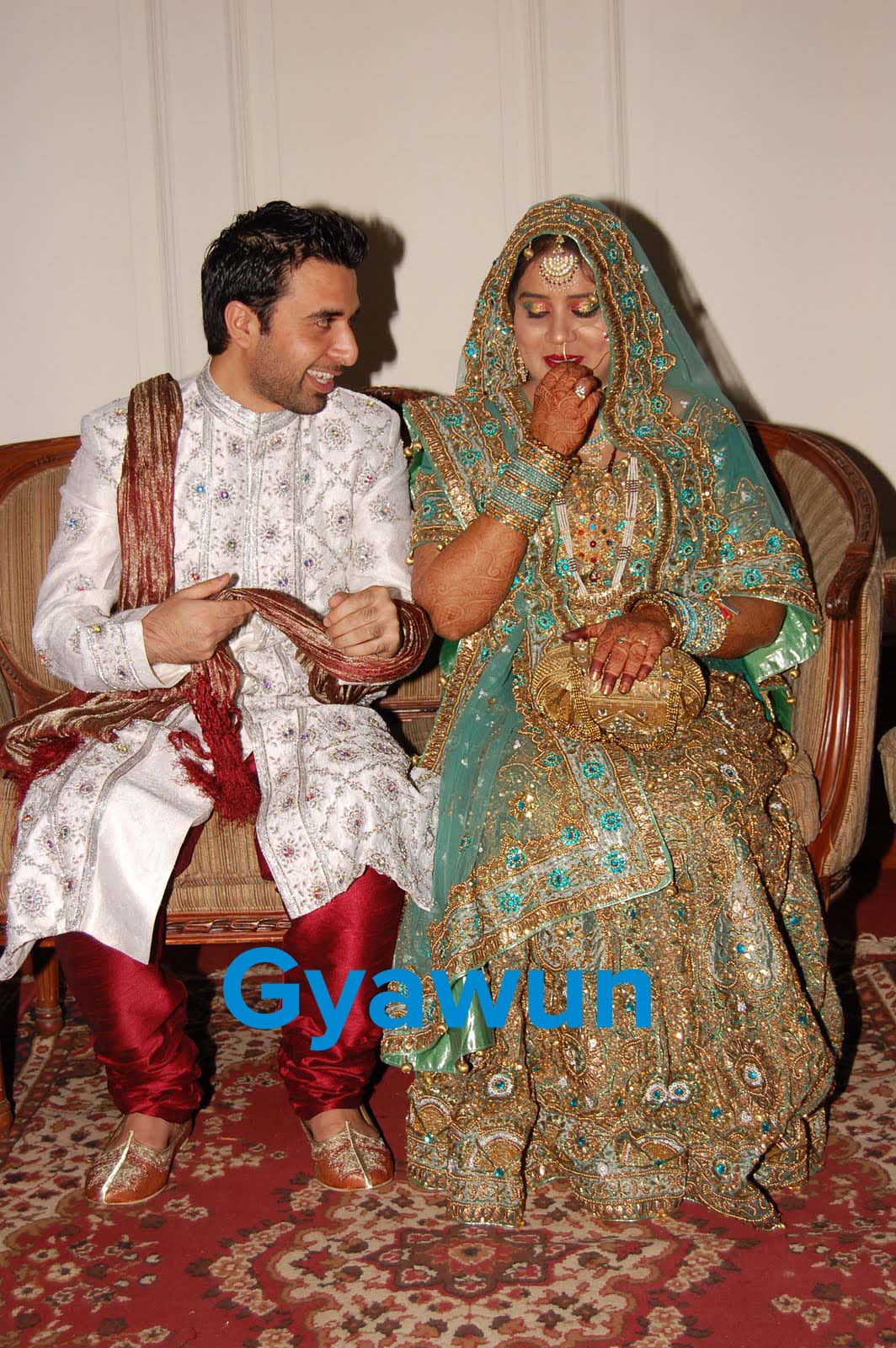 By the time our discussion had started warming up I heard a noise of copper utensils striking each other. One of the boys of the house entered the room and started from one end of the room going one by one and pouring water from the Tash Naer for guests to wash their hands before the food is served. The girls of the house stood on the door passing trays containing all different varieties of food they had prepared. They looked excited and their eyes filled with curiosity. After some time they sat down to serve us, blushing shyly while glancing at me every now and then.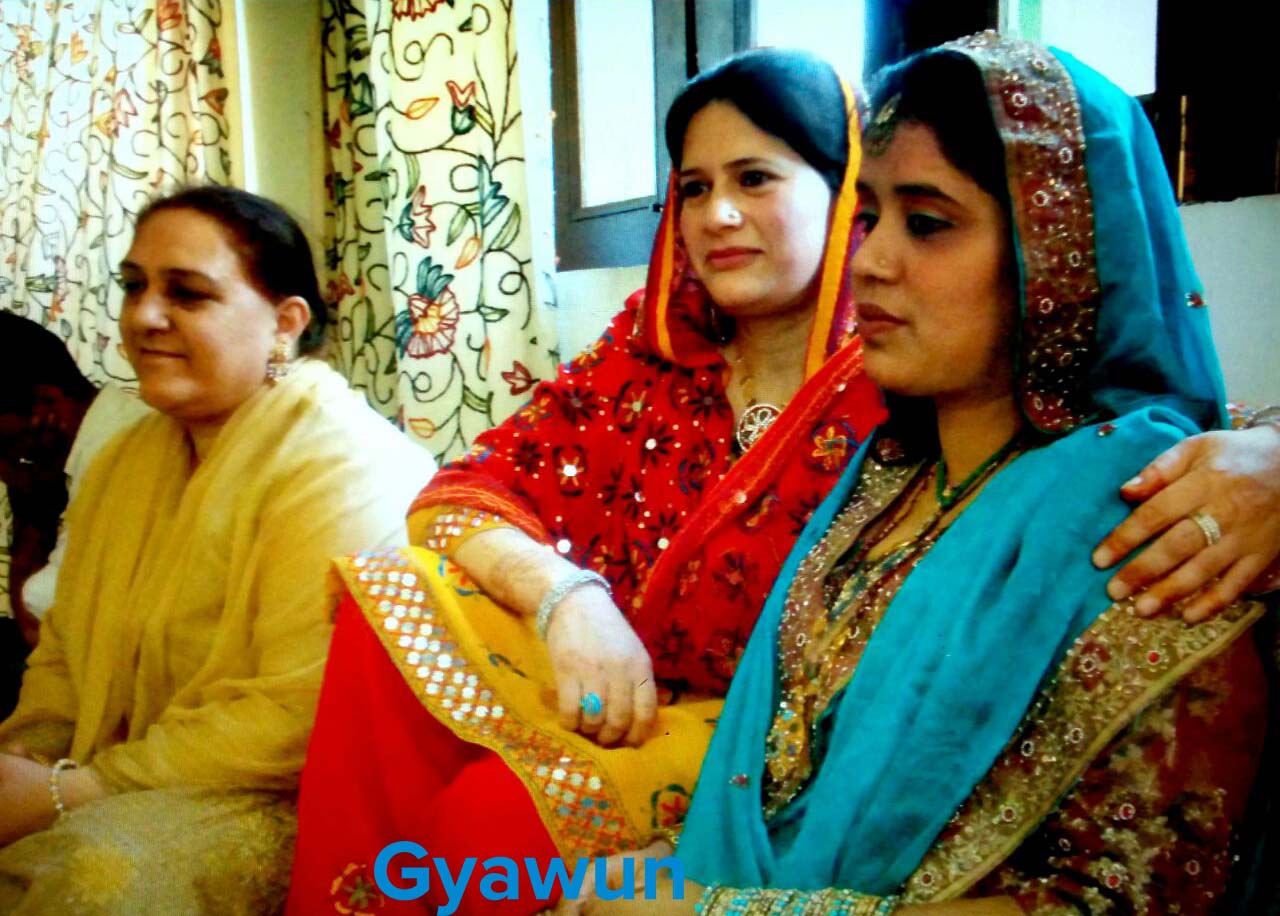 Food was served in a copper vessel called keinzz in Kashmiri. The girls started serving food dish by dish. I was witnessing a completely different level of hospitality. They generously poured a spoon full of everything. In Kashmiri Mehmaan navazi, Mehmaan's consent doesn't matter. However, you might be able to bargain or negotiate. Maneuvering through a lot of meen drie, cheen drie, em manz puent and yem manz puent I was finally able to finish off my plate. Mission accomplished!
After everyone had eaten, tash Naer (a bowl & Jug made of copper) was called again for washing hands as per the tradition. In Kashmir, people follow an unwritten rulebook. For everything, there is a well-laid sequence e.g the arrival of Tash Naer indicates that the food is on its way and the arrival of Gushtab (Meatball cooked in yogurt) indicates that all dishes have been served. That's why Kashmiris humorously call it a full stop.
Then came Lipton chai followed by noon chai( Kashmiri pink tea) and accompanied with different varieties of the Kashmiri bakery. In midst of everything, a big slice of black forest pastry was distracting my attention.
Girls moved and whispered quietly between the kitchen and the hall clearing the dastar khawan (a Yellow color cloth filled with quotes printed on it in Urdu). The whole process was well coordinated and executed with minimum noise. After the girls got free from their chores they took me around and introduced me to their neighbors and friends. Everyone welcomed me as if they had known me for a long time.
Few days after my wedding reception I got to visit a place called Bandipora and it turned out to be the most memorable trip of my life. The bumpy car ride almost churned my stomach. But I was completely engrossed in the breathtaking view of Wular lake which was surrounded by paddy fields and those tall mountains in the backdrop created a perfect picturesque view. I could see women working in these fields tirelessly while singing together in one rhythm, The blowing breeze poked the cold waters of the Wular lake before forcefully touching my face and literally I was cold struck! The scenic beauty of the surroundings reminded me of a picture that I had seen on a J&K bank calendar that hung on one of our empty bedroom walls. Each mile we covered was rejuvenating me, the journey was a meditation of its own kind.
I learned that it is not just the place it is actually the people of this place who make it so beautiful. I thought if I hadn't got married in Kashmir I may never have been able to see this real and humble side of Kashmiri people.
As we prepared to leave after few days, my husband put his arms around me and asked "Kaisa Laga tumhe mera Kashmir?