Tell us about yourself
My name is Azmat Ali Mir, I am from Srinagar. I am a computer science engineer by education and a first-generation cultural entrepreneur by passion. I am currently based in Bangalore running my startup called Manzar. Manzar loosely translates to narrative or viewpoint, and at its core believes in telling 'own voice' stories from Kashmir by getting the masses to engage with Kashmir and Kashmiris through its art, history, culture, tradition, craft, food, beauty and the aspirations of its people. We have three major verticals that work in that direction – Sarposh (Food), Wardan (Fashion and Accessories) and Koshur Saal (Events).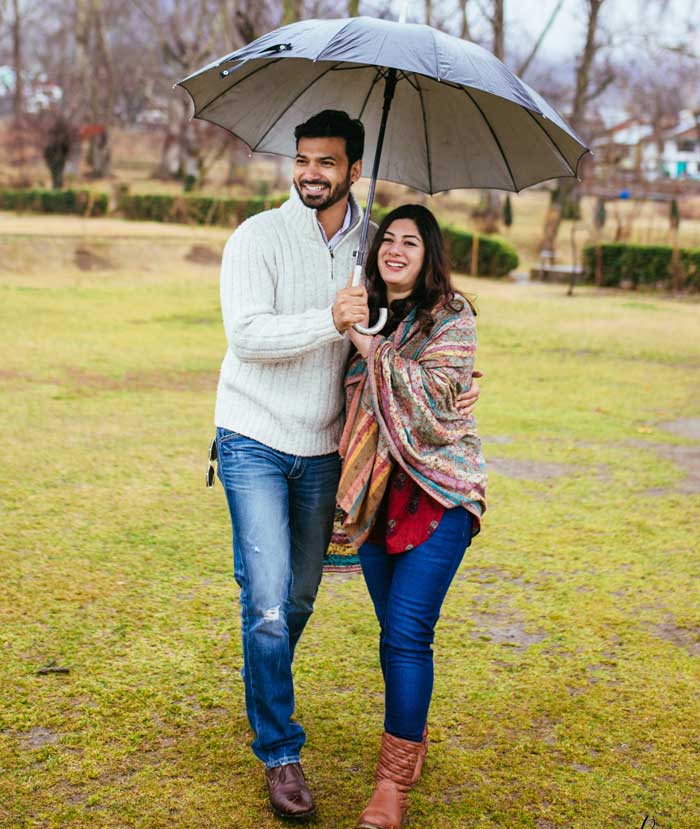 Tell us about Sarposh
Sarposh is a fine-dine restaurant and tea room in Bangalore offering authentic Kashmiri food – especially Wazwan, bakery items and teas. We take great pains to prepare all our food in the traditional style, and fly in all our non-perishable ingredients all the way from Kashmir, ensuring zero compromises on taste and quality. We even have an in-house butchery that allows us to work on our meats exactly how it is done back in Kashmir.
We have a dedicated sit-down area where you can enjoy a traditional Wazwan experience, right from the 'athe puthrun' to the service on the trami. The place has been designed as an experience center that transports you back to the time where Kashmiri crafts held positions of prestige across the world. The whole restaurant is full of exquisite handicrafts from Kashmir that are also for sale. We can also take orders for product customizations. This is a small effort we wish to make in the revival of our crafts.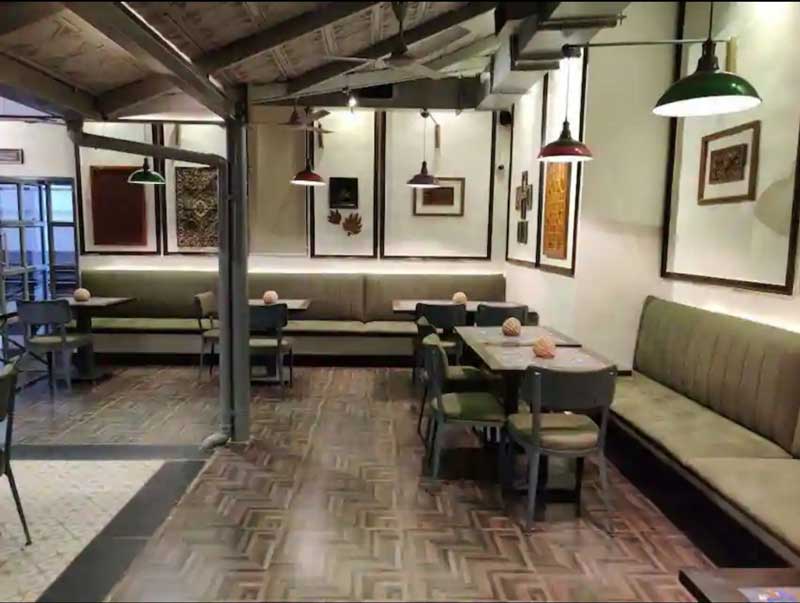 What motivated you to start your own Kashmiri restaurant?
I am married into a non – Kashmiri family and moving to Bangalore was quite a change for me. I terribly missed home and everything associated with it. I am extremely passionate about our culture and want to do everything in my power to ensure it survives and thrives. Just six months into having moved to Bangalore, I felt extremely homesick and decided to have a small get together at home with my friends and batchmates who were also in the city. We created a WhatsApp group, and within a couple of hours, there were over 200 people on it. That's when I realised this needed to be done on a much bigger scale and so I started looking for Kashmiri restaurants in Bangalore where we could all meet and spend some time together. Unfortunately ( or fortunately 😀 ) there weren't a lot of such places in the city, and those that existed had nothing even remotely close to the authentic Kashmiri food that we have back in Kashmir. One thing led to another and in pursuit of a small get together, we ended up doing a massive event that saw over 1000 Kashmiris gather for a fun evening of outstanding performances by the likes of Zareef Ahmed Zareef Saab, Rayees Mohiuddin, Reshma (Abdul Rasheed), Ali Saffudin, Mohammed Muneem and his band Alif and Aabha Hanjura and her band Sufistication. To complete the experience, I flew in some of the best chefs (Wazas) from Kashmir to prepare authentic Kashmiri Wazwan for the event. We even flew in all our non-perishable ingredients and equipment all the way from home. Thus we had 'Koshur Saal' which turned out to be a super hit among the community. Now that my chefs were in the city, I decided to give Bangalore a taste of what authentic Kashmiri food actually was, because everything they'd tried so far wasn't even remotely close. With this, we started Sarposh. For over a year, we operated as a cloud kitchen, doing food festivals, events, catering, private experiences and online deliveries. 6 months into the business, we decided to start our flagship restaurant, however, things took a backseat due to the article 370 abrogation when the whole atmosphere became really volatile. We finally took the plunge in January 2020 and are now operational as a fine dining Restaurant and Tea room in the Indiranagar locality of Bangalore
What steps did you follow to open your own restaurant?
A lot of people think the FnB space is easy, fun money, however, there's a lot more than meets the eye. Setting up a Kashmiri restaurant, that too outside Kashmir isn't that easy because there are so many variables involved and the cuisine is really complex. I remember when we started out, while everyone appreciated the effort, people kept reminding us how it wasn't easy and a lot of people had come before us and gone because they couldn't survive in the harsh FnB space. A lot of people thought we'd shut shop in a few months, especially because they didn't expect a girl to get involved in something like this. Wazwan as a cuisine in itself has always been a man's playground. Right from the chefs – who are all men to only the men of the house being involved in the process even when Wazwan is prepared for family functions – this has been a men-only affair for the longest time. So when I started out, I had no blueprint to follow. I was on my own, following my passions against all odds. People had a lot of things to say, especially since I left a high paying corporate job to do 'Waze Kaar'. So if you ask me on suggestions, the first thing I'd suggest is to ignore the blabber and develop a thick skin.
The FnB space is demanding, mentally, physically and financially but if it is something you are passionate about, it is a whole lot of fun and learning as well.
• Before you start out in this space, have a plan. Know exactly what you want to do, but be open to reworking those things as you go along, however, don't compromise on your vision.
• Make sure you plan your resources well. There are so many different options you can explore within your budget right from a full-fledged fine dine to a QSR or even a cloud kitchen, that pinpointing how much you'd end up spending is almost impossible. However, a general rule of thumb is to make sure you have an additional 10%-15% of the initial investment available in hand at the offset in addition to at least 3 months operational costs when you start out to avoid any unpleasant surprises along the process.
• Stay on top of your paperwork – you will compulsorily need a Shops and Establishments certificate, a bank account, a pan card, a GST number and an FSSAI licence among other things if you wish to have a restaurant. Hiring a good CA will ease things out on this front so you can focus on the creative aspect of things.
• Researching your target market's reception of your product will go a long way. We spent over a year building a loyal client base and understanding the market.
• Spend some time on menu engineering. Everything on your menu should be a perfect reflection of your restaurant vision. Do what you're good at. If Chinese is what you're good at, focus your energies on being the best Chinese place out there instead of adding Arabian and Continental options to your menu. I personally think a focused approach goes a long way. I would always prefer ordering Pasta from an Italian place because I know I'd get the most authentic version possible rather than taking it from a North Indian place that serves it as a side dish.
• The location of your restaurant plays a huge role in its success. When you are starting out, you will depend on the footfall in the area to help things pick up so choose wisely.
• The FnB space takes a while before it starts giving you returns so it is extremely important to keep a tab on your fixed costs like rentals, bills and salaries. Initially, keep your overheads as low as possible.
• And then finally and most importantly, make sure you offer an amazing product. At the end of the day, your customers will keep coming back to you if you serve them food that is fresh, tastes amazing and you've paid enough attention to presentation, quality and service.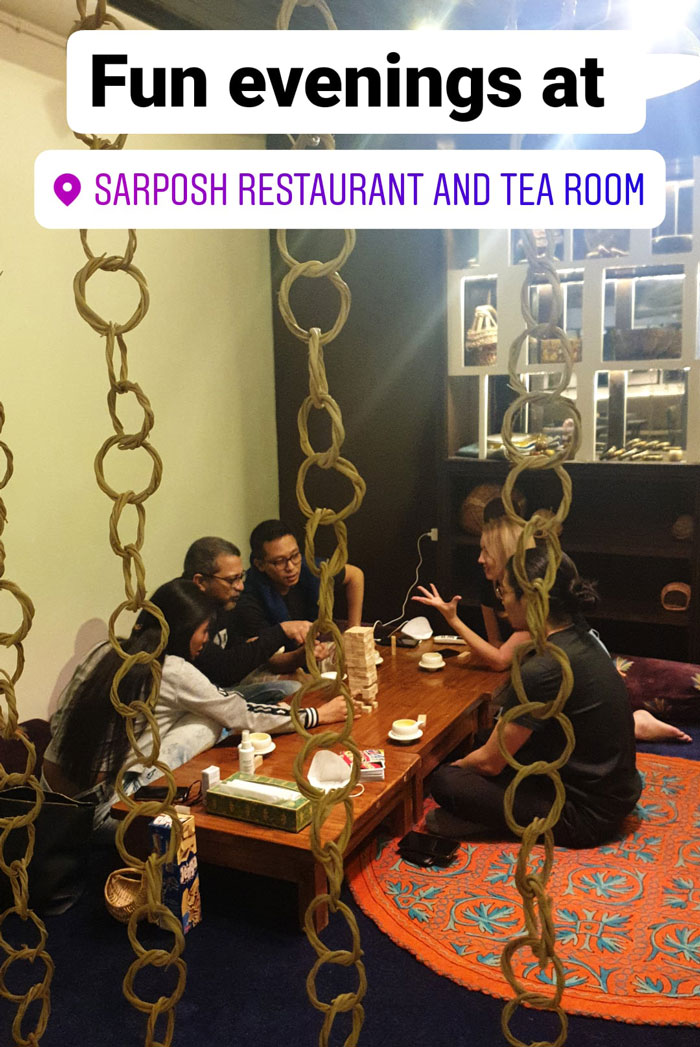 What makes Sarposh different from other Kashmiri food outlets?
The absolute focus – almost to the point of obsession – that we have on authenticity and quality. We have the strictest quality controls where every single thing goes through three levels of quality checks. Right from ensuring that the mutton used is the absolute right age and weight, the precisely perfect cut, with the exact right fat to meat ratio, to the authentic spices that we source all the way from Kashmir including organic red chilli, cockscomb, saffron, Leeks (Praan), cumin etc to the very generous use of ghee, we make sure every process is followed to the T without any compromise or cutting any costs. We are the only Kashmir restaurant that uses modern culinary practices and technologies to preserve and improve on traditional cooking methodologies and mechanisms, without trying to change them. All these efforts reflect in the taste that we offer and our customers can vouch for it.
Sarposh is not just a restaurant, but an experience centre that aims at promoting and palate-ising, not just the food, but also the overall experience of community eating leading to dialogue and discussion as is prevalent in Kashmir. We offer curated experiences that bring people together for food and meaningful conversations.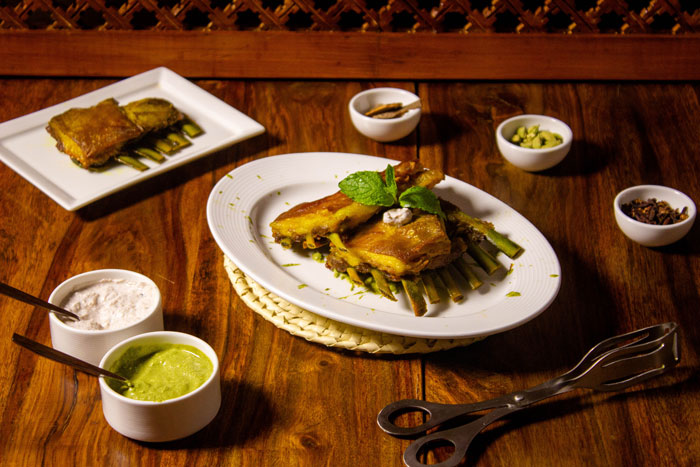 What do you recommend someone to order when they visit or order from Sarposh?
While everything on the menu tastes amazing, I would definitely recommend anyone visiting us to order the 'Sath Seyn Trami' or the Traditional Seven Dishes Trami, that will give them a taste of some of the best items on our menu, in the traditional Kashmiri style.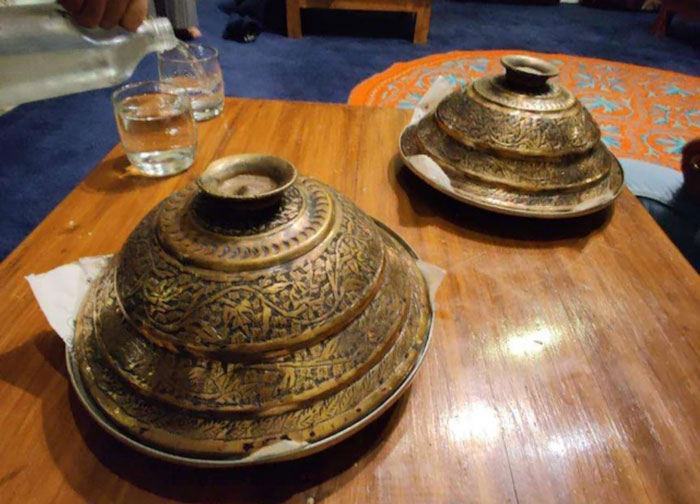 How to order from Sarposh?
At Sarposh, we service along the length and breadth of the city besides catering to big and small events and parties. You can walk into our restaurant for a dine-in experience or order delivery or take – away on orders.manzargroup.com
We are also on Swiggy and Zomato. You can always connect with us on 080-41480806 / 9538262493 / [email protected] for more information or any collaborations. You can also follow us on Instagram and Facebook on @sarposhfoods
Google Maps link: https://g.page/sarposhfoods?share