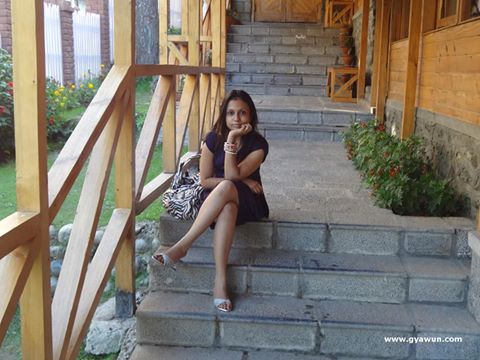 My name is Smita P. I am from Tripura. I am a dentist by profession.
I had read and heard a lot about Kashmir that it was a paradise on earth, but I didn't get a chance to experience the Paradise before . After I got married, I decided that we go on our honeymoon to Kashmir. We went to Srinagar in the month of August; surprisingly it was hot in Srinagar though not as hot in Delhi. Anyways it still Kashmir looked mesmerizing like the pictures in a calendar.
We were picked up from Srinagar airport by a Kashmiri driver named Sameer. This driver deserves a special mention he was so helpful, soft spoken and polite that I can declare him the best driver I have ever came across. Such a nice fellow! We were so inspired by his humbleness that we hired Sameer to be our travel guide and photographer aswell in Kashmir and he didn't let us down. He made sure we saw every nook and corner of Kashmir. We were so touched by this driver that we even gifted him a watch at the end of our trip, so that he doesn't forget us.
We stayed in a house boat in Srinagar. Dal Lake was like a mini city by itself, with all the buzz around, those Shikaras, shops, people etc. It was amazing just like the song from movie Mission Kashmir " Sonho ke Jheelon Ka Shehar ho" , it was indeed a Jheelon Ka Shehar. I will never forget the evening rides on Shikara, they were out of the worlds and so enchanting. We also visited Gulamarg and Pahalgam.
To be honest before visiting Kashmir I had a perception that Kashmiris are aggressive people, as it was shown all over the media. But I realized it's not like that, Kashmiris are the most friendly and heartwarming people. No one cheated us in Kashmir, no one tried to bluff or misguide us during the trip unlike other places in India where you can get duped quite easily by anyone.
I remember once we were going in Shikara and I realized we forgot something in the houseboat. We were quite far from our houseboat in the Shikara, but to my surprise the Shikarawala offered to take us back to houseboat to fetch us what we wanted and dint charge us even a single penny extra. Wow! I must say such humble people these Kashmiris are.
Is there a place where someone will give you a free ride like this? NOPE