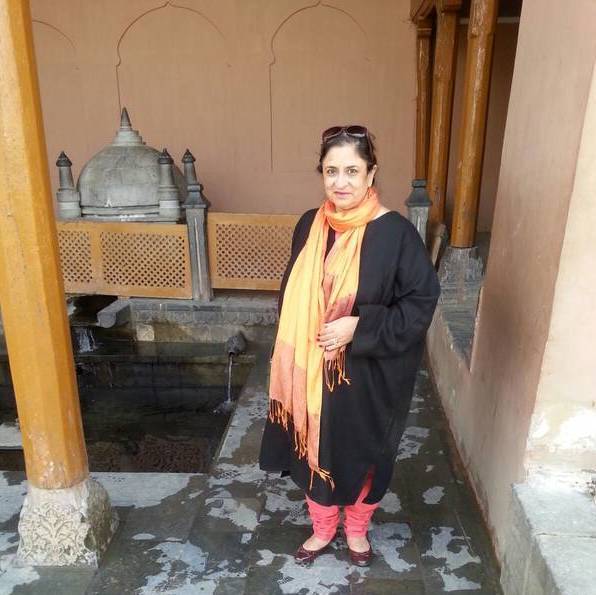 It was the Summers of 1976 early June. I was sitting in an Indian Airlines plane travelling to Srinagar from Delhi with my parents and younger brother. Just an hour and 20 minutes flight I was petrified of flying and just wanted to get there so that my vacation could begin. Till then I was on the edge of my seat waiting to land so desperately.
I was not looking out of the window and had my head buried in my hands when I felt my dad's elbow nudge me gently. I looked up at him and he said,"stop being silly and look outside". I did and the view took my breath away.
I fell in love with the snow clad mountains with the sun shining on them gleaming like gold.We soon landed, the airport was snuggled amidst mountains like a baby does in its mothers arms. Driving to Pantha Chowk where my uncle was posted with the Border Security Forces, I saw tall Chinar trees lining the roads and I fell in love again. Past the Dal lake and the houseboats and the Shikaras I fell in love again and again and again. The colours of Srinagar were vibrant with flowers in full bloom. I was feeling very special and truly blessed.
Finally we got home which was a 4 bedroom cottage sitting just at the foot of the BSF Hill.The house was cosy and I felt I could live here. My uncle was in Manasbal so unable to receive us at the airport and had arranged for another officer to greet us at home. He arrived soon and it was like a Greek God had come to my door. He stood there just as enamored with me as I was with him. Our eyes met and needless to say I fell in love again with this Kashmiri officer whose blue eyes were as deep as the ocean and as piercing as the sharpest needles.
Kashmir was tugging at my heartstrings and I felt emotionally mentally and physically in a trance.I wanted to put all my wonderful experiences in a box and keep them somewhere safe. Shalimar and Nishat gardens were in full bloom and colours that were so vivid that vibrancy was in the air. Dal was full of tourists in shikaras and houseboats boasted
of intricate woodwork that Kashmiris should be so proud of. CHAR CHINAR was beckoning and a trip in a shikara for coffee and sandwiches was the icing on the cake. Pari Mahal and Chashmeshahi were serenely beautiful full of roses which had fragranced the air. Shopping for a wooden houseboat a tray and a white Pheran with pink embroidery, these had become my most prized possessions.
The widespread green and snow topped mountains of Gulmarg had won my heart and the rivers and streams in Kangan were singing tunes of beauty and love. This beautiful valley is surrounded by some of the highest mountain ranges of the world, green and thickly populated with such highly evolved people having therefore dominated the culture and history of the state.
Most Kashmiris today are Muslims but a sizable Hindu community also exists. Kashmiris are not Arabs or Iranians or Turks or Indians and with that acceptance they have their own identity and narrative. It is a place that evokes both appreciation for the most beauty and a horrific fear of being South Asia's most militarized zone. Kashmiris are beautiful people the women are elegant and the men tall and handsome and helpful beyond belief. Very family orientated they go to great lengths to welcome you into their hearts and homes and become your friends for life.
HOSPITALITY AND TRUST ARE THE KEYS TO THEIR CHARACTER.
Kashmir offers so much to the world from fruits to woolens and woodwork which is so intricate and detailed that one is left dumb founded with appreciation.
So I say Is there any wonder that I love Kashmir and Kashmiris so much!!!!! I cry uncontrollably every time I leave from there because surely it is a crime to leave something so beautiful behind.
This jannat is the only jannat that I would love to be in till the end of my time on this planet