The duo travel freaks, Sandeepa and Chetan are living a life of their dreams, from traveling in a truck to exploring unheard places. Sandeepa, an electrical engineer by profession ditched her occupation for writing blogs and Chetan, who worked in digital marketing, is now working as a photographer for the blogs, are both enjoying the 5 years of quitting their jobs by traveling across the world.
On their visit to Kashmir, they write in the blog that they were dumbfounded to see the beauty of this vale, not only the serenity of the place, but the people of Kashmir and their hospitality has played the most impactful part of their travel. They have summed up the beauty of Kashmir so beautifully by saying, "This heaven on earth, has conjured paradisiacal images."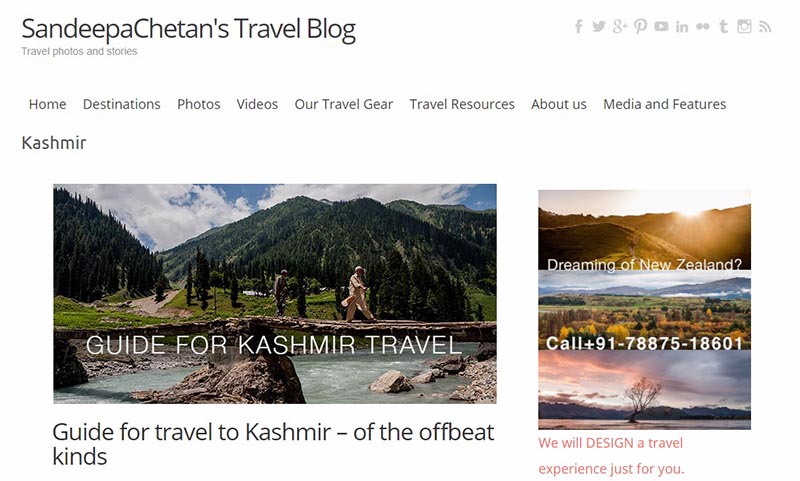 A young solo woman traveler, who holds an Indian passport, has traveled more than 32 countries across 3 continents in this time. This young woman, who quit her advertising job in 2014, has been circling around the globe to perceive the beauty of Mother Nature in every nook and corner of the world.
In her article, she mentions that she has been to Kashmir a couple of times and her love for Kashmir has always grown stronger. She emphasizes more on her solo travel to Kashmir where she writes that she has always witnessed generosity and kindness of people during her visit and has been offered food for free and candid conversations with people from different walks of the beautiful vale. She speaks of Kashmir as a positive community who innocently open their homes and hearts and offer a sneak peak of their not so rich lives.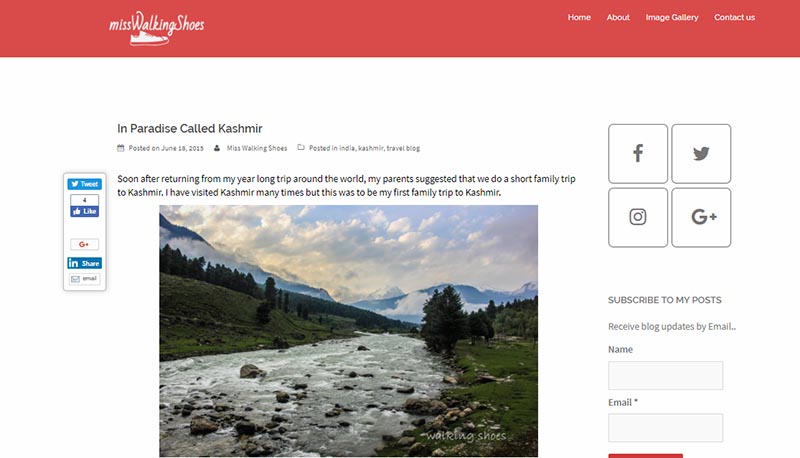 One of the top Luxury travel & lifestyle blogs in India, the tales of a traveler is run by the duo travel freaks. One, who works as a consultant in an MNC and the other, who is an informatics architect in an American Investment bank, are both juggling between and their and the passion to travel across the globe. Their motive behind is blog page is to aspire to inspire people to blaze to their own trail.
On their visit to Kashmir, for the second time after 2011, they managed to be in Kashmir in April 2017, despite the ongoing unrest in the valley. What surprised them more was that there were a lot of tourists, who were hostel so well even though the tension had triggered in the vale. They say then while they were on their visit to the valley, many couldn't believe that the pictures they posted were taken in their own country, India.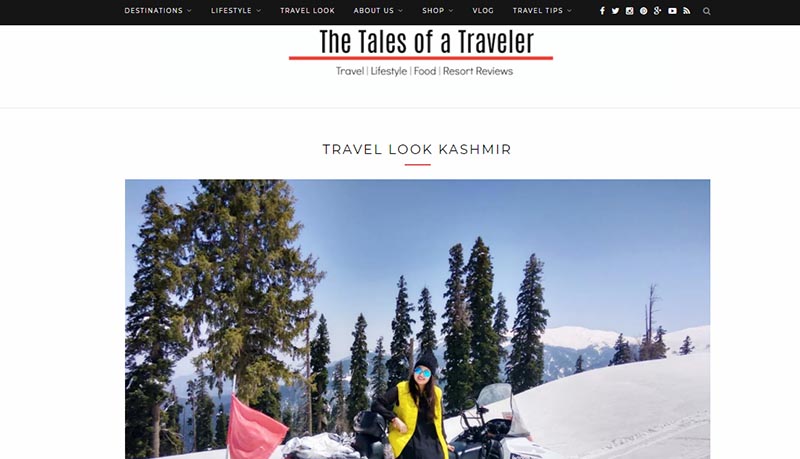 A girl traveller blogger, A Delhi University graduate and an MBA from IIPM quit her job to explore the fantasy of this beautiful universe and connect with nature in real time. This young and wild girl wants to explore beyond her comfort zones to explore the beauty.
In her blog, she speaks about Kashmir, the mystic land scarred by violence, the other way round. She has travelled to Kashmir 5 times till now, and is recognised by the commoners and hosted like a family whenever she plans a travel to Kashmir. She has mostly emphasised on the fact that the situation in the valley, as portrayed by the media, isn't even 10% true. The calmness and hospitality in the valley are altogether different and beautiful. She says that she learnt so much from the Kashmiri people who find comforts in their chaos.
Manjulika Pramod, a travel and lifestyle blogger began her journey of blogging in 2009. A telecom engineer by profession quit her job in 2015 to live her life in the narrow lanes of unheard places, with almost anonymous people, and appreciate the finer things in life. Having travelled to 18 countries and 17 states of India, she finds every travel a life-changing experience.
On her trip to Kashmir in April 2017, when the valley experiences a magnificent bloom of tulips, she says that Asia's largest Tulip garden, overwhelmed her with the multitude of colours that met her eyes and the gorgeousness of the place had a magical prowess. She calls Srinagar the star attraction of Kashmir valley as she has experienced the serenity of city at its best. She couldn't stop bragging about the hospitality provided to her on her visit. She calls this beautiful valley to be exponentially enhanced by the gorgeous creations of Mother Nature.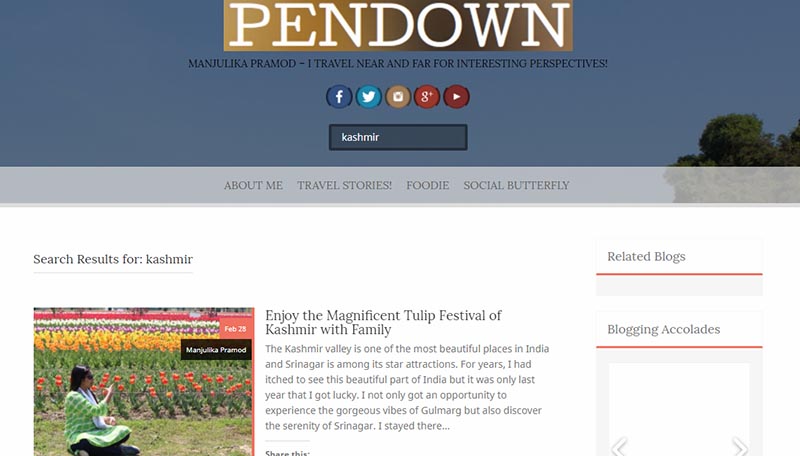 After 15 years of sitting beside a desk in several media organisations, this travel enthusiast, Lakshmi Sharath, decided to travel and see the world. She started her journey of blogging in 2005 and till now she travelled over five continents and been to over 25 countries across the globe.
On her visit to Kashmir valley, she, first of all, is mesmerized by the uncertainty of climate in Kashmir, as described to her by a driver, "Mumbai Ka fashion and Kashmir ka Mausam – Dono ka bharosa Nahi". She speaks of Gulmarg as pristine beauty with lush green meadows, golf courses, glaciers and slopes of snow topping the conifers that dot the hills. And then, on her stay at Pahalgam, she says that "it is just about being in one place and absorbing the beauty around. I take shelter on the banks of the Lider watching it swell with pride with the rains. Later in the day, as the rains take a beating and I head back on the road, a familiar voice greets me. And sitting right in the open, in the wet grass is the elusive blue (looks almost black though) whistling thrush singing away, bidding me farewell"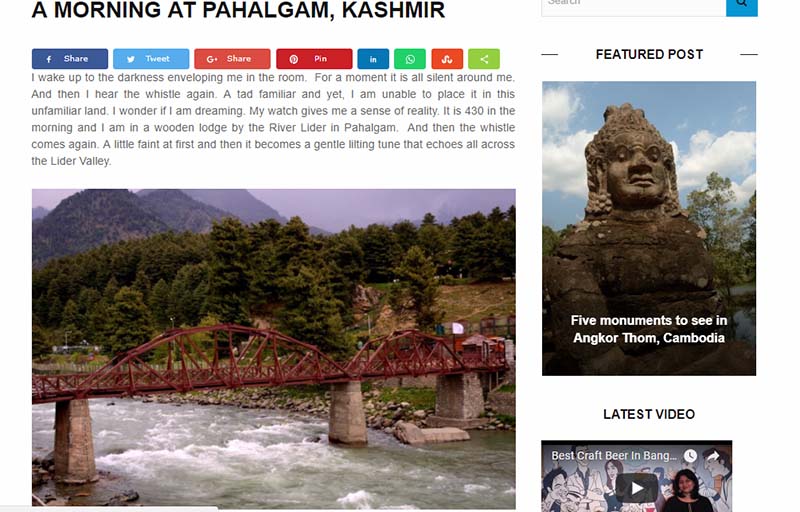 A super girl from India, a cloud gipsy, and so-called a Maverick bird is a mother of the child, a flight attended by profession, and not to forget, a traveller by passion. This super girl living in Germany has till now, explored more than 35 countries as a solo woman traveller.
In her blog about Kashmir, she says, "a cold rain splashed morning, wet wildflowers, blue misted snowy mountains and endless yellow fields of blooming mustard…", welcomed her to a mesmerising spring day in Kashmir. She also says that Kashmir stood up to the reputation of being breathtakingly beautiful. She emphasises on the fact that in her 15-year journey of Kashmir, she has hardly come across a place so tranquil, as she was pleased by the care she was taken of and the hospitality provided to her.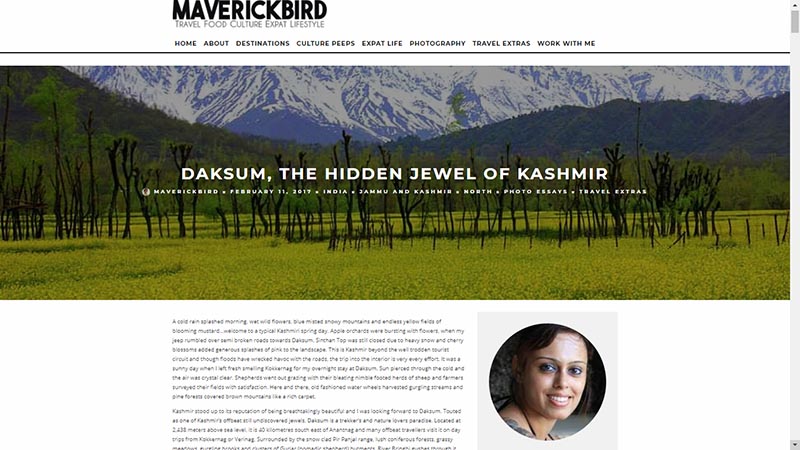 A digital marketing executive by profession, but converted to be a blogger because of passion. This solo traveller finds peace in travelling across the unheard places, wandering through the hills in solitude. This girl began to foray in 2009 when she meagrely planned her 15 day trip to various states in India. Since then, her solo travel has always been full of excitement and curiosity.
On her trip to Kashmir, the first thing she talks about is travelling, she feels travelling creates memories and that's the best thing about them. She focuses on three things on her blog, hospitality, safety and beauty. The hospitality of people is charming and you'll always find people initiating a conversation and also they focus on making sure that every tourist is safe and although you might see a lot of army men holding guns in hands, they are very pleasing and are there for their safety only. She says she is mesmerised by the beauty of the vale and the last beautiful lake she saw other than in Venice, was the beautiful Dal Lake of Kashmir.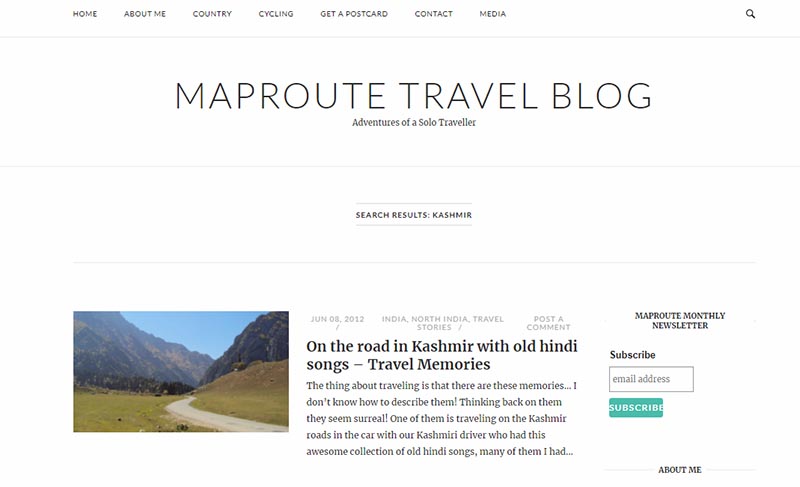 A solo female travel blogger, Renuka, has been travelling since 5 years and has found peace and solace in life, not only a blogger, but she's a photographer as well and takes a picture for her blogs.
In her blog about Kashmir, she writes that there's a sophisticated air to Srinagar, which you get acquainted with as you walk along the Boulevard road. More than the beauty, she praises the Kashmiri bakery, which she finds tempting and succulent to have. She says she savoured the moment while taking a shikara ride and found bliss in the valley.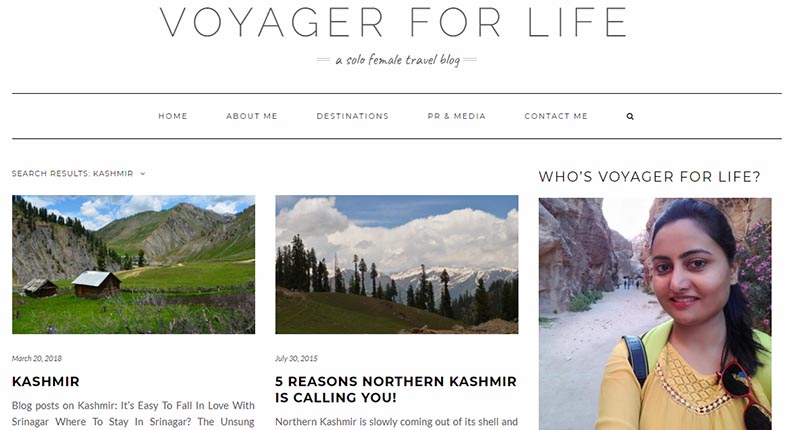 A tourist, an adventurer, a traveller, a solo backpacker and an explorer, is what defines this adventure enthusiast, Medhavi Davda. An ex-tech geek and a former software engineer at Tata Consultancy services quit her job to take her passion to a new level to quench the hunger to travel and explore the world within her. She considers the great Himalayas as her first home.
In her blog about Kashmir, she majorly wrote about her experience to the famous "Great Lake Treks"- an initiative to trek along the beautiful lakes from Sonamarg to Naranag. She says that these lakes are hidden from the crowd, between the mountains. Also, on her visit to the famous Dal Lake, she found solitude within and the hospitality she was offered by the locals was worth taking a note of.