PAHALGAM VIDEO
95 kilometres from the city centre Srinagar, unspoiled by the wreck of development, Pahalgam is situated about snow clad and astounding mountains, flickering glaciers, gushing and pristine water and dense pine forests with the cool breeze of air revitalising and curing every ailment. It's an adventure for sports enthusiasts and offers wonderful treks, skiing and mountaineering and camping sites. Pahalgam is renowned for its scenic beauty and is a jewel of quaint Lidder valley, an angler's delight is located in the high Himalayas. Trekking around Pahalgam is euphoric, as it takes the traveller through untarnished pine forests, clear mountain streams, and meadows of wildflowers. Top places to visit in Pahalgam include Betaab Valley, Aru Valley and Chandanwari. Considered to be a sacred Hindu pilgrimage, Amarnath Shrine is just some kilometres away from the prepossessing beauty.
Things To Do in Pahalgam
Visit the famous Ashmuqam Shrine on way to Pahalgam
Remember the song Bhar Do Jholi Meri from Bajrangi Bhaijaan? It was shot at this Ashmuqam Shrine.
This shrine is of Sufi saint Sheikh Zain-ud-Din Wali who was a disciple of principal Reshi in Kashmir, Sheikh Nur-ud-Din. Ashmuqam shrine is located on a hillock which you will find on the right side just 20kms before Pahalgam when you are on Anantnag – Pahalgam road. Entry is free.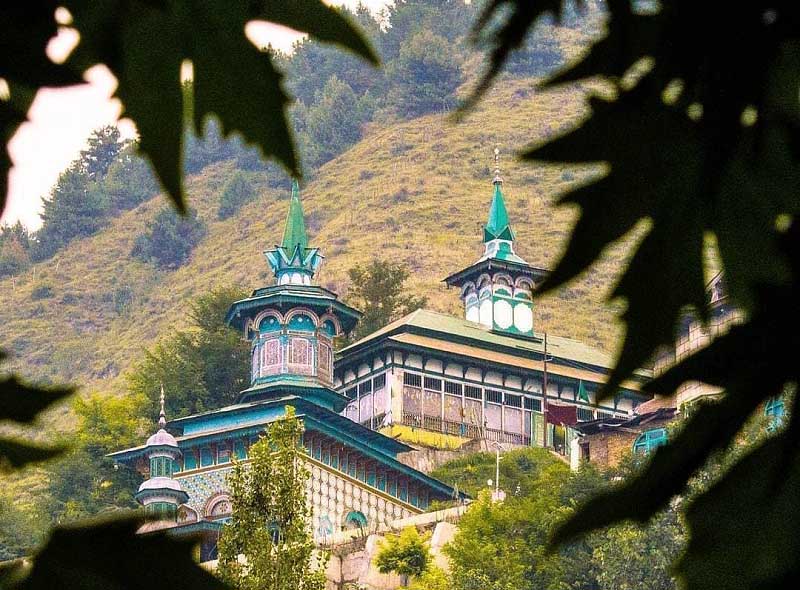 Visit Baisaran
A must visit in Pahalgam but only if you are fit and not old. Its also called 'Mini Switzerland'. It is a huge valley locked by mountains on all sides. It can be reached either by trekking or on back of ponies and it takes almost 3 hours to go and come back.
Entry fee 50 Rs
Zorbing cost Rs 300/- for 2 persons.
Pony charge 600-1000/pony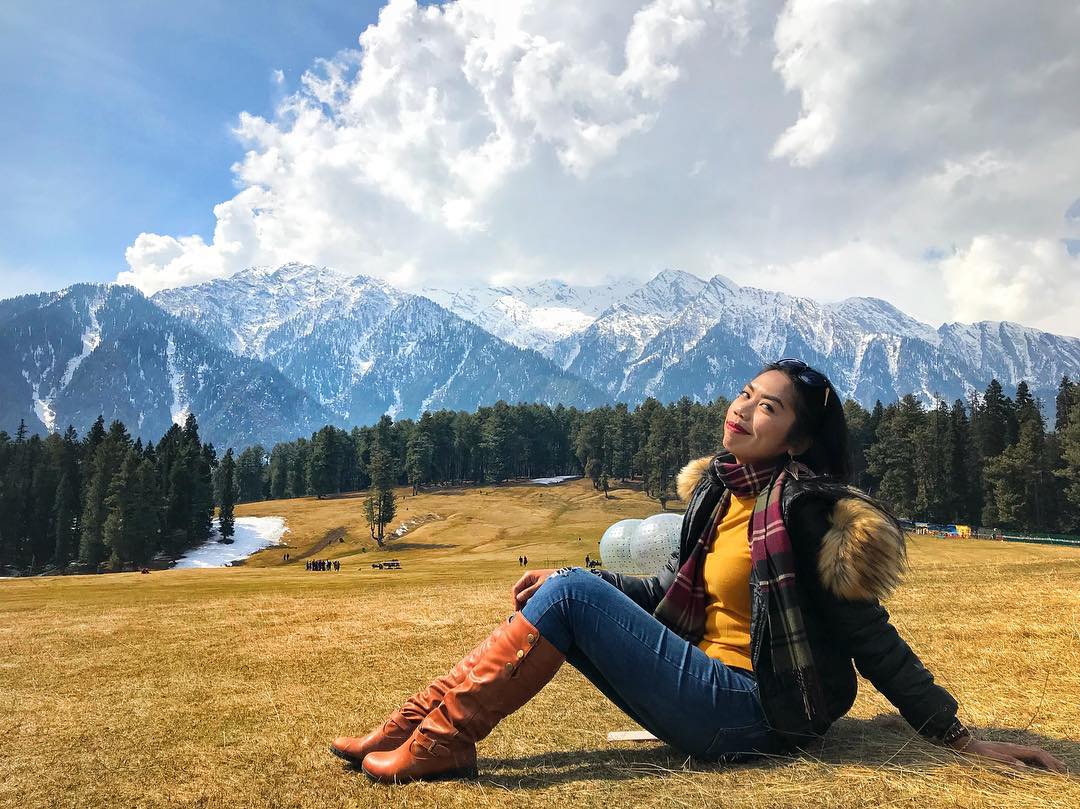 Visit famous Betaab Valley
Remember the film BETAAB featuring Sunny Deol-Amrita Singh? That was shot here that's how this place got the name Betaab valley. Other movies shot here Sikandar (2009) and Rockstar (2011). Original name of the valley is Agan Valley.
It is situated at a distance of 15kms from main Pahalgam and is combination picturesque surroundings, greenery, the rivulet, rock formations on one side and beautiful hills all around. This place is great for a picnic, taking photographs and relaxing. Entry is 100 Rs for adults and 50 Rs for kids.
P.S It is not a valley it is actually a park with a river flowing through it which gives a feel of a valley.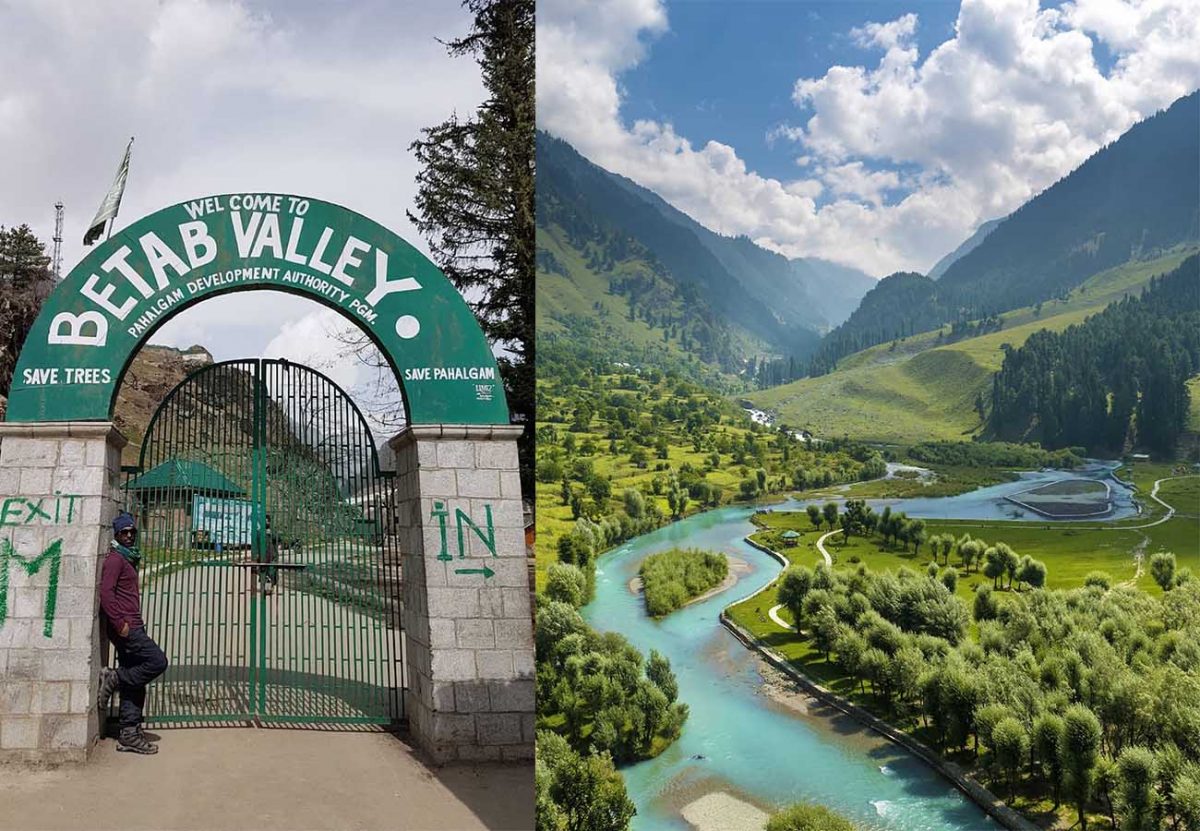 Visit Aru Valley
The 11 km (40-50 minutes) drive from Pahalgam to Aru Valley is very scenic and bit of an adventure. Your taxi will drop you off at the Aru village from where you have 2 options either you can walk or get on a pony.
Aru valley is an enthralling and one of the most popular valleys in Kashmir. This valley is captivated with its scenic beauty and offers activities like horse riding, hiking and trekking.
Tip: The views will get better the more you climb in Aru, if someone says the views at the top are same as the views you see at the base, don't believe them. Also if you are in good health don't go on a pony rather walk up, it will be worth.
It's better if you spend 3 or 4 hours in Aru valley, negotiate wait time with your taxi driver beforehand. Pony would cost around 300-350 Rs per hour.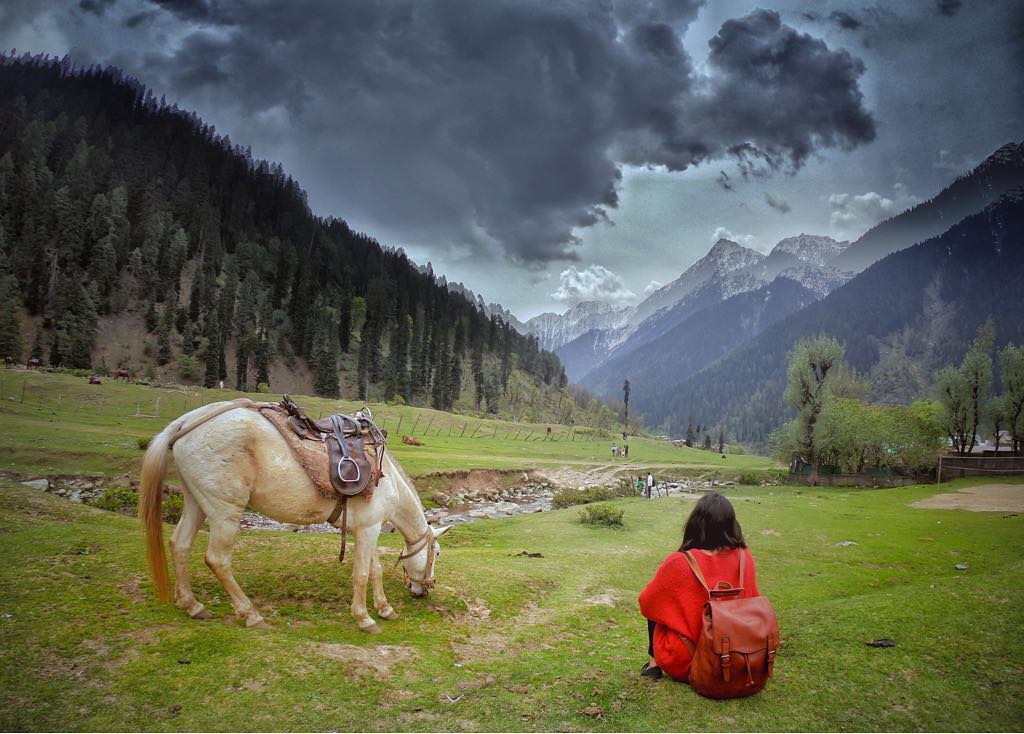 Visit Chandanwari
Located on the banks of Lidder River, Chandanwari is the starting point of the famous Amarnath Yatra. It is one of the perfect places to enjoy a picnic with your family and enjoy the beauty of Mother Nature. The unexplainable beauty of this place makes it the famous tourist destination and is visited by thousands every year.
You can find snow here from Dec- April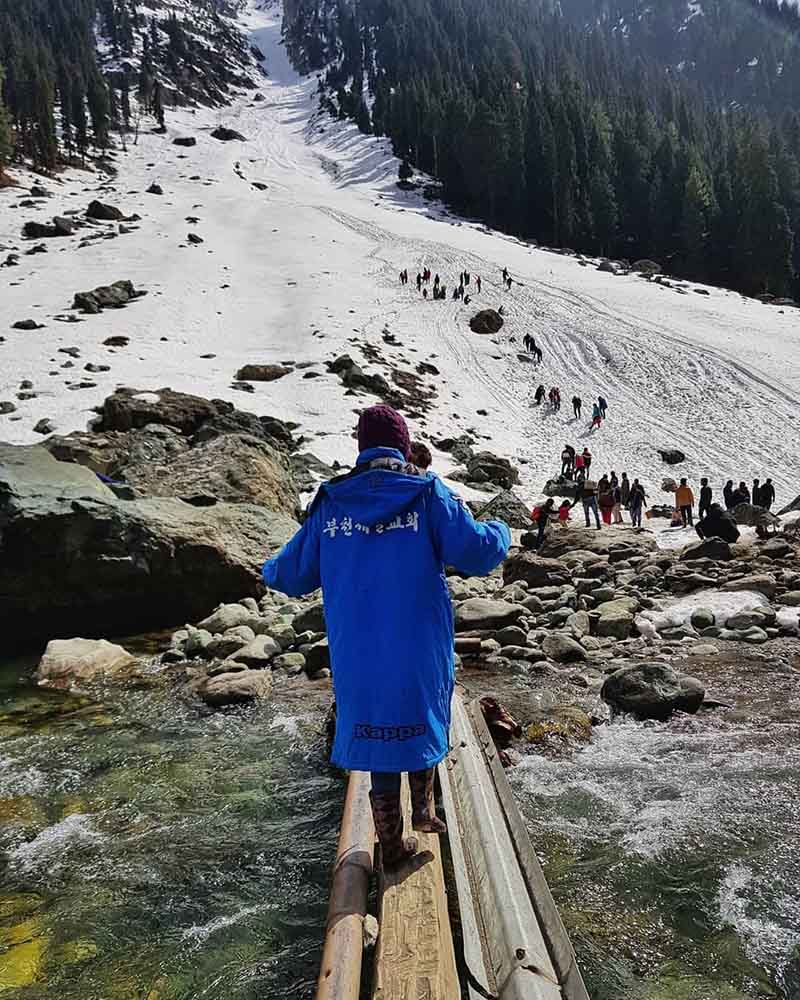 Play Golf
Situated at an altitude of 2400 m above sea level, Pahalgam Golf Course is a nine-hole course where you can sport an event and find joy. Vast green fields at the foothills of mountains on one side and Lidder river flowing on the other makes it look surreal. This beautiful golf course is referred as "Plateau" by the locals. If you're around and love golf, don't forget to pay a visit.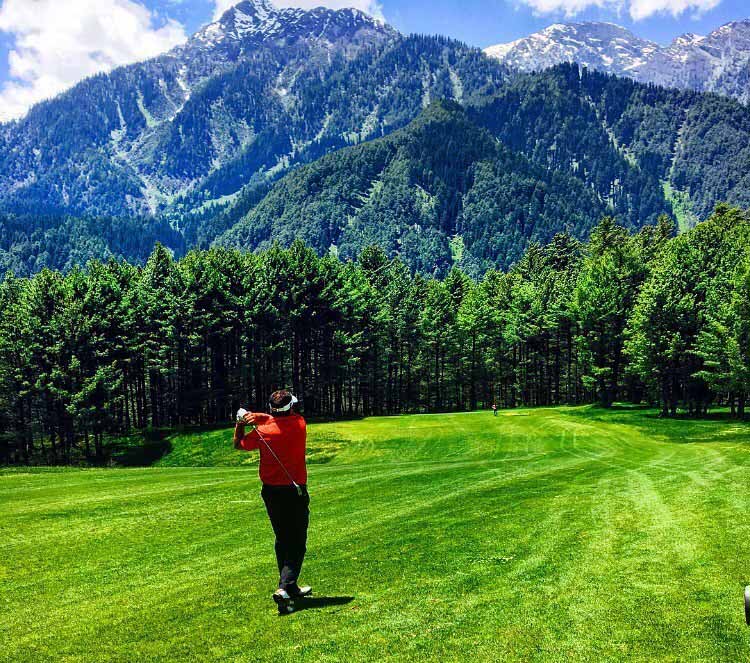 Do white water rafting
If you want to wallow in the awesomeness of the rivers flowing in and douse the thirst for an adventure, go for white water rafting in Pahalgam. Rafting can be done from April to August between 9 am to 6 pm. Charges are Rs.500 for short ride (about 20 min) and Rs.1000 for long ride (30-40 min). No need to prebook you can do on spot booking.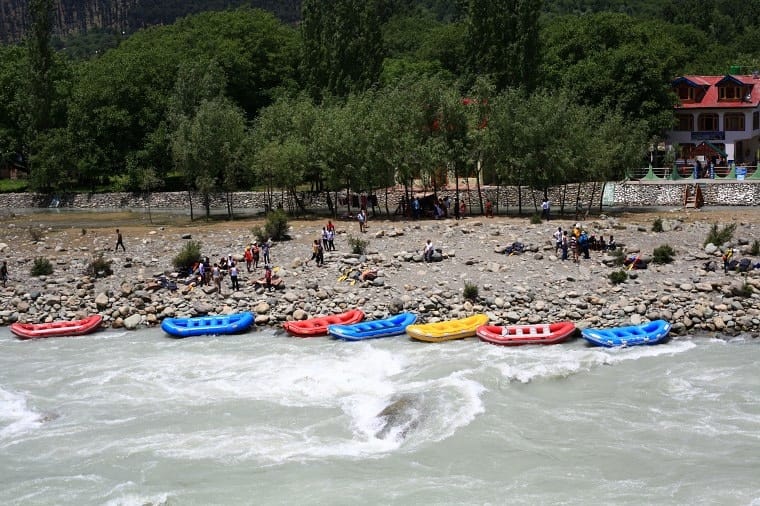 Trek to Kolohoi Glacier
If you are a trekker you can do this 5 days trek which starts and end in Aru valley. The Kolahoi Glacier is the largest glacier in Kashmir and is the source of Jehlum river. The trek includes more than 25 stunning alpine lakes and many high-altitude ponds, green meadows, sprawling banks of Lidder river and acres and acres of beautiful coniferous forests.
Visit Mamaleshwara Temple
Being one of the oldest temples in Pahalgam, Mamaleshwara temple dates back to the 12th Century. Located at a kilometer distance from Pahalgam, this temple is dedicated to Lord Shiva and is purely constructed of stones. The temple is marked as a significant place of worship in the region and draws pilgrims from all over the state. If you're on your visit to Pahalgam, do not miss to pay homage to this temple.
Other things to do
Do shopping in Pahalgam market
Go for trout fishing
Visit the cheese factory by Chris Zandee and Gulaam Hassan Khatana