Kashmiri Saffron | Kesar – Benefits, Types, Price
What is saffron called in Kashmiri?
Saffron is called Koung in Kashmiri. In Kashmir people also refer to it as Zafran.
Where is saffron grown in Kashmir?
Safron is primarily grown in district Pampore of Kashmir.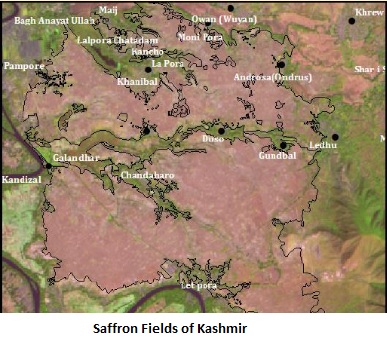 What are the benefits of Kashmiri Saffron?
Coloring agent or as a flavoring spice
Helps in weight loss
Gives fairer complexion
Anti ageing effects
Relieves pain ( gout or arthritis)
Acts as antidepressant
Used to improve sexual health
Beneficial in hair growth
Essential supplement during pregnancy
Improves mental health
Anti cancerous
Potential sleep Inducer
What are the types of Kashmiri Saffron available to buy?
Mongra or Mogra Saffron
It has only top red part of stigma. It is the costliest and finest saffron
Lacha Saffron
This has full stigma of saffron flower. This is less costly than Mongra Saffron.
Zarda Saffron
This has bottom yellow part of the stigma. This is the cheapest one.

Where to buy original saffron from Kashmir online?
Other Saffron Brands
Keynote Kashmir Saffron (Certified Grade – I)
Shalimar Organic saffron Kashmir
Lion Pure Saffron Kashmir Kesar
Upakarma Certified Natural, Pure and Organic Finest A++ Grade Kashmiri Kesar
Kashmiri Saffron Vs Irani Saffron
Kashmiri Saffron
Expensive
Legal
High Quality
Irani Saffron
Cheap
Smuggled from Iran to India
Low Quality
Orignal Vs Fake Saffron
Bitter Taste – Pure Kashmiri saffron has a bitter taste when u chew it
Yellow Color in Water – Saffron releases yellow color in water and it takes bit time to release color. Although it releases yellow color, the color of the strands itself remains red for few hours in water.
Floats in Water – Real Saffron floats in water and fake one does not float