Tell us about yourself?
My Name is Adnan Manzoor and I am from Srinagar, Kashmir. I am a proud Rabab player.
I did my schooling at Salfia school, Parraypora, and then high schooling at New Convent High School Srinagar. I am 21 years old and I am also currently pursuing my B.Tech in Electronics and Communications from the University of Kashmir.
What inspired you to play Rabab?
I was attracted to music and musical instruments since childhood. As a kid, I used to take guitar lessons. I played guitar for some time initially but I found that my inner self was more inclined towards playing something traditional.
When I started searching for Rabab in Kashmir I could not find it anywhere. Then one day I went to one of my teachers who is associated with the same field, I saw he was having two Rababs so he gave me one of his Rababs which he had bought from Afghanistan. That was the day when I finally had in my hands what I wanted ever since.
I then learned to play Rabab from Irfan sir ( who himself is a singer/musician). While I was learning to play it I got more fascinated by this magical instrument.
Eventually, when I started playing Rabab on my own, I started uploading my videos on social media. Surprisingly I got tremendous love and support from people. Everyone cherished listening to this instrument. I got personal messages from people that they wanted to learn Rabab. This made me realize that I might be playing Rabab well and that this hobby of mine can be adopted as a profession if I learn and play well.
I wish to represent Kashmir among the world platforms by playing this instrument. And I wish to earn respect and honor for my homeland through my Rabab playing skills in any way if I can.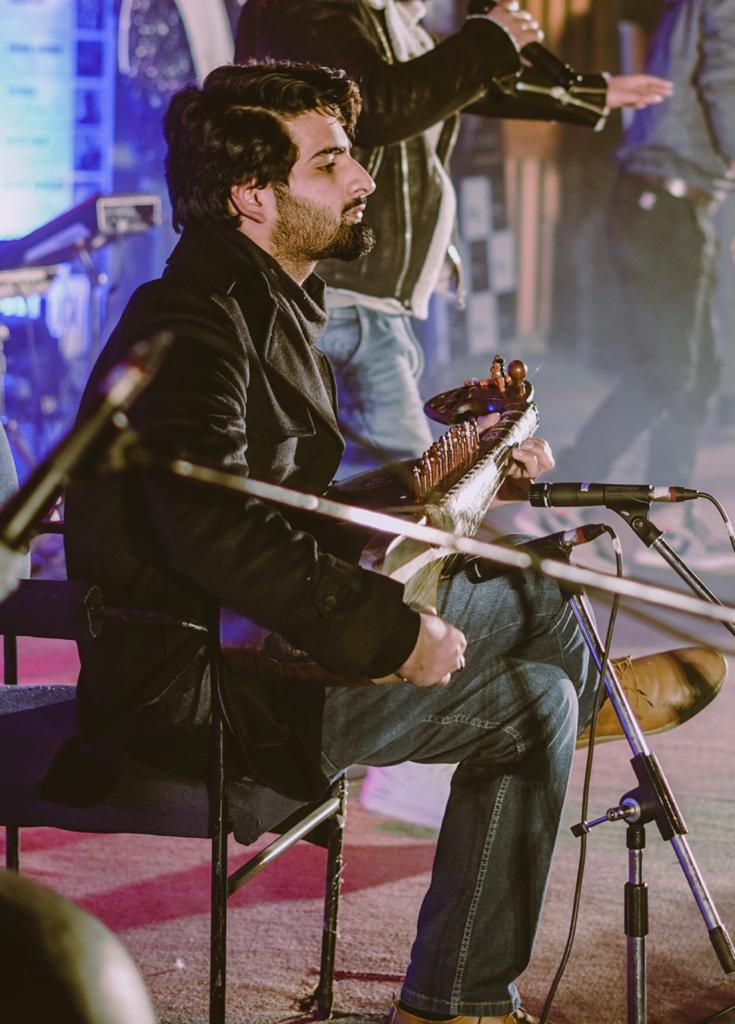 Tell us about Rabab
Rabab is a peaceful and soulful instrument. This instrument majorly has either seventeen or twenty-one strings, the upper case has fourteen and the lower case has three strings, and of the lower three, two strings are made from the intestine of a goat. The outer portion of Rabab is also made from the skin of either sheep or goat. So we can see that the formation of Rabab in itself is interesting and this honestly pushed me to play this instrument with more zeal.
Tell us about difficulties you faced in your journey
As you know we can achieve nothing without struggles, being a student it was never easy for me to choose music overstudies and in the society we live in, people do not welcome art as they welcome other professions so the family pressure initially, the societal pressure, and then personal dilemmas often confused me about my decisions
But I think now, in the last ten years things are changing in Kashmir so is the trend of music in our valley. People are taking interest in learning music/instruments and few people have already taken this as their profession.
What steps do you think we Kashmiris should take to preserve our traditional music and assets?
First of all Kashmiri people should understand that adoring western music and running far from traditional music is not virtuous, it can completely demolish our culture.
For the preservation of our cultural assets the responsibility starts with families, they should narrate and make their children aware of our rich cultural heritage. Children should be taken to places/museum which preserve such items.
Also, our education system and Government can play a leading role in keeping available such rich cultural assets to students/citizens. Government should take steps so that the people interested in music or any form of art should feel secure about their future in the valley and need to search for opportunities outside the valley should not arise.
What is your message to those who want to follow the same path?
For those who want to follow the same path, I would say that playing Rabab brings peace and composure to one's soul and body. Playing Rabab can keep our traditional music alive and by going great in it, the world can come to know about our heritage and culture. We may continue to face problems but we don't have to give up. We have to move ahead and I am also available for anyone who needs any help in this field.