Interview by Ufaq Fatima
Tell us about yourself?
My name is Nadiya Mushtaq Mir from Kralpora Budgam. I am a Calligrapher. I did my schooling from Tiny Harts School in Srinagar. After graduating in humanities, I did my Masters in Economics from the University of Kashmir. In addition to this, I have done diploma in fashion designing too.
"Apart from calligraphy, I love cooking and fashion designing also. I believe they too are a form of art and like calligraphy, cooking & designing taught me the art of building elementary things in life assiduously bit by bit".
Since childhood, I was inclined to art and whenever I used to see a painting or a design anywhere I used to get curious about "how blissful it would have been for the artist to make such a perfect and complete piece of art". Every art work that I witnessed since childhood sublimely shaped me into an artist. The drawings I used to make with my crayons gave wings to my imagination.Since then I made a resolution that I will always be associated with the art no matter what my professional life would be.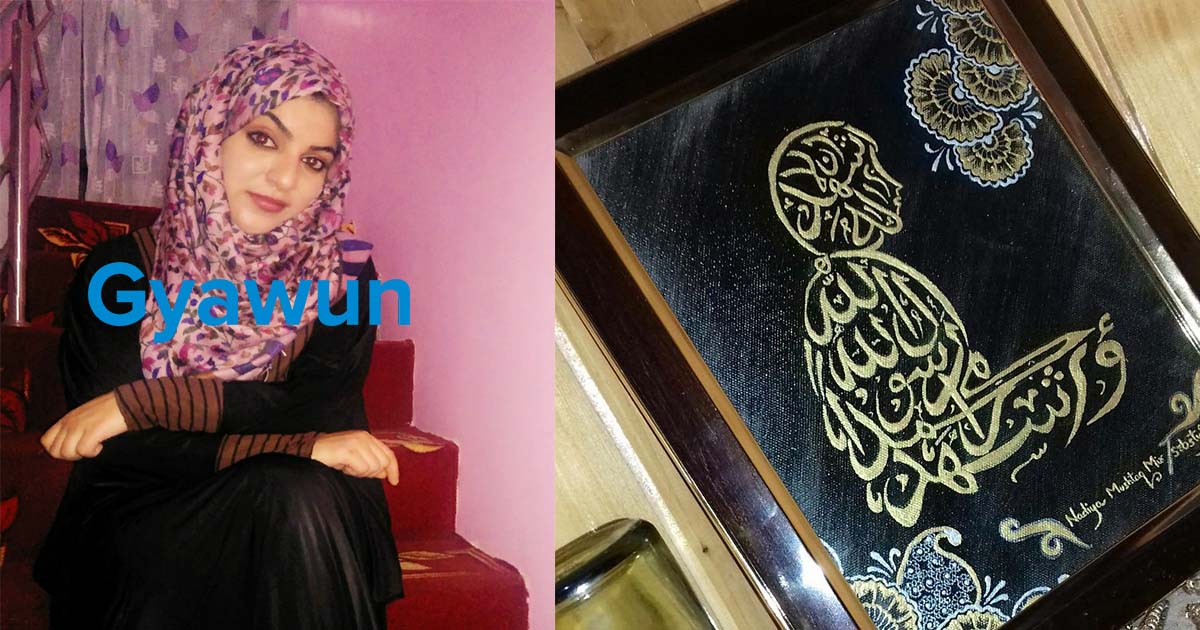 What does calligraphy mean to you?
Calligraphy is my way of respecting and paying tribute to the art of, some of the greatest artists of Islamic civilization. People have dedicated their entire lifetime in learning and promoting this art. When I am engrossed in my work, I feel an inner satisfaction and solace which is more important to me than the profit I am making through selling the frames. I just don't create this art but I also communicate through it. Art gives you an escape from the harsh reality of the world. It has the ability to dwell deep within us and redefines our perception about the world.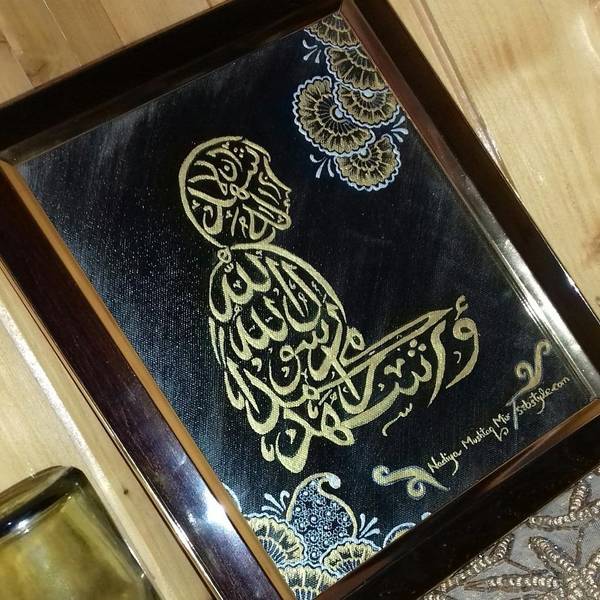 Did you receive any specific training in calligraphy?
I am a self-taught person and grasp things easily. I did not receive any kind of professional training in this art. Initially, I started to imitate work of veteran calligraphers. The enthusiasm and commitment to learn always kept me in the constant learning phase. With time I explored new horizon of this art and got immersed in calligraphy.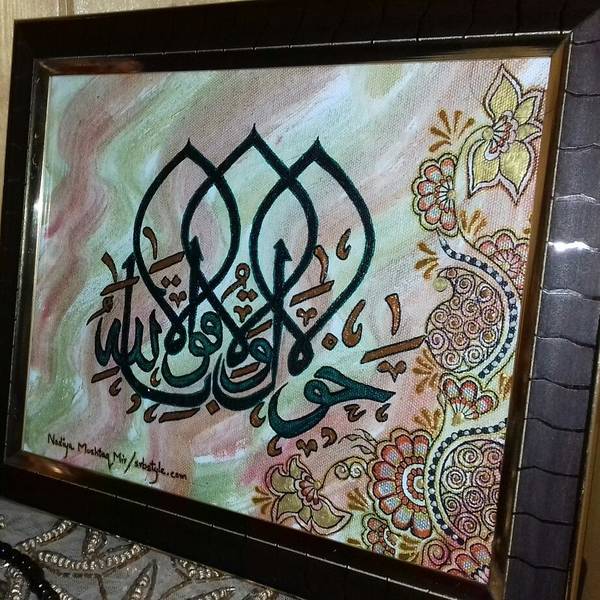 Professional Calligraphy is not a vibrant field in Kashmir yet. How do you manage the tools required for this art?
The stationary required for this art are available but are very basic in nature and costly too. In Islamic calligraphy one cannot afford to be average, it has to be flawless. It costs a lot of energy and stationary. But there are people in Kashmir who value perfection. I was surprised by the tremendous feedback I got for my calligraphy frames on social networking sites which boosted my confidence and encouraged me to do more.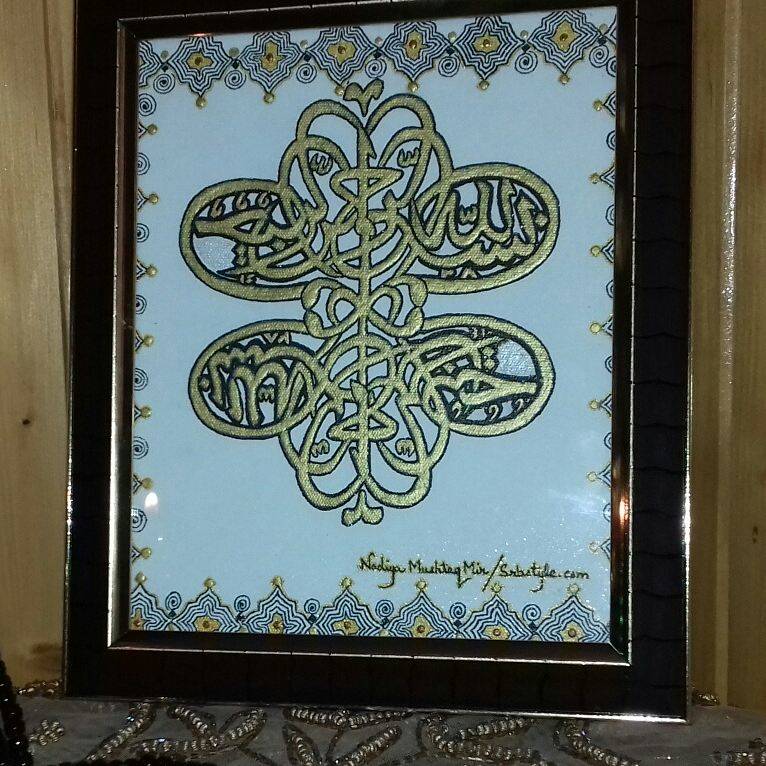 How does your family look at your art?
Masha 'Allah my family has always been very supportive. This year when I mentioned about landing into marketing side with my amateur art they encouraged me a lot especially my siblings. Whatever I have been able to achieve so far would not have been possible, first without my special angelic supporter and well-wisher, then my parents, my sisters & Shahid Rashid Bhat. All these people motivated me to pursue my cherished hobby. However, now I have to spend few extra hours with my work which is taking a toll on my social life. But then a little bit of sacrifice is need of the hour, which will help me in achieving my ultimate goal.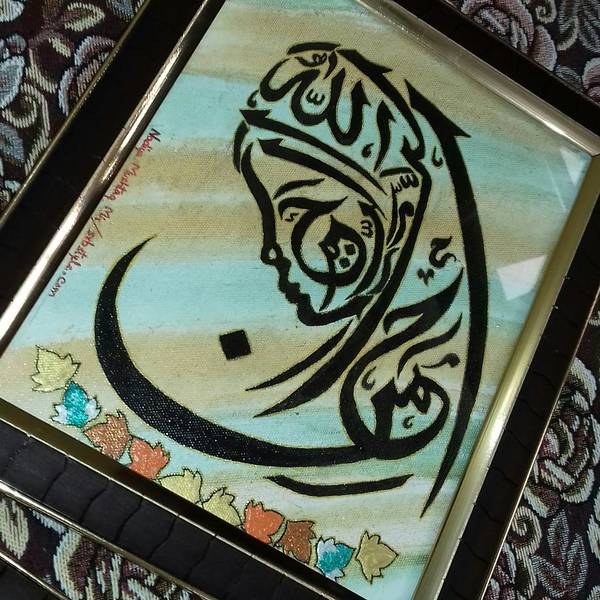 Do you prepare any specific genre of writing or general?
My religion is very important to me and I am very much inclined to it, so Islamic calligraphy is what I mostly do. Islamic calligraphy has a glorious history in Kashmir. Ibu Muqlah Sheerazi, one of the greatest Islamic Calligraphers created amazing beatific six classic styles or you can say genres of Persian Calligraphy namely Tahqiq, Raiyaan, Toqi, Riqah, Sols, & lastly Naksh. In Kashmir the arrival of (Amir-e-Kabir) Sayid Ali Hamdani (RA) & his followers included Persian calligraphers proved a seminal event vis-a-vis calligraphy, soon this art began to flourish in Kashmir, as Islam began to spread across the valley. Calligraphy with the holy verses of the Quran paved the way for calligraphy to become a prominent form of artistic expression in Islamic world & highly venerated as well.
What are the challenges you have faced so far in this field?
Since I landed in the world of advertising and competition, I started to spend hours in my room alone to concentrate on each single frame. Sometimes one has to compromise on daily chores of the home which at times irritates my family. Besides this, frequent internet ban is of great inconvenience, as most of my customers contact me online and there is a complete communication breakdown during that phase, which is very unnerving at times. Also, the calligraphic tools which are rarely available in our city become a limitation in creating a perfect art piece.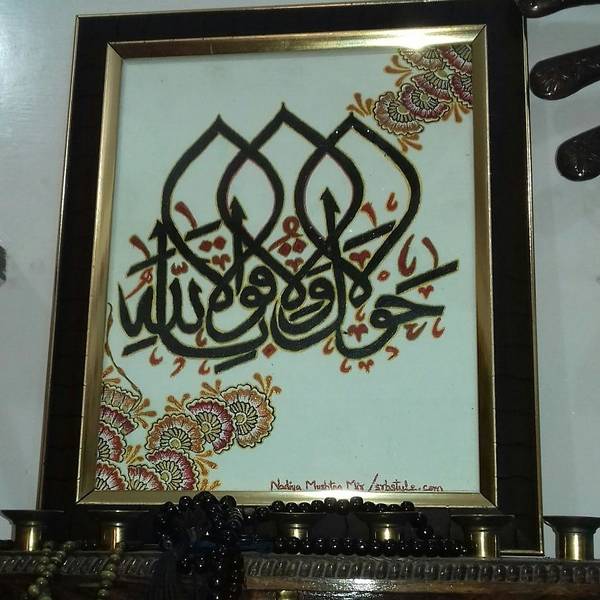 What are your future plans?
"I usually let serendipity take over. I believe there would be an exponential rise in the prospective customers". I need to make vibrant use of social media to make people aware of the art work I do and even would like to teach any willing student. "My dream is to create a skilled group of calligraphers in Kashmir and I am hopeful that government will sponsor my endeavour".
Any message to the people who are interested in such kind of art work?
I would advise amateurs of any art not be afraid of making mistakes. But once you are at something for a considerable amount of time makes sure you achieve perfection in it. "To the calligrapher learners, I must reiterate that Islamic Calligraphy is an art of the perfection. There is very little margin for average work in it. People pay for perfection and perfection is what calligraphy teaches us. Besides this calligraphy requires an immense patience. If you are not patient enough calligraphy is not for you. All the best".