Tell us about yourself?
I am Asiya Rafiq from Kashmir and currently staying in UAE. My mother worked as teacher in Kashmir and my father retired as a District Magistrate (Collector) in District Srinagar. My mom & dad were not staying together because of some family issues. I was raised by a single parent, my mother. We lived in Balgarden area of Srinagar with my maternal grandparents.
I did my schooling from Mallinson Girls School, Srinagar. My mother always wanted me to be a doctor but with no disrespect to anyone I had no desire to work in medicine as I can't stand blood. I wanted to study sociology & psychology as due to psychological impact of living without one parent in my childhood, I always wanted to ease pain of children who had to bear parental separation.
While in my higher secondary school I decided to drop out in favour of studying sociology – a decision for which I was constantly being mocked by my relatives. It was during this time my mom bought her own house in HMT area and we moved there. After an initial emotional roller coaster with my mom she eventually understood and respected my right to choose field of my interest. So i took Psychology & Sociology as my career path and I graduated in Sociology & Psychology from Nawakadal College. I would give credit for what I am today to my wonderful lecturers of Nawakadal College. After graduating I left valley and moved to Delhi and Mumbai for a while.
Seven years ago, after getting married I move to Abu Dhabi.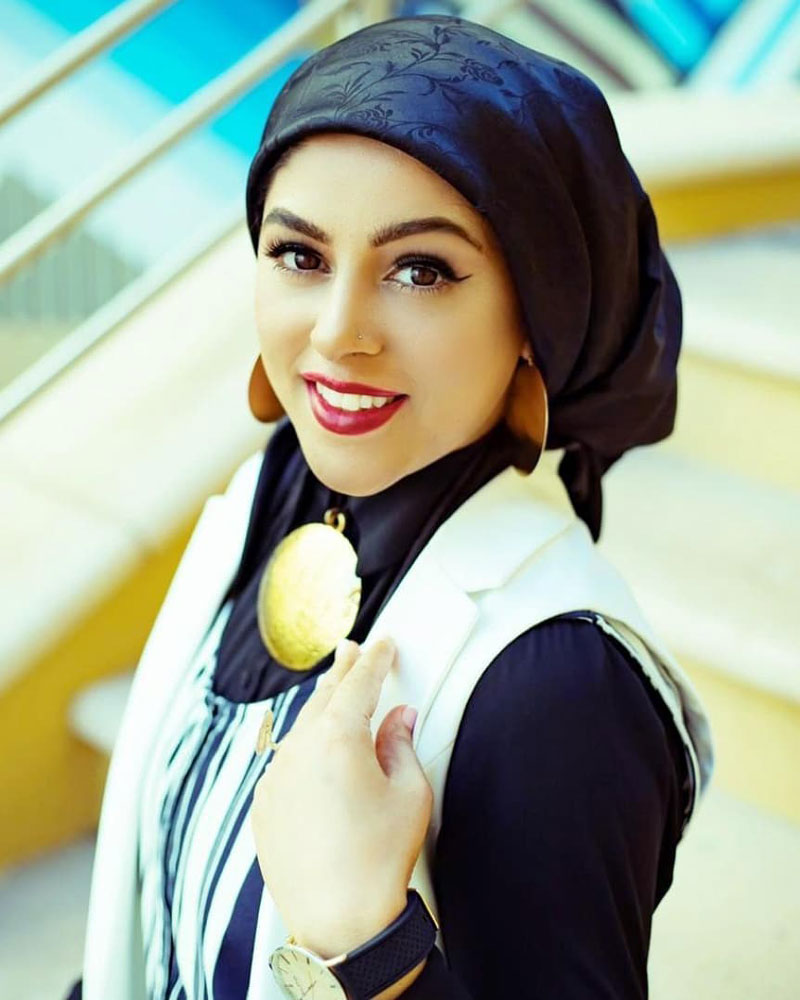 Tell us about your fashion label?
It all started with story of FIRST MUSLIM NURSE IN HISTORY –RUFAIDA AL ASLAMIYAH . She was the first Muslim professional female nurse. By listening to her story I got motivated and started working as an active volunteer in Special Olympics World Games 2019. I remember this one instance when a young man wanted to go for prayers but was having trouble with his shoe laces. He finally asked me for help and I obliged. This small instance such as being unable to untie laces, along with other instances like difficulty in removal of undergarments in disabled people and abayas of women in wheelchairs getting stuck in the wheels opened my eyes to the fact that small things, can go a long way towards making someone feel helpless & frustrated.
Being Psychology graduate I wanted to properly understand the needs of people of determination so I applied to study ABA (Applied Behavioral Analysis) also called 'Behavioral Engineering' from Applied and Behavioral Training Institute of Dubai.
As a Behavioural Engineer I met children and adults with ASD (Autism Spectrum Disorder) and worked on their developmental disorders. I realized people with disabilities are no different they also wanted to look good & presentable but the current clothing available was not as per their needs. For example autistic children have sensory integration issues & some kids do not like tags on clothes a detail which constantly bother them.
I wanted to do something that could make life easier for such people. A need was their to create inclusive clothing that gives people with different body issues the chance to wear designer clothings & celebrate themselves. This is how I started my modest womenswear label made for women with disabilities
My clothes are adaptive, they allow those living with disabilities or anyone without a full range of motion or dexterity to dress oneself. My clothing adaption is fashionable and comfortable with easy closures like hidden magnetic buttons, easy grasp zipper pulls, velcro & elastic closures made by soft comfortable fabric which gives greater freedom of movement.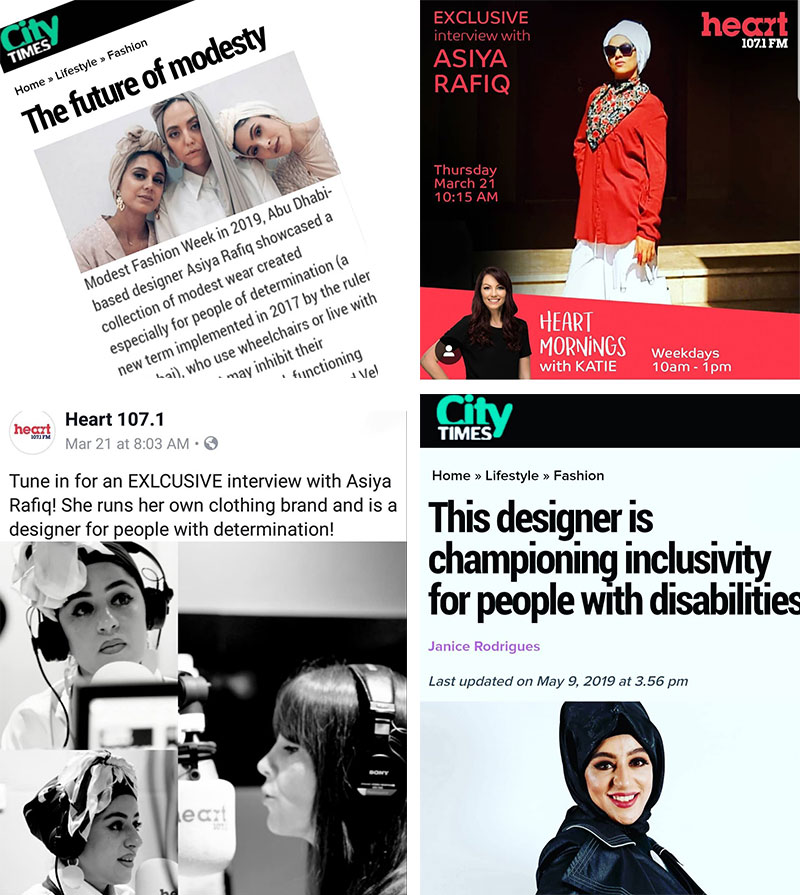 Tell us about your experience at Dubai Modest Fashion week 2019.
Dubai Modest Fashion week was a great experience. I was honored to collaborate with them to showcase my idea of adaptive clothes.
I introduced my Adaptive Modest Designs there. It involved models wearing my conservative and comfortable clothes on the ramp holding signs promoting inclusivity.
I showcased my work in Accessibility Expo event in Dubai as well.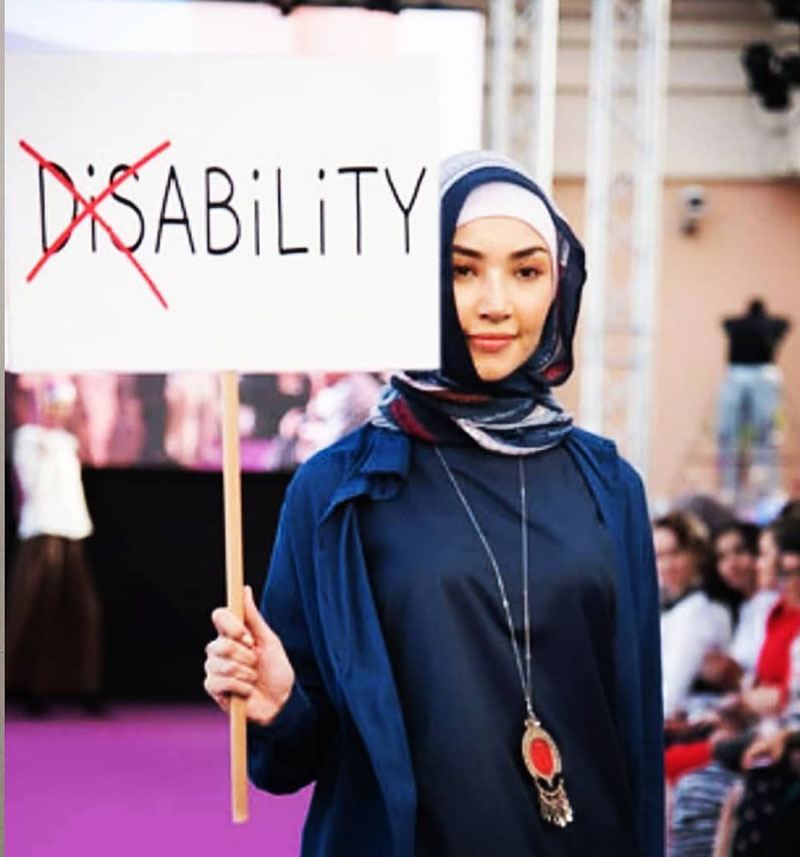 What other things are you working on?
Apart from this I am working on my newly introduced project called "MAKE MY STYLE ACCESSIBLE." I am getting invited from different Fashion & Technology Universities and Colleges, where I impart lectures regarding awareness on promoting body acceptance & fashion inclusion through consulting students of these organisations & people of determination and their caregivers. I was recently awarded at Amity University Dubai for Outstanding performance in Amity Human Capital for Changing the Game of Fashion.
I also recently collaborated with a popular magazine 'OUT AND ABOUT MAGAZINE' UAE for the launch of my concept short film which is based on void of a daughter without her father's support in life. It was released in Arabic and Kashmiri language in various International social platforms.
My next product launch will be in collaboration with fashion experts of Milan Italy in September 2020.
You can reach out to Adaptive By Asiya here
Did you like this article? Make a donation to Gyawun and help pay for our journalism. Donate here