On 24th May afternoon when Diya Umar, Makeup pro, owner of De yoU makeover (Read about her here ) was working in her studio, she got a call from an unknown number.

Truecaller displayed the name as Cyber Crime Center

She answered the call, the male voice from other end told her that he is an inspector from Cyber Cell Mumbai and his department had received many complaints against her Facebook business page as it had been reported by many people. Caller added that if she wants to continue using her page she had to pay a penalty of Rs 4500 into their Paytm account.
When she refused to pay, the caller threatened her that they are about to delete her Facebook page. The fear of loosing her page which she had worked for two years made her worried and on that the caller started to scream and threatening more.
The caller then told her she will be getting a code on her phone from the cyber cell and she has to tell the code to him. She checked her sms section while being on the cal with caller. With so many thoughts going in her mind, caller screaming and fear of losing the page she thought it was better to do what he said, so she narrated the code to him.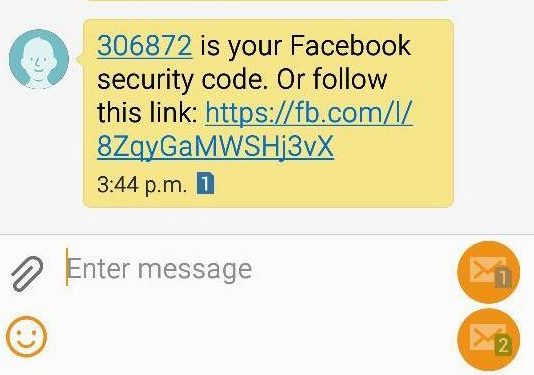 The caller again demanded a ransom of 4500Rs from her, when she refused again, he removed her as the admin of her own page for which she got a notification while being on the call. He also removed her husband who was the admin of the same page. After that the caller hung up.
When she tried to access her page she couldnt access it. She then realized that she had lost access to her personal profile aswell.
She then went to Cyber crime police station at Bemina, Srinagar. According to them someone from Delhi had been using my account since past couple of days. As the Cyber inspector intervened into the matter he found that her page didn't even exist on FB anymore. Though they helped her to gain access to her personal profile back they couldn't track the location of the number the caller had called from. They also found out that her Facebook had been hacked by using a VPN so it wasn't possible to trace the location of hackers aswell.
Feeling helpless she tried to call back on the same number, according to her "some insane male answered the call and refused to answer our queries". Within few minutes of the call she received another call from an unknown number and when she answered it her phone stopped working. Her phone screen had turned all green ever since. She went to local Samsung store who told her they are not sure what has happened to her phone, so currently her phone is at Samsung service center for repair.
Previously several Facebook page owners mostly fashion designers, make-up artists and photographers have been hacked and duped in same fashion. More such stories can be read in an article done by Hindustan Times just recently ( read here )