Gyawun conducted a survey recently through its telegram group which has audience of Kashmiris living outside of valley only. Huge number of people participated in our Kashmir survey. To get honest and true responses the survey participation was kept anonymous. We thank our community members for their participation in this survey and help us bring forth these results.
Lets start with the findings of this survey.
Highest Education Qualification of Kashmiris Living Outside the Valley
Below chart shows the breakup of qualifications that Kashmiris hold. 41% hold Bachelors degree and another 41% hold Masters. 5% people hold PhD degree. One finding that we observed was that 9% of female participants had PhD while only 4% of male participants held a PhD.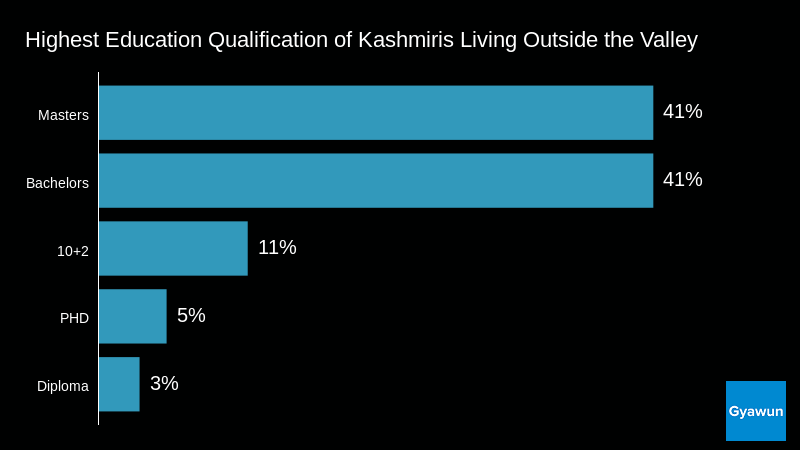 District Wise Breakup of Kashmiris Living Outside
48% of Kashmiris outside valley are from Srinagar. Baramulla contributes to 14% Kashmiris moving away, Anantnag 8%, followed by Budgam and Pulwama 7% each.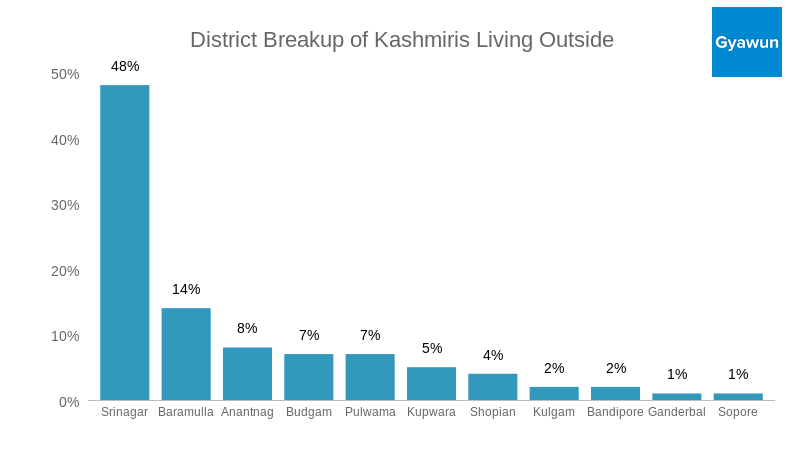 Language Kashmiris are Most Comfortable to Speak in
As per our survey findings only 56% of Kashmiris would be comfortable to speak in Kashmiri to fellow Kashmiris. Remaining 44% of Kashmiris would prefer to choose languages like English or Urdu over Kashmiri language while speaking to each other.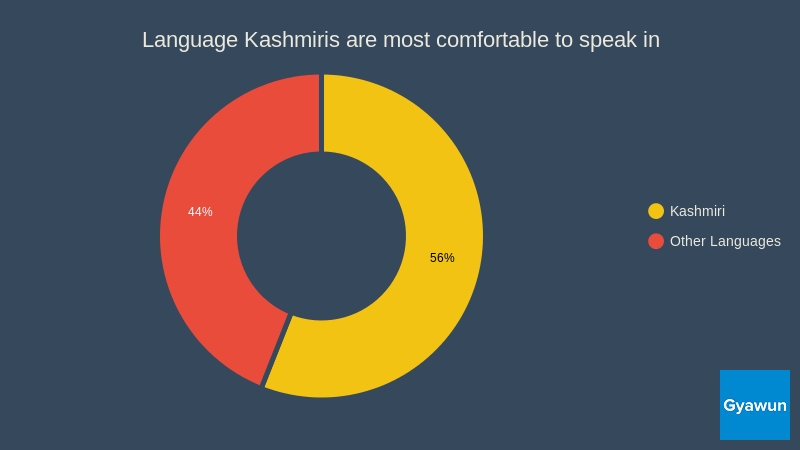 Career Satisfaction of Kashmiris Working Outside the Valley
56% of participants said they are happy with work that they do outside Kashmir and 27% said maybe they are happy. Only 17% participants said they are not happy with what they do.
When we break this down as per educational qualification we find that in people with just bachelors degree only 50% are fully satisfied with their work and in people with masters degree 62% people are fully satisfied with their work. People with PhDs are happiest amongst the lot, with 82% saying they are happy with what work they do.
When we breakup it as per districts we find that 52% of people from Srinagar are happy with their work and 64% people from other districts are happy with their work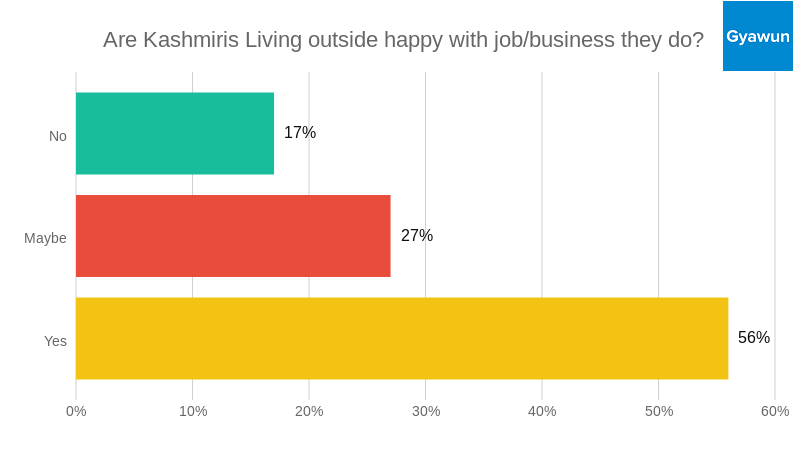 How much do Kashmirs Working Outside Earn
Below chart shows breakup of how much Kashmiris earn outside Kashmir. We see that 77% people with Phds, 38% of people with masters degree and 26% of people with only Bachelors degree earn more than 10 lakh rs . Maximum a people earn with some diploma is 10 lakh not more than that.
Only 37% Kashmiris earning between ₹2,50,001 -₹5,00,000 are happy with their jobs. This job satisfaction percentage increases as salary goes up to an extent. 72% Kashmiris with salary in range of ₹5,00,001 -₹10,00,000 are happy with their jobs. 68% Kashmiris with salary in range of ₹10,00,001 -₹20,00,000 have job satisfaction. But when salary goes very high i.e above ₹20,00,000 only 52% people feel happy with their work.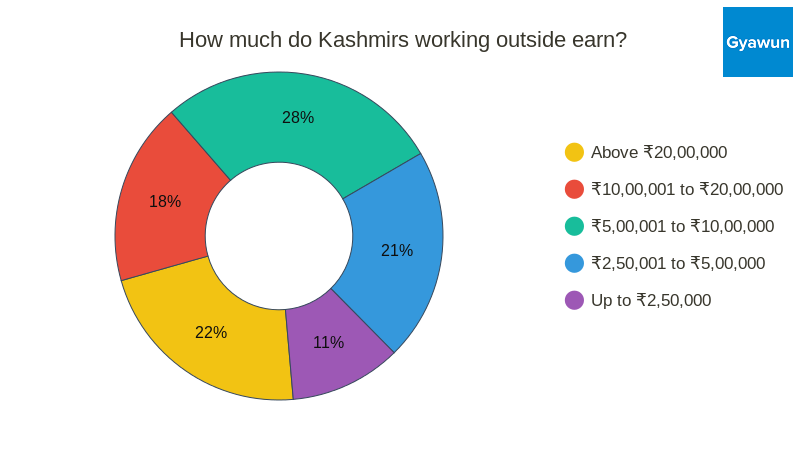 Countries other than Kashmir which Kashmiris Would Like to Live
We asked people if they had option to live in some other country apart from Kashmir where would they prefer to live. 26% Kashmiris said they would prefer to live in England, 20% said Canada and 17% said New Zealand. Surprisingly less than 4% choose middle east.