Interview done by Ufaq Fatima from Gyawun
Tell us about yourself?
My Name is Tanzeela Shah. I put up at Baghat and am basically from Srinagar itself. I did my schooling from Minto Circle and persuaded my Bachelors and Masters in Business Administration from Delhi, apart from that I hold diploma in Management and certification in GNIIT.
How did you start this online business?
While pursuing my professional studies I always from the onset wanted to come up with something of my own. "I was very firm about the fact that I could pull off things if I decided and provided the circumstances allowed me to. I never wanted to work for someone under someone else". And I give all credits to my family who always stood right next to me, supporting me in whatever I did and moreover believing and trusting me. Initially I wanted to come up with something else, which off course I would not disclose here as I still am up for it and am working on the same.
What inspired you to take up this field?
Down the lane I came across many Instagram sellers selling first copies and fake makeup products imported from China, then and there it stuck me. I know how much we all love makeup and what trend it is following, despite of the craziness we tend to possess towards makeup, the accessibility is not there. In India, particularly in Kashmir we hardly find any International Makeup Brand. So my first and foremost target was to introduce as many brands as possible. Yes you heard me absolutely correct, all International brands you ever craved for at genuine prices can be ordered online from our website deckedupdivas.com or our insta head @decked_up_divas.
Following the trend of e-commerce, I decided to do it online so that I don't just cover Kashmir but the entire Country.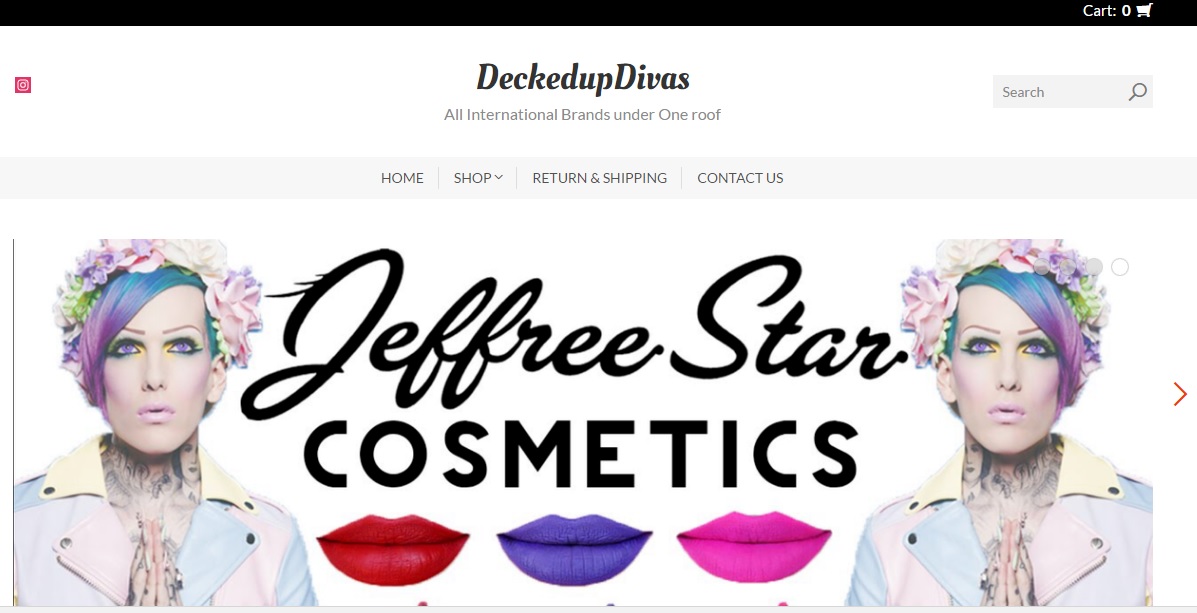 What is the procedure of selling the products to your costumers?
You can place your orders directly from our website or can DM us on insta @decked_up_divas. We take personalised order aswell. Initially when the website was not up the mode of payment was either bank transfer or online transfer but now we accept over 1000 credit/debit cards so that there is no hassle while shopping and customers have a remarkable shopping experience. You can even reach our customer service by emailing us at [email protected].
The market being mushroomed with different beauty products, What is unique about your makeup material?
The product line and International brands I have covered up are not yet officially launched in India. Even Sephora India doesn't have most of them. My main purpose was to introduce these high end cosmetic brands and make their accessibility easy and I somehow succeeded in this although I have a lot to achieve yet.
What is the reach of your business and how successful you have been so far?
As already said I right now am covering PAN India and we reach out to almost any and every part, be it from cities or far flung areas. Our courier partners have the highest accessibility reaching to every nook and corner.
"Alhamdulillah by the grace of Almighty I have achieved more than I expected in such a shorter span of time and I am sure by the love, support and good wishes of you all I would prosper even more".
Being a women, what difficulties you faced in starting up such kind of business in Kashmir?
Honestly speaking if you are asking me this question being gender biased then off course I never did find any difficulty in starting up my venture. As I already said my parents have been my backbone and have helped me out in every possible way so I hardly came across any hurdles. But yes if you ask me this question in terms of business perspective then I did find some impediments in the beginning. There were some third parties involved in the course which did not turn out to be futile as I suspected the authenticity. "My first and foremost aim is and always has been customer satisfaction. I believe a customer's perception is your reality and one customer well taken care of could be more valuable than $10000 worth of advertising". So then I decided to deal with brands directly, at this point of time we have no agents/dealers/third parties involved. Everything we import is either brought directly from official websites or Sephora International. "So all you people out there buy with your eyes closed as there is full money back guarantee on authenticity".
According to you what scope do you think this kind of business have in Kashmir?
I personally feel every business done in regards with the target audience and need of the consumers can do wonders. We have recently remarked on how makeup artistry has created a way in our society and how astonishingly it has been responded back. "Now the need of hour is not only to possess creative flair, practical ability and an up to date knowledge of fashion and beauty trends but to make all the products accessible, reachable and available. So I reckon this would not just do wonders within boundaries but outside as well".
What are your future plans?
Well I am planning to expand internationally and cover Asian countries as soon as possible. Also I might be coming up with my boutique studio in Kashmir sometimes later provided if things go as planned and situation and political boundaries allow me to.
As most of the people in Kashmir don't consider makeup and makeup artists good and become soft targets to public. What will you say to people with such mind set?
I respect all people from different mind-sets, we live in a world where we all have been brought up entirely differently, so having different perception about things is normal. I strictly believe criticism helps one grow more, if you are not open to constructive criticism, then you are not open for truly growing as a person. "So I would request all those not to judge and instead encourage more people like me to come out with more initiatives so that we as a society and we as an individual prosper, thrive and do well. Entrepreneurship can change lives and endorse employment thus we all should do our bit".