Tell us about yourself?
My name is Yusra Hussain also known as Sofie for people who listen to me on air. My father is from South Kashmir –Shopian and my mother is from downtown Srinagar. I have done my pre-schooling from Tiny Hearts, schooling from Presentation Convent School Rajbagh. After that I went to Womens College M.A Road for further studies.
My father has been an ex additional Advocate General and my mother is a retired Government official. My father is still a senior practicing High Court Lawyer in J&K High Court. I have one sibling, she is a lawyer at Supreme Court.
I am married to a politician, who is currently Srinagar City's Mayor. We have a Daughter who is 3 and half years old.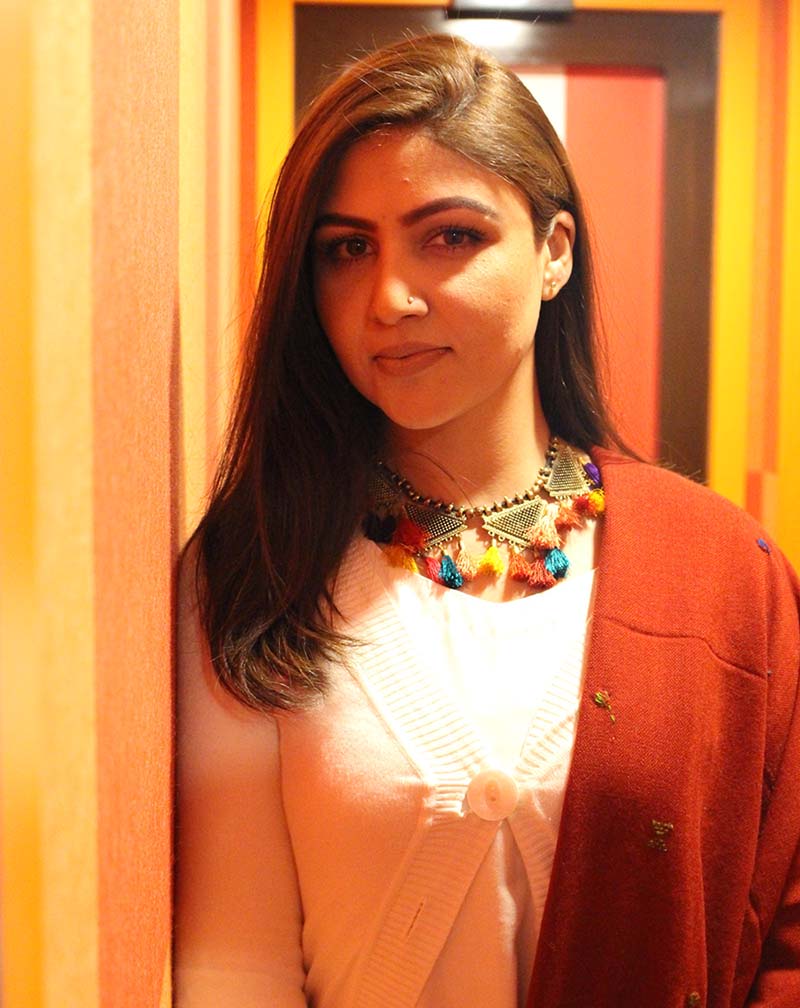 How did you begin your career as Radio host in 2007?
It was by sheer chance. After my college I wanted to work for a bit back in 2007. I was hired for Finance and Admin role at Big FM but right before finalizing the hiring formalities, the VP of the company suggested that I rather get into Radio Programming. She thought I was well spoken and hence should be On-Air. I was rather reluctant and disappointed. That's when my father calmed me down and said I should be open to the idea and give it a chance. Thus, began my journey of a radio broadcaster.
Tell us about the challenges that you faced as a female RJ that time? Did you get to hear comments like Lukh Kyah Wanan?
Of course, people still whisper that around although not directly but sure they do.
The very first challenge I faced was of choosing an unconventional career option. When I joined the Radio Industry, people were still accepting this as a serious career path. After I joined one, there were people who wanted to bring me down or discourage me. They brought religious and societal aspects into discourse.
I have also worked in Chandigarh for a long time as a broadcaster and my show has been air across North India. So the overall journey has been tremendous.
Tell us about your career journey till now as Head Programming @FM 93.5?
Well I am one of those lucky ones to be enjoying and cherishing my work. I started my career with the only FM player in the State (erstwhile). After that I moved to print media briefly and then to banking sector. Working at a bank made me realize I was meant to be only in Media. Then came another shift of moving back to Radio.
As a Programming head of Red FM Srinagar I love the team I have and they all are immensely talented. We have RJ Sameen Khan doing our breakfast show, a very senior resource, knows his job very well, then we have RJ Rafiq from 12 -3 PM, a self-made professional, extremely hardworking, then I come from 3 – 5 PM, then comes one of the best and most popular humorist Rayees Mohouddin; so we have the best people on board as far as talent is concerned. We also have Ali Saiffudin – Kashmir's very own Rockstar taking care of productions.
To lead such a bunch of talented people is an amazing experience. I guide them but I also get to learn many things from them.
Describe your typical day a Radio host and a Programming head?
As a Programming head of the most popular radio channel my focus is divided on overseeing and creating content, music, radio hygiene, digital content, on ground events and so many other back end things. Apart from this I have to take out time to quickly plan my show and rush to the studios. You will always find me juggling between tasks.
Being a mother of a kid, how do you balance personal and work life?
That's the hardest part, honestly and I believe it is not only for me but for every working mother. Thoug my organisation has been supportive. There are days when my daughter accompanies me to work. So when I know that I haven't been spending too much time with her, we both come to office. She absolutely loves my work place. Women have after-all have mastered the art of balancing and I am no different.
What are your views regarding the pros and cons of Radio Jockey/host as a career?
The biggest pro and con of being a radio host is that you become a public figure. You are being followed and looked up to. This is a pro and a con as well. We have to be very careful about what we say as it impacts thousands. Our each word is monitored, all content watched and heard.
There are also days in your career when a lot is going on in your personal life and you don't want to be on-air. But you cant help it, you have to leave all your mood swings and problems at the door of the studio and go on air like the world is a happy place. Though eventually it helps you to divert your attention and makes you focus on the show rather than troubles around you.
Lastly, what would you like to tell a young radio career aspirant?
Career in radio while it may looks all fun and glamour takes a lot of hard work and precision. With focus and hard work the career can be fulfilling and deeply rewarding.
If someone wants to reach you, how can they?
I can reached through Facebook here or twitter here
I can also be reached @[email protected].