Kashmir valley is considered the home to hundreds of high altitude lakes, the most popular among them are Gangabal, NundKol, Tarsar, Marsar, Kirshensar, Vishensar, Gadsar, Shirasar, Shishnag, Kaunsarnag, Alapather and Dudhsaretc. In the past, just a few dozens of lakes were known to the people but after extensive exploration by the members of J&K Mountaineering and Hiking Club / Alpine Adventurers, scores of lakes have been explored and lately, the club members have been successful in locating the highest Alpine lake of the valley.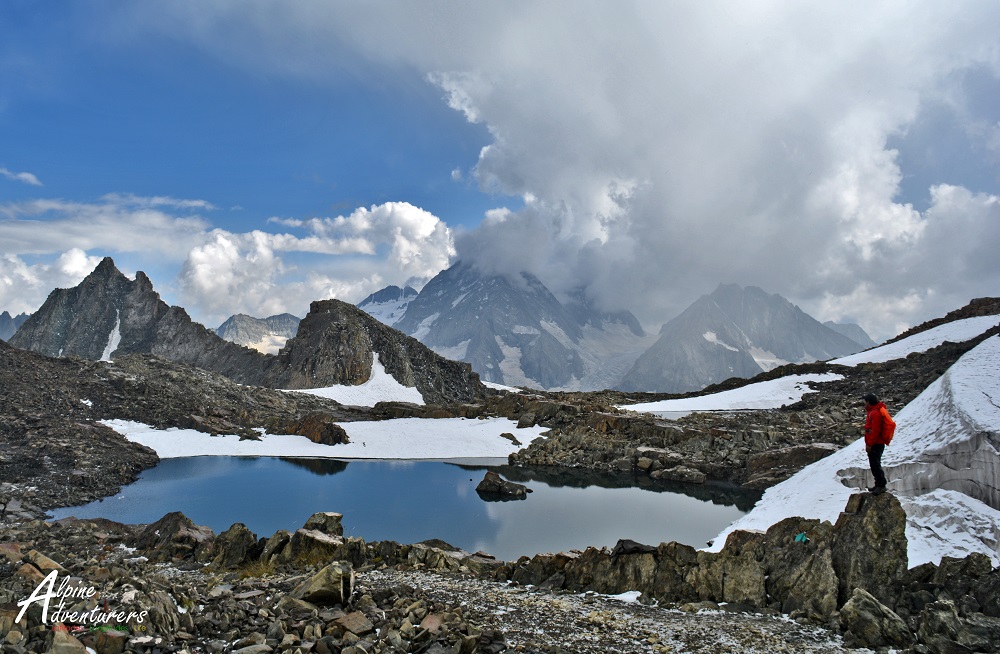 Here's how:
Year 2014-Mr. Mahmood Shah Shah-President Jammu and Kashmir Mountaineering and hiking club asked me to come along for a high altitude lake trek located in higher reaches of Sonamarg valley. The lakes are known as Durinar I, II. Few months later, I pinned those lakes on Google earth for my records. I don't remember how, but i researched that area thoroughly on Google earth so as to find any further water bodies. I couldn't find anything because the satellite picture was taken in winters so everything was snow clad. I changed the dates in the timeline option and luckily found a depression in Snow, as if something was hiding itself. It seemed to me as a waterbody with a slight outline. The next morning, I rushed to the then RTO Kashmir's office, Who himself is an avid trekker ( M.A.Shah) and shared the coordinates. He went over it thoroughly, I did the same, and finally we reached to a conclusion that it's surely a water body and that too at a whopping altitude of nearly 4600m above sea level.
We planned to go there in 2016, but due to prevailing situation, we couldn't. Finally we planned to pay a visit this year in August as this would be the best time and the lake would be free from snow. As the time came closer, we locked in few dates earlier this month, but as ill luck would have it, it was a no go for the president as his leg was not healed so that he could go ahead, plus his official engagements. I was given a green signal to undertake this challenge, and this is how I took it.
I along with 9 members of the club planned an overnight stay at Durinar heights earlier this month. The plan was to revisit Durinar lakes and to explore the unexplored Alpine lake. After camping at 4150m, I along with few members started the lake hunt, but the Bad weather spoiled the show. We climbed to an altitude of near 4560m but couldn't find anything due to a complete whiteout. It snowed so heavily, urging us to retreat. We had given our best, to the best of our abilities. But Alas!!
Since that day, I had been looking forward to it. The urge for exploring this water body increased. And finally, we made it to the lake this time.
We left early morning from Sarbal, Sonamarg, reached Durinar heights in 3.5 hrs and decided to have our lunch before proceeding ahead. We had a local guide along who told us that he had been to this waterbody. So it was confirmed that there exists one. We were happy to hear it from him.
After a tiring ascent of nearly 300m he took us to a snow clad ridge with a small portion of it carrying a water pond. He pointed over to it as a lake. We stared at each other with faint smiles on our faces. Was it what I had researched upon, is this what we had come for? It didn't satisfy me, it didn't satisfy anyone on the team. None of us was happy. To add more to it, weather conditions turned around and it started snowing heavily.
After clicking some pictures of the lidder valley as well as the Thajiwas side, the guide urged us to retreat. But none of us agreed. We waited for the weather to improve. We wanted to see something that could relish our eyes, our mind and our soul. As the conditions worsened further. We decided to move back. While returning, we had to pass along a ridge line adjacent to one of the peaks of the Thajiwas range. I asked Taous to come along so as to summit this peak 4680m approx. and look around the area, so that we may find something better, in fact better than that pond. He agreed. We started the climb admist snowfall and a steep rocky terrain. Just closer to the summit, I started capturing a panoramic shot. And to my surprise, I could notice a sparkling water body facing the highest peak of Kashmir valley. Was this what we had come for? I couldn't take my eyes off. I didn't stop, instead I shouted to Taous that we found it finally. We are there, it's there. He came right after while shouting towards other mates. We ran like as if we had found a gold mine.
Allah u Akbar- I was there posing near one of the banks of the lake at 4602m while Taous had started capturing already. The sun shone brighter, and the sky opened up. Mount Kolahoi, right in front. What else would you ask for? The other team members arrived. Everyone shouted in joy.
The lake was partially frozen, but most of its portion open enough. We further overlooked Doadsar Lake, hoksar lake, Gumbarsar as well as Handil sar from the ridge line. It was the view of lifetime.
After clicking pictures, we retreated back happily. To add more to the thrill, we came across fresh foot prints on snow, it was a Brown Bear cub, who quickly ran away hiding in rocks.
We further descended back to the Druinar meadow where local nomads offered us tea and finally reached sarbal Sonamarg. Thus calling it a day.
This was one amongst the best lakes from a list of 119 lakes which I have seen so far. And indeed a special one. I dedicate this trek to all the passionate trekkers of our valley.
We would surely be coming up with a name for this one.
Aadil Shah
[email protected]
Instagram: Alpineadventurers
About the Author:
Aadil Shah is an avid trekker cum Mountaineer from kashmir valley who holds the record of visiting over 115 Alpine lakes around Kashmir Valley. He has climbed famous Peaks like: Haramukh, Stok Kangri, Sanset and Mahadev.