Tell us about yourself?
My name is Nazish Mir. I was born in Kashmir and currently live in Delhi. I studied in Delhi Public School till class 10th. I then went on to complete my education at G.D Goenka World school which opened me up to education abroad. I went to the Universidad Europea for my bachelor's and in my last year, I went to the London School of Economics and Political Science.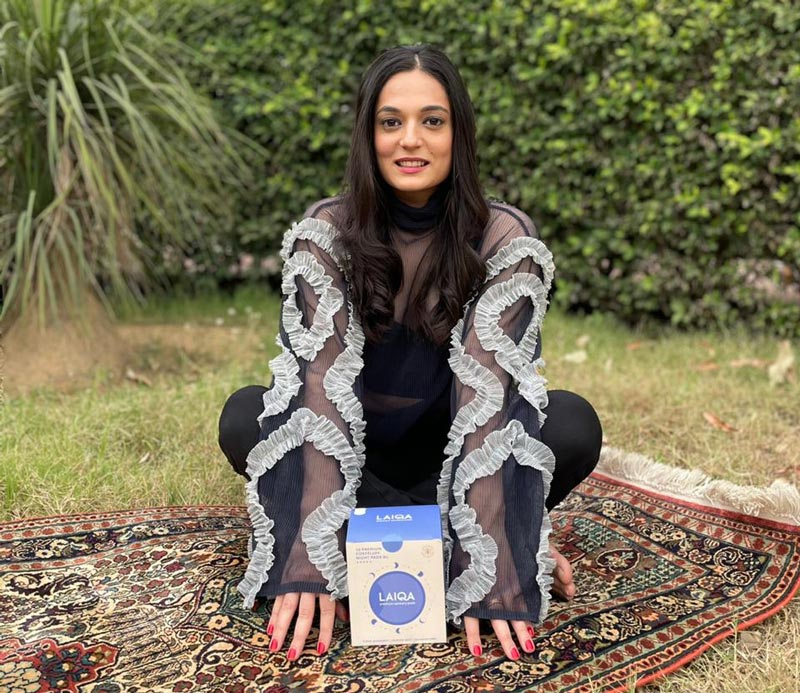 What is Laiqa?
Laiqa offers biodegradable sanitary pads and liners, and they come with biodegradable and recyclable packaging. Our sanitary pads are high quality, chlorine-free, pH compatible, feather-soft, eco-friendly & fragrance-free.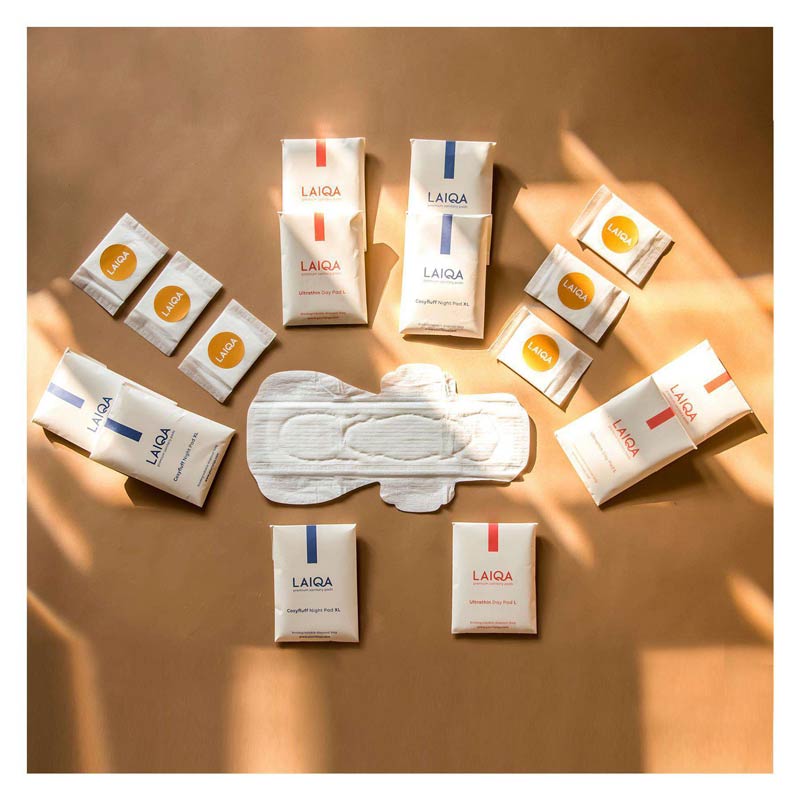 Apart from providing sanitary products, what other services does Laiqa provide?
Laiqa is not just a brand that sells products, we also have a blog where we address many period-related, sex-related, and women-related topics that aren't talked about freely in our society. We have always been very accessible to our consumers and provide a community on our social media pages addressing queries and talking to our customers daily. We also share content that doesn't just surround periods but the opinions and values we stand for such as our support for mental health, gender issues, and political support. We are a brand that is here to listen, connect and be there for the people.
How did this idea come to your mind?
It came to me while I was at a lecture in London and they announced that one of the students in the university has lost her life to TSS ( toxic shock syndrome ) which happens due to a plastic tampon, I was shocked to know that something so normal as our menstrual flow can take your life. This shocked me and then when I returned to India and I searched for the period products that we were using I was shocked to find out that the women in India have been using plastic laden pads for years and dealing with issues like rashes, chafing, redness, UTI's, endometriosis, PCOS and in worse cases scenarios Ovarian cancer simply because they did not have a better choice available in the market.
With help of my cousin Ali Mir and Monica Bindra, a chemical engineer Laiqa was born.
Menstruation is equated with taboo, how did you manage struggles or critiques?
I've come across all kinds of people regarding this issue. Even in my own home we were taught to have a code word "khalda aunty" for being on our period.
It is so sad that the taboo is not just among men but among women also. We don't talk about our monthly cycle openly because from a very young age we are told this is something we should hide and be ashamed about.
For me, it was normalized by just talking about it at home, my workplace, with my friends, and then social gatherings. I think the only way to manage the critiques is to not care and still keep talking about it.
I still come across people who are not comfortable with the subject but I feel that sometimes it just takes a conversation from our side to normalize it.
Do you think it is high time that sex education and menstrual hygiene are introduced into our school curriculum so that our youngsters grow into more responsible adults?
Yes for sure, it's high time that we tell our future generations about sex education and menstrual hygiene in schools and homes so that they don't misinterpret such issues or develop a misogynistic mindset through other means. Even though they might also come across the right information through the internet, it must be made sure that they are taught about these subjects in biology so they are on the right track.
What should be the role of families in normalizing conversations around menstruation as a normal activity?
Girls of the family must be made to understand that their monthly cycle is nothing to be ashamed of. They should not be ashamed of their bodies or their ability to get their period.
I have a younger brother and growing up in a house of 3 women, he would always wonder what are these "diapers" we wear or why do we have cramps every few days a month. The fact that we educated him about the menstrual cycle has made him more responsible and understanding towards the girls. Hence it's important that families not only need to have this conversation with girls in the family but also boys.
Latest Posts on our website
How has Covid19 affected your work in Delhi?
Covid19 has been a very devastating for everyone in general but as our product is essential and required monthly, we have still been able to serve our customers during this time. We have also been able to take orders through our social media platforms. However, we do miss meeting our consumers at exhibitions and events and interacting with them on a one-to-one basis.
Any plans to expand or launch Laiqa in Kashmir?
We deliver Pan India and we already receive a lot of orders from Kashmir valley. Though we would love to tie up with a distributor in Kashmir who can make our products available at stores. If anyone is interested please do reach out to us. We also do wish to host events in Kashmir.
If anyone wants to order our products they can visit www.mylaiqa.com or WhatsApp us on +918287972430.
Interview by Durdanah Masoodi
BA(H), Political Science, 3rd year, Miranda House, DU.