1. Carry cold cream and lip guard in winter & sunscreen in summer
The climate of Kashmir is varied, very cold in winter and blazing sunny in summer. A moisturiser and a lip guard is must to keep your skin and lips hydrated throughout your trip during the winter months as the temperature can be as low as -10 C. The sunshine of the Kashmir valley particularly high altitudes like Gulmarg can be very harsh to your skin and you might easily get sun burn so don't forget to apply a thick coat of sunscreen before you go out during summers.
2. Carry a small bag with you
Make sure you carry a small bag along, you might need it for small item shoppings you do or you might need to keep your mobile or any daily tickets in it as they might fall while you walk up the hills and mountains.
3. Carry a power bank, extra memory card and waterproof camera bag
Kashmir immensely suffers from power crisis. There are very frequent power cuts, especially in the hill stations like Sonamarg, Pahalgam. Make sure, you always carry a power bank with you so that your mobile phone never runs out of charge. Also, there are very few mobile electronics markets, so carry enough memory cards for your camera . And also, carry a waterproof camera bag; you don't want your camera to damage during sudden rains.
4. Carry Identity Proof ( Original, No photocopies)
Kashmir, as well all know is a conflict zone, so there are a lot of security checks that you'll have to face. You need to make sure that you always carry a valid and original identity proof along because you'd never want yourself to get stranded in a cue of suspects. It's always great to be extra safe during your holidays so that you never miss any fun.
5. Carry sufficient cash.
You need to know that Kashmir is a very small city and away from modernisation. It's not like your big cities, so, finding ATMs nearby is a big deal. Make sure that you carry sufficient cash with yourself so that you never miss out anything. Also, there are very few chances that you might find a hotel with automated debit machines, so as a precaution keep enough money to pay at the hotels.
6. Carry post-paid sim only
If you have a cell phone with a prepaid connection your SIM card is not going to work in Kashmir as roaming is blocked due to what India claims as security reasons . However, post-paid connections will work fine. If you're a foreigner, your hotel owner might provide you with a local sim or you can easily purchase a local sim card from mobile telecom operators.
7. Keep a torch and emergency medicines with you.
As already mentioned, there's a lot of electricity crisis in Kashmir, make sure you carry a torch with you. You might face a power shutdown suddenly, so, you don't want to get yourself hurt in the dark. Also, as Kashmir has an unpredictable climate, there are high chances that you might catch a cold and fall sick. So, carry important medicines along with you.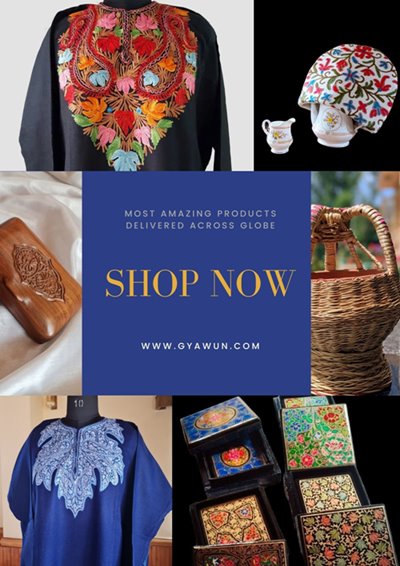 8. Headscarf for women if visiting a religious place.
Kashmir, the city of Sufi Saints, is enriched with many Sufi shrines. Not only are these shrines known for their reverence but they are equally beautiful as any other known gardens. You should always make sure that you pay a visit to the famous holy shrines of Kashmir. But, you need to know that you should carry a headscarf with you and wear them before you enter into these shrines.
9. Remember, no Ola and Uber in Kashmir, no Swiggy and Zomato.
You will have to depend on local taxis to travel between destinations like Srinagar, Pahalgam and Gulmarg. as app based taxis are not available in Kashmir. Better keep stock of some handy food items with you as you wont find food available in late hours as delivery service is very less and not after dark.
10. On departure, reach Srinagar Airport two hours prior and remember you have to identify your luggage as well.
Unlike other airports in the world, Kashmir airport will give you a very tiresome time. You need to remember that there are almost 4-5 security checks before you receive your boarding pass. So, as these checks are going to take a lot of time, make sure you reach at least 2 hours prior to your departure. Also, before you board the plane, make sure you get your luggage identified because if you fail to do so, you won't be able to receive your luggage later.
11. On 26th Jan and 15th August, spend your day in Gulmarg, Pahalgam or Sonamarg avoid Srinagar.
Being in a conflict zone, Srinagar city has a very tight security during these Indian national days. If you are planning you trip around these dates be aware that you won't be able to roam around anywhere during these two days in Srinagar and also,there are very few chances that you will have a mobile network that time. It's better to slog around hill stations like Gulmarg, Pahlagam and Sonmaarg on the days as these places are very far from the city and are compratevily peacful and safe.
12. Good shoes before going to any hill station (Gulmarg, Pahalgam, Sonamarg)
As you're travelling to a hill station, you need to know that there are a lot of hills and you'll have a lot of short treks and small peaks to climb. Make sure that you have very well gripped sports shoes so that you don't slip on your treks. The shoes should be waterproof because you might land your foot in some water stream or puddle.
13. Bargain as much as you can, start from half price.
In Kashmir what ever the sellers quote, start bargaining from 1/2 of its price and if you are a foreign tourist start bargaining starting from 1/3 of prices quoted. Dont worry if you couldnt buy something from some shop you will find it at some other shop at lower price.
14. Don't discuss with your driver or guide your shopping list. Go shop on your own.
If you tell your driver that you want to buy something the popular reply would be that he will take you to his brothers or cousins shop or his known ones shop and he will help you get discounts. Dont fall for this, its  what they call as a tourist trap. In this trap they will gain by getting commission  from shop and you will get things at even more higher price which you could have bought at less price if you had gone on your own.
15. If you are coming by car carry original papers with you
In Kashmir, police catch hold of non- J&K number cars and give them challan for small mistakes as well. It is better to carry the original RC and insurance paper with you. Also it is better the person on whose name car is registered should be on trip aswell or should be in your first relationship else police will make this an issue. Article by Taha Firdous